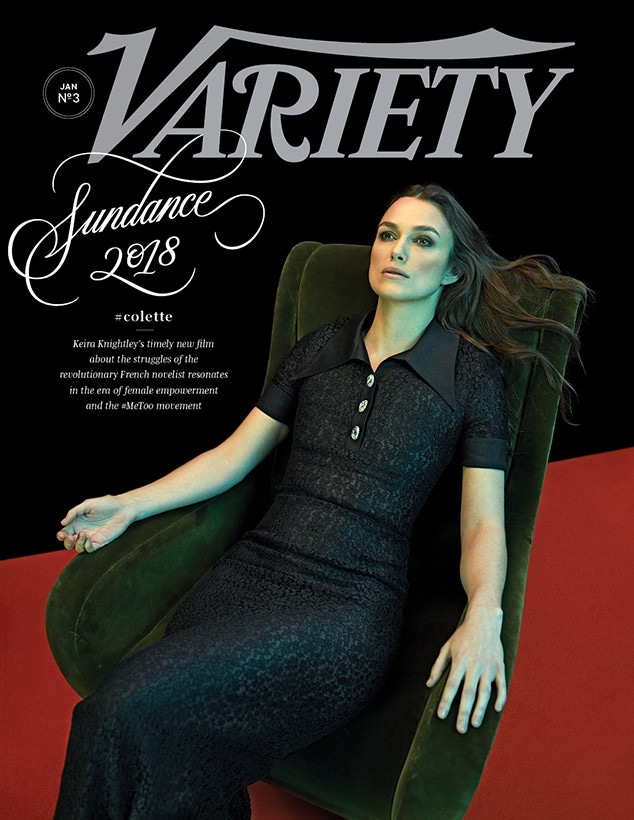 Nadav Kander/Variety
Keira Knightley is more likely to star in a period piece than a movie set in modern times—and for good reason. As the actress explains in the new issue of Variety, she feels female characters are often treated better in historical dramas. "I don't really do films set in the modern day because the female characters nearly always get raped. I always find something distasteful in the way women are portrayed, whereas I've always found very inspiring characters offered to me in historical pieces. There's been some improvement. I'm suddenly being sent scripts with present-day women who aren't raped in the first five pages and aren't simply there to be the loving girlfriend or wife," she says. Thanks to production studios like Amazon and Netflix, she adds, "We're seeing some strong female characters and female stories on streaming services."
In the current climate, Knightley says, it's especially important to create strong, layered roles for women. As many of her peers come forward with stories of sexual abuse and harassment, she says, "What's been really interesting is that it's not just this industry—it's in every industry."
"I was surprised by some of the specifics. But I was aware of the culture of silencing women and the culture of bullying them, and I knew that men in the industry were allowed to behave in very different ways than women. That was obvious," she says. "What was fascinating about the #MeToo movement was I was sitting with friends who weren't in the industry, and there wasn't one of us who hadn't been assaulted at some point. We'd never had that conversation before. That was an eye-opener." Knightley has "never been sexually abused professionally or harassed on a film set," she says, "but in my personal life, when I've been in bars, I can count four times when I've been what I'd say was assaulted in a minor way. I think everyone has battled their fair share of monsters. It's not just actresses. It's teachers; it's lawyers. I'm not talking about rape, but I'm talking about the people who had been grabbed in pubs or their breasts had been fondled by somebody they didn't know or they'd had someone shove a hand up their skirt."
"For too long, you really did go, 'Oh, this is just normal.' It's terrifying that was our response. It must have been awful for all of those brave women who have come forward and spoken publicly about their experiences. There's been a lot of pain and a lot of suffering," explains Knightley, who is promoting Colette. "We're in a period of time in which it all has to come out. Then we need to move forward and figure out how to make sure that it doesn't happen again."
Knightley previously worked with Harvey Weinstein, and last year, dozens of women accused him of sexual harassment—and, in some cases, rape. Weinstein apologized for his behavior, and through his spokesperson, he emphatically denied ever having non-consensual sex with anyone. Knightley says the producer "was always very professional" with her, both on- and off-set. "He was very good on the films we made. I was aware of his reputation of being a bully. He was famous for phoning people in the middle of the night and screaming at them. He didn't do that to me, and he certainly never asked me for massages or anything like that. I wasn't aware of any allegations or rape or sexual assault against him," the actress tells Variety. "For the first time people are sharing their stories. People have been absolutely terrified to talk about it and were scared of retribution, so I don't think everybody knew the extent of what was going on."