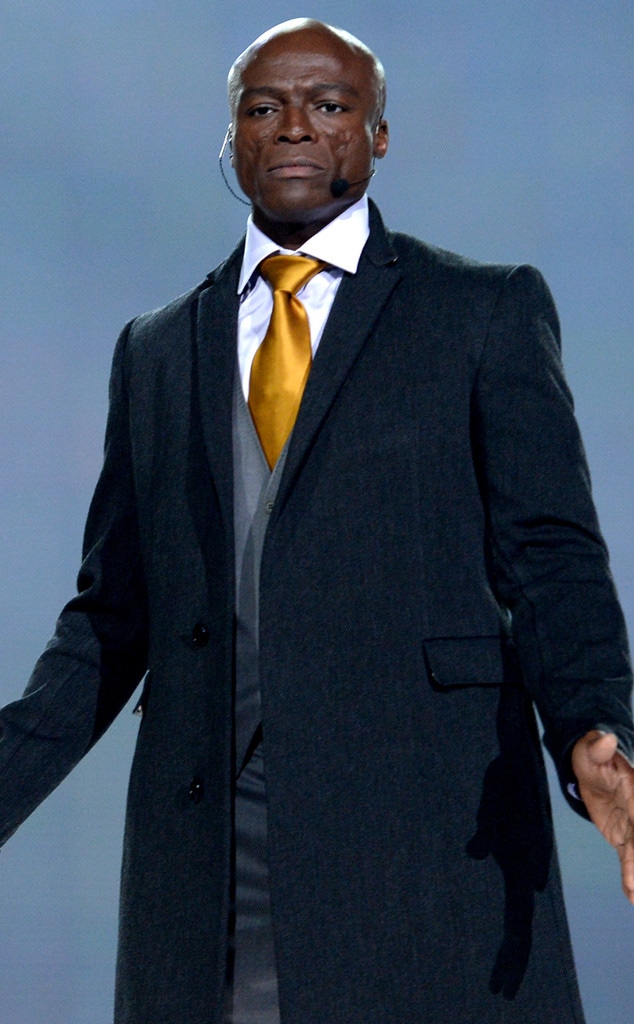 Kevin Winter/Getty Images for dcp
UPDATE: The Los Angeles District Attorney's media relations office confirms to E! News that the case against Seal has been rejected.
In court documents obtained by E! News, the charges made by Seal's former neighbor were rejected because "of the vict's delay in reporting this incident to police, the statute of limitations has run and jurisdiction has been lost. In addition, the lack of witnesses or evidence to corroborate vict would have made it difficult to prove the charges beyond a reasonable doubt."
______
Seal has denied allegations of sexual misconduct against him.
"Seal vehemently denies the recent accusations made against him by a former neighbor for alleged misconduct of more than a year ago," a rep for the 54-year-old "Kiss From a Rose" singer told E! News Tuesday. "He intends to vigorously defend himself against these false allegations." 
According to TMZ, Tracey Birdsall, 54, was a neighbor of Seal's back in the Fall of 2016 and had developed a friendship with the singer. She told the celebrity news outlet Seal forced himself on her and attempted to kiss her while she was visiting his Los Angeles home to retrieve a salad spinner she had lent him. Birdsall claimed Seal then belittled her for wearing a tank top and shorts and began to grope her breasts. She told TMZ she told him to stop. 
Per TMZ's report, Seal then asked Birdsall to sit next to him on a couch. Birdsall told the media outlet she complied and was then belittled and groped by Seal again. She claimed she then left and didn't talk to him again. 
TMZ wrote that "a source with the L.A. County Sheriff's Dept" took a report on Saturday for sexual battery and that the alleged incident is under investigation.  
E! News reached out to the Lost Hills Sheriff's Department, as well as to Birdsall regarding the allegations. The Lost Hills Sheriff's Department confirmed Seal is a suspect in an alleged incident of sexual battery that allegedly took place in November 2016 and is currently under investigation.
The accusations come days after Seal shared a picture of Oprah Winfrey kissing Harvey Weinstein on Instagram. The text over the photo read, "When you have been part of the problem for decades but suddenly they all think you are the solution." 
"Oh I forgot, that's right.....you'd heard the rumours but you had no idea he was actually serially assaulting young stary-eyed actresses who in turn had no idea what they were getting into. My bad," Seal captioned the photo. "#SanctimoniousHollywood."
On Jan. 11, Seal took to Facebook to clarify that the post was "not an attack against Oprah" but rather "an observation of the toxic nature of Hollywood." He also spoke about the #MeToo movement.
"To those of us who support the #MeToo movement, just know this: Not one of the women who have been sexually abused, not one of the women who have come forward has received any real justice whatsoever," he said at one point in the video. "Losing your job because you either A) raped, B) sexually abused or even sexually harassed a woman is not real punishment."
At the end of the clip, Seal encouraged more people to speak out. 
"To all of you who have been raped, to all of you who have been sexually abused, I applaud you for coming forward," he said. "What you did takes real courage, and please keep showing that courage and please keep coming forward because that's the only way that we get to solve this thing. We talk about it; we open dialogue; we solve it."
This story was originally published on Tue, Jan 16, 2018, 9:14 AM.