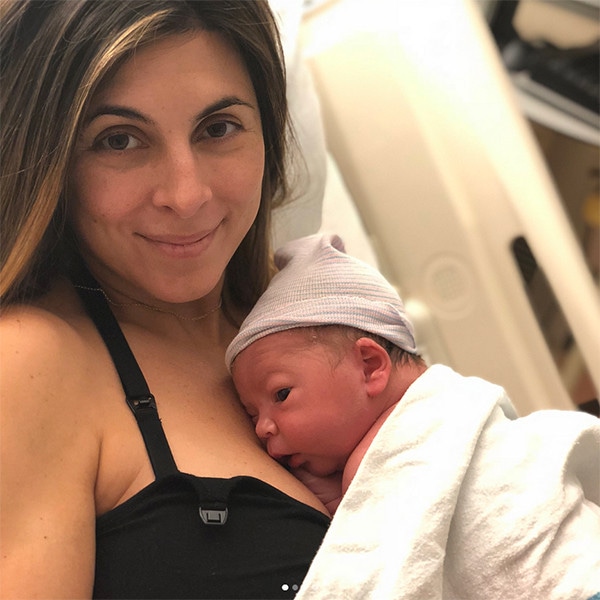 Instagram
At long last, Jamie-Lynn Sigler has given birth!
The Sopranos actress announced her son's late arrival via Instagram Tuesday. "He's here. Jack Adam Dykstra we will talk about your tardiness eventually, but for now we've got a lot of love to give," she wrote. "Thanks to my besties for helping me laugh and smile and to my husband [Cutter Dykstra] for just being my rock." The newborn joins older brother Beau Kyle Dykstra, 4.
The actress did not share other details, including her son's birthdate, measurement and weight.
Sigler announced her second pregnancy in July 2017, 18 months after she got married in Palm Springs. A month earlier, she shared Beau's latest developments with People. "We're dealing with major bedtime battles right now that have cost all tears from all of my family members. [I use] bribery on all levels [to get him to sleep alone]. He's in this phase where he wants to sleep with Mommy and Daddy," Sigler told the magazine, "and no matter what happens, he ends up in our bed at 2 or 3 a.m.—which, honestly, I don't mind, 'cause I know those days are limited."
The 36-year-old actress doesn't consider herself to be a "perfect" parent, and she'll often commiserate with her mom friends when things go awry. "It's tough, especially with a toddler," she said at the time. "But I want him to be strong-minded and I want him to be the way he is, but there's definitely moments where I feel like I have no idea what I'm doing a lot of the time."
Watch Daily Pop weekdays at 12:30 p.m., only on E!