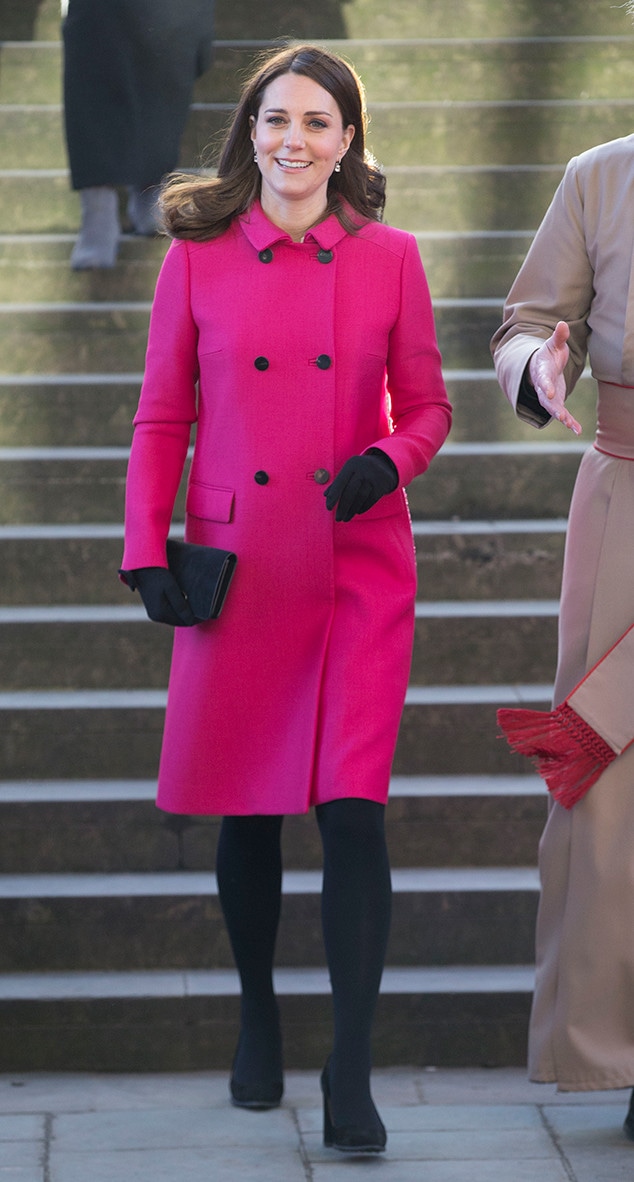 Heathcliff O'Malley - WPA Pool /Getty Images
Kate Middleton looked pretty in pink while visiting Coventry, England with Prince William on Tuesday.
The Duchess of Cambridge wore a hot pink Mulberry coat to the royal engagement—the same coat she wore during her 2014 visit to New York, as well as during her final appearance before the birth of Princess Charlotte in 2015. 
The coat covered Kate's growing baby bump. The Duchess is pregnant with the couple's third child and is expected to give birth in April.
To stay warm, Kate accessorized her look with black tights and black gloves. She also wore black heels and carried a black clutch. 
During their visit, the royals toured the ruins of the Coventry Cathedral, which was destroyed by Luftwaffe bombs during World War II. The two also stopped by the cathedral's Rising Café, which helps provide work for those overcoming drug and alcohol addictions. There, the couple met with staff members and volunteers, as well as with members of the choir.
In addition, the Duke and Duchess visited with a crowd of well-wishers who hoped to catch a glimpse of the royal couple.
Shortly after visiting the Cathedral, William and Kate toured Coventry University's £59 million Science and Health Building. There, they chatted with staff members and patients and learned about the training program the facility provides nurses, midwives and paramedics.
The two ended their day by visiting with staff members, volunteers and young adults at the Positive Youth Foundation—an organization that helps young people overcome challenges, including exclusion from school and social issues.