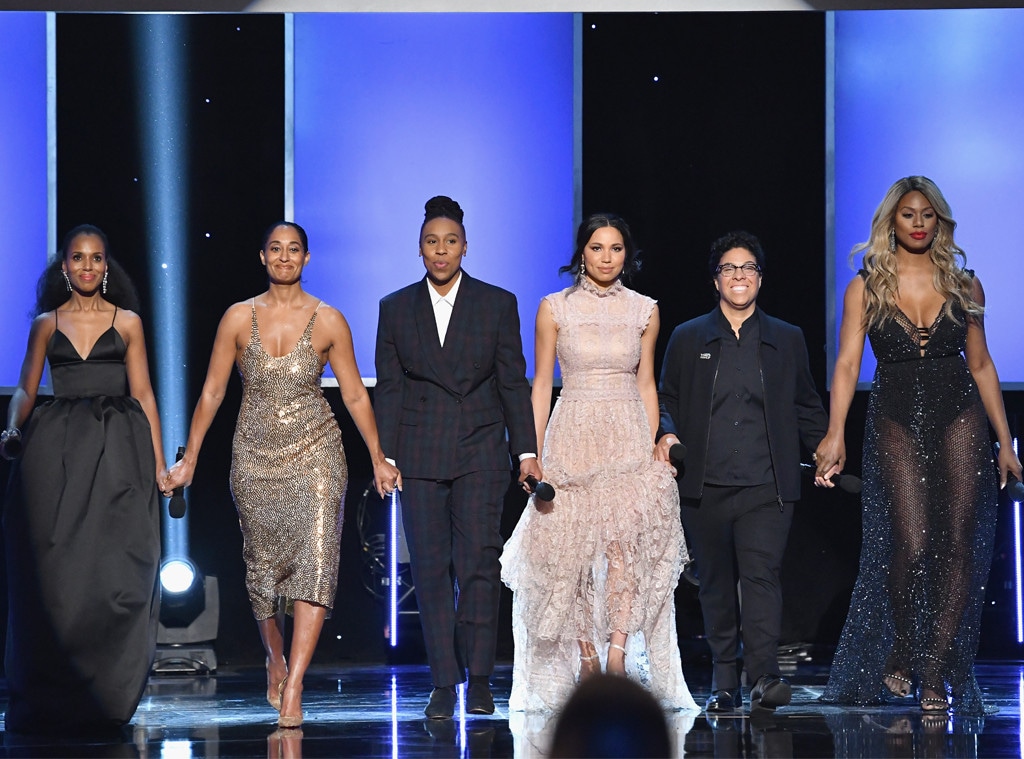 Earl Gibson III/WireImage
There are just some moments the cameras miss.  
Such was the case Monday night at the annual NAACP Image Awards, hosted once again this year by black-ish actor Anthony Anderson and packed with a star-studded audience of celebrated nominees. 
While fans watched from home as Angela Robinson, Kerry Washington, Jurnee Smollett-Bell, Laverne Cox, Lena Waithe and Tracee Ellis Ross helped open the show with a moving tribute to the Time's Up movement, as Daniel Kaluuya was named Outstanding Actor for his performance in Get Out, as Ava DuVernay was honored as the NAACP Entertainer of the Year and as Andra Day serenaded the crowd, there were some moments those sitting on their couches couldn't catch. Fortunately, we have the inside scoop from Monday's main event. 
1. Hyping the Crowd
While the show is exciting all on its own, attendees got extra help getting into the celebratory spirit thanks to the night's emcee, who got the crowd pumped behind the scenes. At one point, he asked Anderson to use his mic for a mic drop, but unfortunately the host didn't have a mic to give. According to an insider, the bit had the audience clapping and laughing. 
Earl Gibson III/WireImage
2. Mr. Popular
Black Panther star Chadwick Boseman seemed to be one of the most popular attendees at Monday's soirée. Fellow stars like Brown were spotted stopping the actor to shake hands and chat. "Everybody wants to talk to Chadwick," a source noted. "He is the most popular person here." At one point, even the emcee noticed and asked the audience, "Why is everybody on Boseman?"
3. Social Hour
With the hustle and bustle of award season, stars squeeze in some time to catch up with colleagues during commercial breaks. Such was the case at this ceremony as celebrities like Washington, Sterling K. Brown and Mandy Moore were spotted mingling while they waited for the show to go live again. 
Michael Buckner/Variety/REX/Shutterstock
4. Date Night
While it was a special night for Washington, who was nominated for Outstanding Actress in a Drama Series and Outstanding Character Voice-Over Performance, the evening doubled as a glamorous date night for the star and her husband, NFL alum Nnamdi Asomugha. The athlete was spotted waiting patiently as people stopped Washington to say "Hi" and they later took their seats together after her time on stage. 
5. Hi Mom!
When some of the stars of Detroit came out to present, you may have heard screams from the audience. Turns out—it was one of their moms! The proud mama waved from the audience and later warmly greeted them when they returned to their seats. 
—Reporting by Alli Rosenbloom