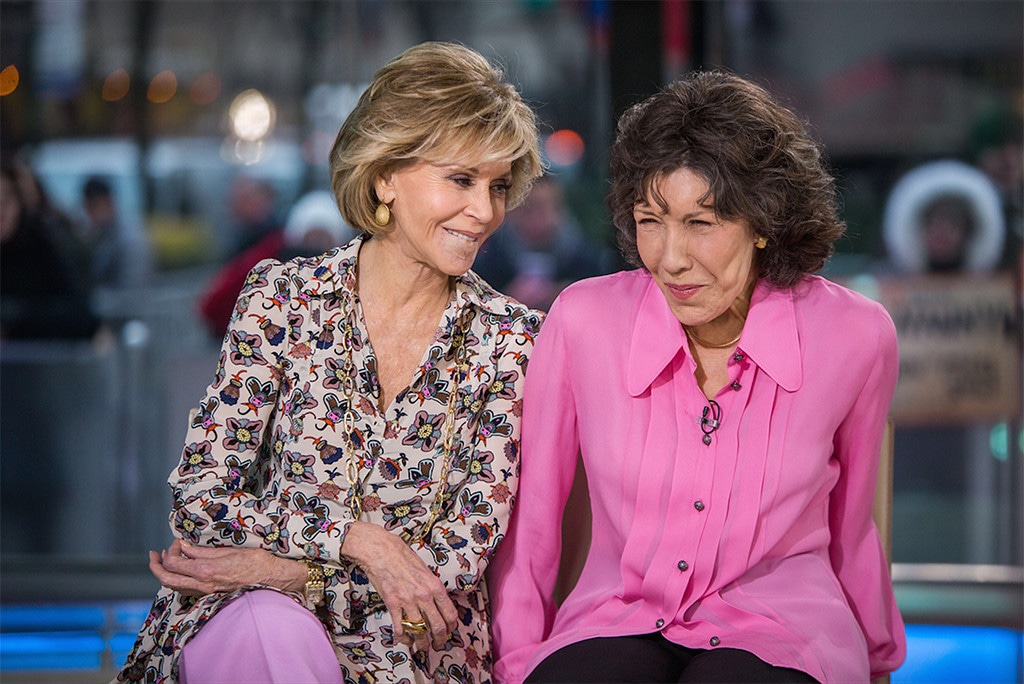 Andrew Lipovsky/NBC
Savannah Guthrie and Hoda Kotb's jaws hit the floor when they interviewed Jane Fonda and Lily Tomlin on NBC's Today Tuesday. The unfiltered Hollywood icons, who were promoting the new season of Netflix's Grace and Frankie (returning Jan. 19), sure know how to make good TV.
"You guys are real friends on and off camera, right?" Kotb asked the comedy duo.
"Sometimes," Fonda replied.
"How long have you guys known each other?" Kotb continued.
Turning to Fonda, Tomlin quipped, "Oh, my gosh...I think before your first facelift!"
"What was that?" a shocked Guthrie asked as Kotb burst into a fit of giggles.
"Never mind! Never mind!" Fonda said, shaking her head. "We don't need to hear that!"
"Oh, boy! Now we're getting into it!" Guthrie said as Kotb's laughter grew louder. Turning to Tomlin, Fonda joked about her last Today appearance and asked, "Who are you, Megyn Kelly?"
"Oh, that's right!" Tomlin said. Rolling her eyes, Fonda said, "Right! Yeah!"
Back in September, Kelly drew criticism when, apropos of nothing, she asked Fonda about aging in Hollywood. "You've been an example to everyone in how to age beautifully and with strength and unapologetically," Kelly told Fonda. "You admit you've had work done, which I think is to your credit. But you look amazing...I read that you said you're not proud to say you've had work done. Why not?" After a pause, the actress fired back, "We really want to talk about that now?"
"Well," Kelly said, "one of the things people think when they look at you is how good you look."
"Well, thanks. Good attitude, good posture. I take care of myself," Fonda said. "But let me tell you why I love this movie that we did, Our Souls at Night, rather than [discuss] plastic surgery."
A few days after Kelly's interview drew criticism, Fonda told Entertainment Tonight Canada, "I mean, the fact that we don't have a lot of time, and [Robert Redford] is right here, it was a weird thing to bring up, whether I've had plastic surgery or not. I have, and I've talked about it, but it just seemed like the wrong time and place to raise that question." While that portion of the interview "didn't involve me," Redford said, he was proud of how Fonda handled the situation. "I think Jane didn't want to go there. I think she didn't want to have the show turn into about her, her surgery or her look," he said. "It was about the quality of the performance."
(E! and NBC are both members of the NBCUniversal family.)