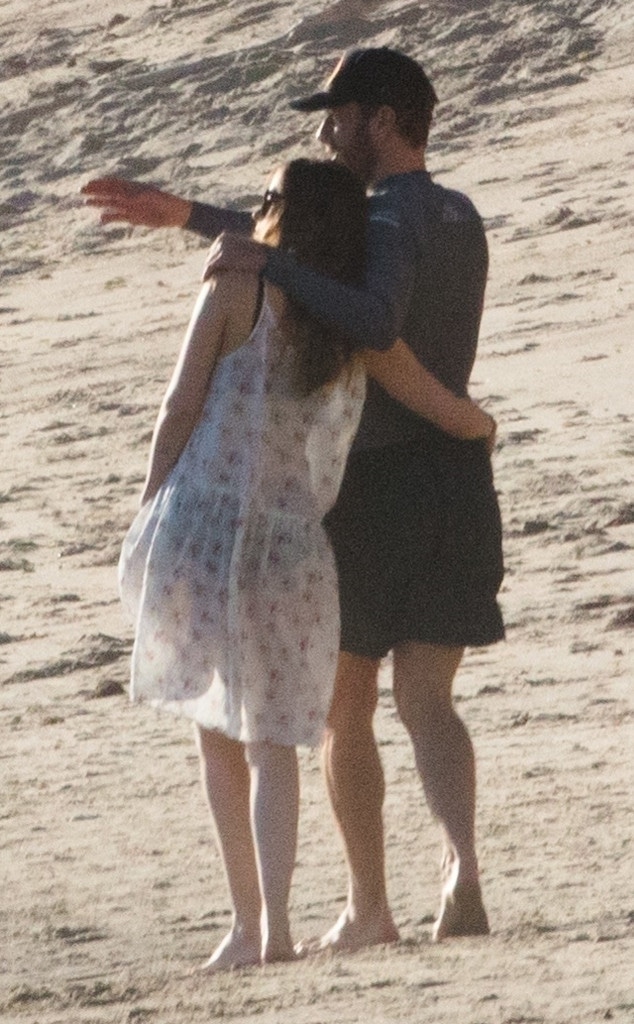 DOBN / RMBI / BACKGRID
Chris Martin and Dakota Johnson continued to spark romance rumors on Sunday when they were photographed enjoying a day at the beach in Malibu, Calif. 
The 40-year-old Coldplay singer and 28-year-old Fifty Shades star wrapped their arms around each other as they strolled through the sand. Johnson—dressed in a white, floral sundress—cuddled up to the "Paradise" singer and rested her head on his shoulder.
An eyewitness told E! News the two spent both Saturday and Sunday at the beach, where they played with Johnson's dog and enjoyed a sunset stroll along a private beach cove. They also weren't afraid to pack on the P.D.A.
"They had their arms wrapped around each other and were very affectionate," the eyewitness said. "She had her head on his shoulder and was leaning into him. They stopped to gaze out at the water and look for dolphins."
Still, it looks like the two are trying to keep their romance under wraps.
"They didn't want to be seen together," the insider said. "So, at one point, Chris went ahead and Dakota sat on the sand. As the sun was going down, they walked back to the car and then went back to Chris' house."
On Friday, Johnson and Martin were spotted at Soho House in Malibu. An eyewitness told E! News they arrived and left together in Martin's car and enjoyed dinner and drinks. 
Still, this isn't the first time the two have been seen together. The pair was photographed catching a flight together in Paris back in December. 
Romance rumors first started spreading in November after Johnson was spotted in the sound booth at a Coldplay concert in Argentina.
Johnson previously dated Matthew Hitt from 2014 to 2016. Martin was married to Gwyneth Paltrow, but they split in 2014 after 10 years of marriage. However, it looks like they've both moved on. Paltrow is engaged to Brad Falchuk.