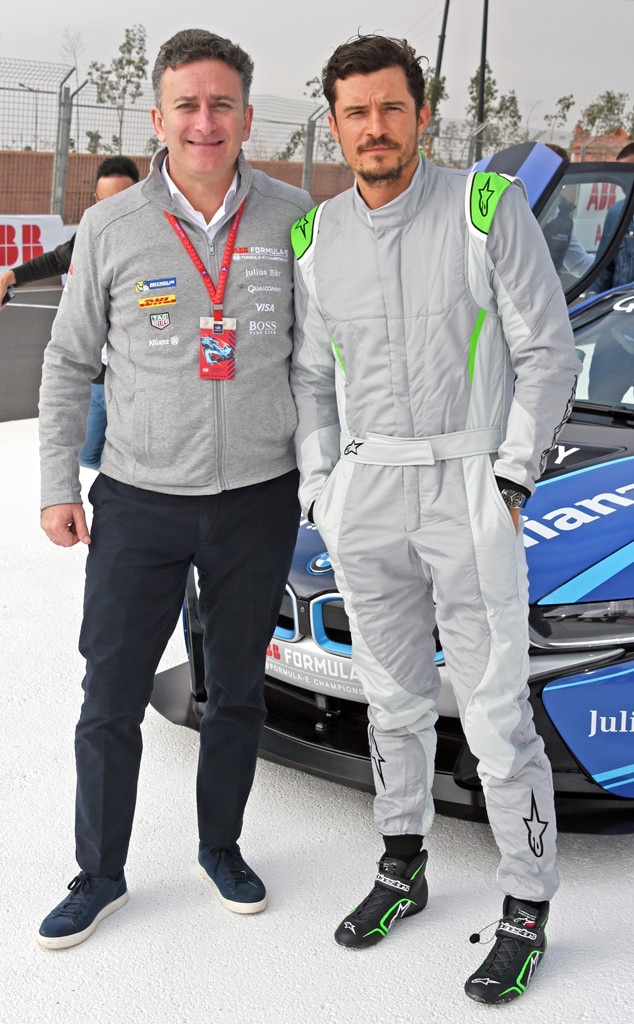 Dave Benett/Getty Images
Orlando Bloom zoomed into his 41st birthday with a one exciting and fast-paced weekend. The Lord of the Rings star and his pal Leonardo DiCaprio celebrated his bday weekend by attending the third race of the Formula E season in Marrakesh, Morocco on Friday.
The Brit even got behind the wheel of one of the high-speed electric race cars after an action packed day of quad biking in the Moroccan desert on Friday.
Sam Bird, fellow Brit and ABB FIA Formula E Championship leader, gave Bloom some helpful driving tips on the car that  who wowed fans in the car, which is capable of reaching 0-62 m/h in 3 seconds, with a maximum top speed of 139 m/h.
In the above photo, Bloom suited up and took a photo Alejandro Agag, founder and CEO of Formula E.
During the speedy day, Leonardo was pictured with Formula E champion Lucas di Grassi during the Marrakesh E-Prix.
The birthday boy later blew out a race car cake, which we have a feeling his son Flynn Bloom would have really dug. 
Bloom also posed with legendary French Formula One driver Alan Prost and while that photo may not get your engine going—the fact that on-again/off-again lady love Katy Perry jokingly commented "Yeah but who's the guy in the back" on the pic might!
Close to a year after the pair ended their romantic relationship, "Roar" singer and Hollywood actor recently reunited in Maldives.
"Katy was in Dubai and then stopped over in Maldives where she met up with Orlando," a source previously shared with E! News. "It's a few hours away and Katy wanted to stop there since it was pretty close."
We're told the Hollywood star and the singer spent the day together relaxing and catching up.
"Katy and Orlando have never lost touch and it's nothing serious," one source shared with E! News. "They keep in contact frequently and Orlando is understanding of her crazy schedule right now. It's pretty casual between the two."
Looks like they're still having some social media fun together!