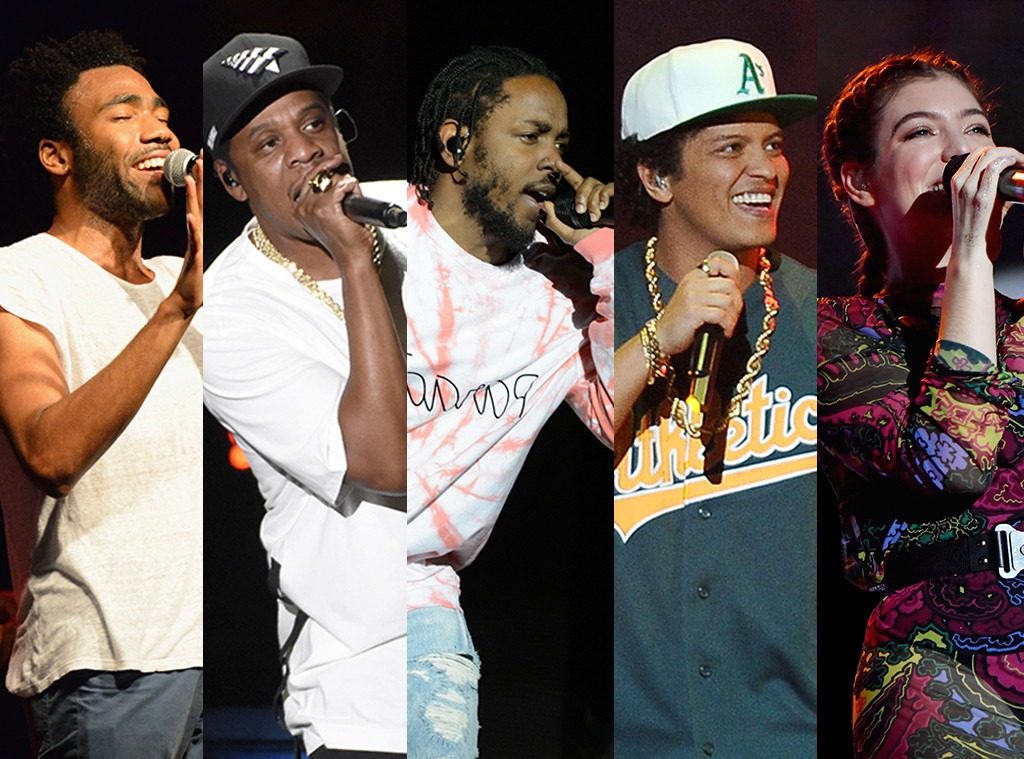 Jeff Kravitz, Tim Mosenfelder/Getty Images, Jim Bennett/FilmMagic, Jason LaVeris/FilmMagic, Jeff Kravitz/FilmMagic for Bonnaroo Arts and Music Festival
Music's biggest night is just around the corner and it's time to talk predictions.
While anything can happen at the Grammys and nobody really knows with 100 percent certainty who will win big, pop culture fans can't help but speculate as to who will be the true stars of the night.
From album sales and VEVO views to Twitter followers and collaborations, so many factors go into a voter's mind before they cast that final decision.
And although Jay-Z leads the nominations with eight followed by Kendrick Lamar's seven and Bruno Mars' six nods, the top nominees don't always take home the biggest awards.
Before Sunday's show, we're placing our picks for who will win big when James Corden hosts from Madison Square Garden in New York City. Take a look in our picks below.
Album of the Year
There's no denying the fact that competition is fierce. After all, it's not every day Childish Gambino, Jay-Z, Kendrick Lamar, Lorde and Bruno Mars are put in the same category. But if we had to pick just one talented artist, it has to be Kendrick for his album Damn. Rolling Stone called it the Best Album of 2017. Fans couldn't stop listening to "HUMBLE" and "LOYALTY."  And he's nominated in all the big categories. Dare we say the writing is on the wall.
Best New Artist
While we're so happy Alessia Cara is finally receiving recognition for her powerful songs, we have a feeling Khalid or SZA will come out on top Sunday night. And if we really had to pick just one, SZA did receive the most nominations for a woman this year.
Best Pop Performance
Is it just us or is it really hard to pick just one winner in these categories? While Kesha's "Praying" served as more than just a song for the singer and Lady Gaga's "Million Reasons" could bring out so many emotions, we have to give credit to Ed Sheeran's "Shape Of You." Everyone knows every word and the song became Spotify's most-streamed song ever.
Best Music Video
We're going to keep this short and sweet. Kendrick's "HUMBLE" directed by Dave Meyers captivated fans in more ways than one. From the striking visuals to social commentary, fans couldn't stop watching. In fact, 422 million people have watched on YouTube alone.
Best Country Solo Performance
While Sam Hunt, Alison Krauss and Miranda Lambert didn't disappoint with new music this past year, we know for a fact that Grammy voters love Maren Morris and Chris Stapleton. Last year, the "My Church" singer won for Best Country Solo Performance. And in 2016, Chris won for Best Country Album. May the best cowboy or cowgirl win!
Song of the Year
While Luis Fonsi and Daddy Yankee's "Despacito" had us singing all year and Logic's "1-800-273-8255" inspired music lovers of all ages, we have a feeling Bruno Mars' smash-hit "That's What I Like" will take home the top prize. The lyrics, catchy beats and the man behind the track will make this a classic song for years to come.