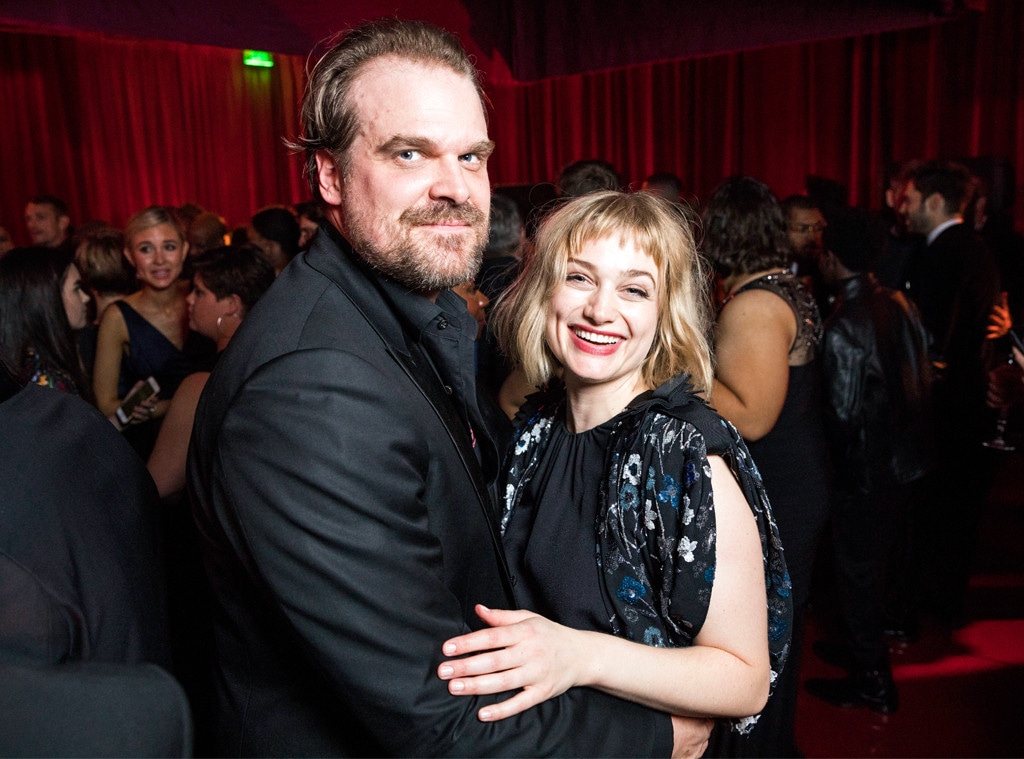 Netflix via Getty Images
Sorry ladies, it seems like Chief Jim Hopper is very much taken.
David Harbour, who plays the fan-favorite character on Stranger Things, appears to be dating actress Alison Sudol, known for roles in Fantastic Beasts and Where to Find Them and its upcoming sequel and the shows Dig and Transparent. While the two have not commented on their relationship, their actions speak louder than words.
Harbour, 42, and Sudol, 33, were photographed looking very much like a couple at the 2018 Golden Globes on Sunday and the 2018 Critics' Choice Awards on Thursday. The actor took home the award for Best Supporting Actor in a Drama Series at the latter ceremony and was seen in the live broadcast kissing the actress after he was named the winner.
Harbour and Sudol were also photographed sitting together at the Stranger Things cast's table while staring into each other's eyes—as season two star, '80s movie icon and Lord of the Rings actor Sean Astin stood and posed with Adam Sandler for a photo and the show's creators the Duffer Brothers—Matt Duffer and Ross Duffer—chatted in the background. Harbour and Sudol were also spotted holding hands at the event, E! News has learned.
Joe Scarnici/Getty Images for FIJI Water
Watch:
David Harbour - 2018 Golden Globes E! Glambot
While they walked the red carpet separately at the Critics' Choice Awards, they walked the Golden Globes red carpet together and also attended an after-party, where they posed for photos in each other's arms.
Last week, they were photographed together at the BAFTA Los Angeles Tea Party. They also left together, according to reports.
Frazer Harrison/BAFTA LA/Getty Images for BAFTA LA
Harbour was previously engaged to Strangers With Candy actress Maria Thayer, who starred with him in the 2009 film State of Play, and also previously dated Julia Stiles, who starred with him in the 2012 movie Between Us. He and Sudol have never acted together.