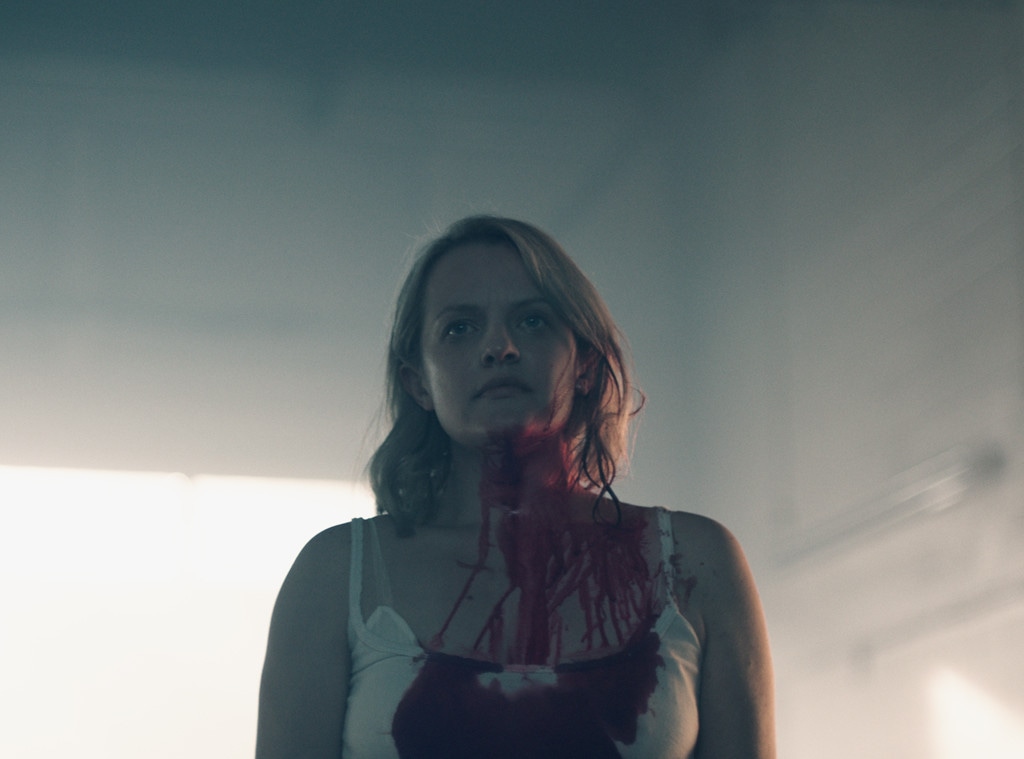 Hulu
The Handmaid's Tale season two first look is here and brace yourselves it is grim. Hulu released the first three photos from the upcoming season of the Emmy-winning drama starring Elisabeth Moss and as you can see, well, thinks look rough.
Moss returns as the Handmaid Offred and, in the photo above, she's covered in blood. Details about the new season are being kept under wraps, but from what the cast has told us, it's going to be bonkers. Expect a trip to the Colonies and pictured below, a creepy funeral.
E! News spoke with Emmy winner Ann Dowd, Aunt Lydia on the series, after she received her first Golden Globe nomination ever, and she dropped some nuggets of information about the second season.
"What I can tell you, and I'm not joking one bit, is it's knocking me out where this story is going. I literally read the scripts and I think, 'Oh my god.' The ideas are genius and so unpredictable and harrowing," she said. "Plus you see the worlds that you weren't exposed to before: the Colonies, what that whole world is; those who make it to Canada, what happens there; the pregnancy, how that is coming along. It's a phenomenally well-written show. Really, I'm telling you, you will not be disappointed," she said.
The official description from Hulu: "The Emmy-winning drama series returns with a second season shaped by Offred's pregnancy and her ongoing fight to free her future child from the dystopian horrors of Gilead. 'Gilead is within you' is a favorite saying of Aunt Lydia. In season two, Offred and all our characters will fight against—or succumb to—this dark truth."

The Handmaid's Tale stars Moss, Dowd, Joseph Fiennes, Yvonne Strahovski, Samira Wiley, Alexis Bledel, Max Minghella, Madeline Brewer, O-T Fagbenle and Amanda Brugel.
Look for season two in April.