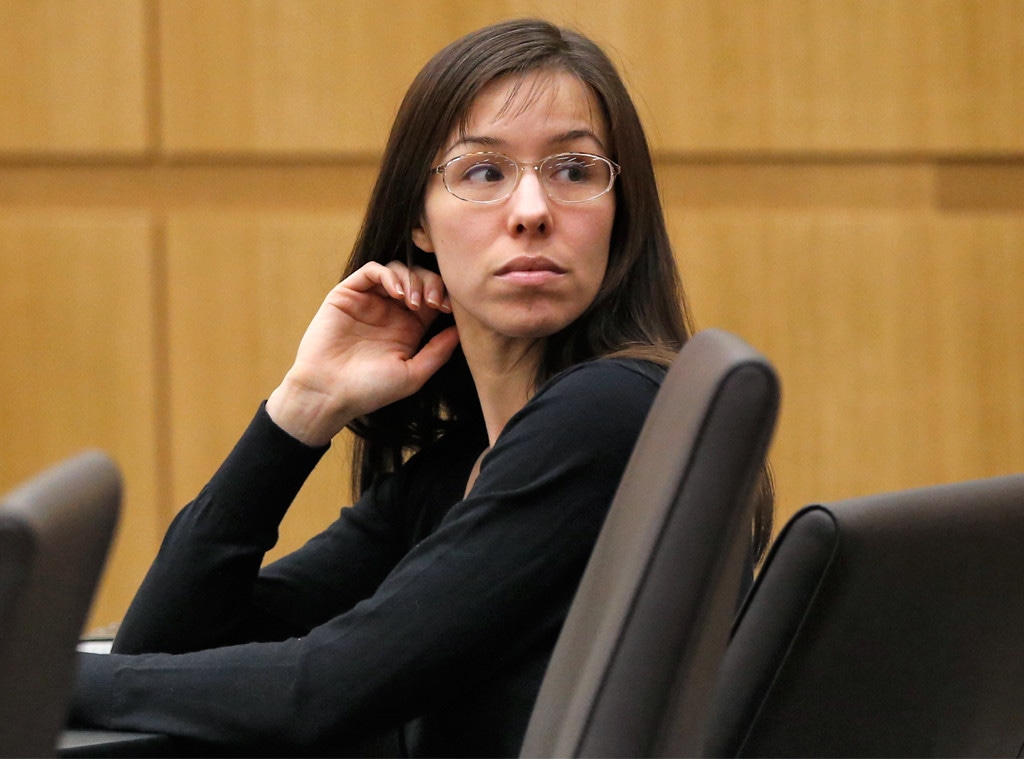 AP Photo/Matt York
About 20 minutes after she was found guilty of first-degree premeditated murder for killing her ex-boyfriend, Travis Alexander, Jodi Arias said that she understood why the jury didn't believe her side of the story.
"I can understand that, I think, because..." the then 32-year-old Arias told Phoenix's Fox 10 News on May 8, 2013. "The lies I told in the beginning to try to cover up this, cover up that, hide things that I didn't want to be known, made public."
And there were indeed some lies, to put it mildly. Arias would at first claim she had nothing to do with Alexander's death, that she wasn't even in town. Then she told police that intruders had broken into the house, murdered Travis and attacked her, but she got away. Once it became clear that she was going to be charged with murder, however, she claimed that she killed the 30-year-old legal services executive and motivational speaker in self-defense, that he had abused her during their relationship and she feared for her life.
Arias ultimately spent an unprecedented 18 days on the stand testifying during the trial. Her defense attorney ended up writing a tell-all book, losing his license in the process. Cable news had many a field day.
The web of falsehoods she wove during the course of the investigation both repulsed and fascinated a nation, which by saga's end was wholly wrapped up in the Jodi Arias mess. Every element of the circus was in place. The defendant fielded marriage proposals while her defense team received death threats. A Lifetime movie, Jodi Arias: Dirty Little Secret, aired in 2013, about a month after she was convicted. And even then-civilian Donald Trump weighed in after finding out Arias was following him on Twitter.
"Jodi Arias has stated that she follows me on Twitter so I really hate to be saying that she is guilty but sadly, she is as guilty as it gets," the future president tweeted on May 1, 2013.
"Jodi should try but the govt. should not make a deal - no jury could be dumb enough to let her off (but you never know, look at OJ & others)," Trump continued, concluding, "Jodi, if you're listening, MAKE A DEAL!"
But there was no deal to be made. 
"The worst outcome for me would be natural life," Arias told Fox 10 when asked if she was worried about that the jury would give her the death penalty. "I'd much rather die sooner than later. Longevity runs in my family and I don't want to spend the rest of my life in one place."
"I said years ago that I'd rather get death than life and that still is true today. I believe death is the ultimate freedom so I'd rather just have my freedom as soon as I can get it."
Asked what she felt general public opinion of her was, she replied, "I get the sense that there is great division on both sides, but I believe the majority is against me."
Arias proved polarizing even in the penalty phase, with the first round resulting in a deadlock. A second sentencing trial that didn't even begin until 2014 and then ended in 2015, almost seven years after the murder, resulted in Arias being sentenced to life in prison—but only, once again, because the jury wasn't unanimous.
"The 11 of us strived for justice, but to no avail," an unidentified juror told the Arizona Republic after the verdict, saying one woman was a holdout. "We absolutely feel the penalty should have been death."
Investigation Discovery is delving into the still disturbing particulars of the case in Jodi Arias: An American Murder Mystery, a three-part series premiering Sunday that will try to untangle the convoluted stories Arias told about herself, about Travis Alexander and about her motive for killing him.
When friends discovered Alexander's body in the shower of his home in Mesa, Ariz., on June 9, 2008, he had been dead for five days. He was shot once in the face, his throat was cut and he had been stabbed at least 27 times.
Alexander, a salesman for Prepaid Legal Services, met Arias in September 2006 when he was in Las Vegas for a work convention. He was described by his friends as a real catch, handsome and successful, devoutly religious and an all-around good guy who had come from nothing. Born in Riverside, Calif., to drug addict parents, including a physically abusive mother, he and his six siblings went to live with his grandmother when he was 10. He converted to Mormonism as a young man.
Arias, a financially strapped waitress when she met Alexander, was the oldest of four children born to Sandra and Bill Arias. Jodi claimed at trial that she grew up in an abusive household; her mother, who was in sporadic communication with her daughter after Jodi moved out at 17 but attended every day of both trials, called her upbringing normal and happy. Jodi was baptized by the Church of Jesus Christ of Latter Day Saints after meeting Travis.
According to the 2013 book Exposed: The Secret of Life of Jodi Arias, by HLN's Jane Velez-Mitchell (who, along with Nancy Grace received death threats by a rabid Arias fan over their coverage of the trial), Travis had told his friend Taylor Searle that Arias had a voracious sexual appetite and couldn't get enough. He supposedly talked to her early on about the importance of marriage and family to him, which Arias took to mean he planned to marry her. 
Sky Hughes, who along with her husband Chris Hughes was a member of the church and a friend of Alexander's, told Velez-Mitchell that Travis had told Jodi, "I want you to know that I respect you, and I don't want you to regret anything and let's move slowly." Sky and Chris, who defended Alexander's image during the trial in response to Arias' claims that he brutalized her.
Arias, who was living in Yreka, Calif., and Alexander talked all the time long distance and would rendezvous in different cities, but he's said to have kept her at arm's length when she was around his friends. While they were obviously having a sexual relationship, Alexander seemed to be conflicted between his faith, which frowned on premarital sex, and how he was actually living his life—and he would take it out on her. In texts and emails to Arias he called her a "slut," according to a New York Daily News excerpt from Exposed.
Alexander eventually started dating someone else locally, but stayed in contact with Arias. In a recording played at trial that Arias made of a phone conversation they had about a month before the murder, he tells her he wants to tie her to a tree and do things to her (using more explicit language). She had taken a number of graphic nude photos of the two of them, some of which ended up being used as evidence.
According to Shanna Hogan's Picture Perfect: The Jodi Arias Story, Alexander told his friend Taylor that he had broken it off for good with Arias, telling her, "I never want to see you again. This is it." Asked if he was worried about what Arias might do, Alexander said, "No. She's crazy but she's harmless."
Ultimately, the murder was practically caught on camera.
But at first, Arias claimed she wasn't in Mesa when Alexander was murdered on June 4, 2008, a Wednesday.
"I know that I talked to him early Monday morning," Arias told detectives in July, saying she hadn't seen him since that April. He knew she was going on a road trip, she explained, and "he was kinda guilting me because I wasn't going to Arizona, I was going to Utah." To meet another guy, she added. They had the sort of relationship, Arias said, where they were on a need-to-know basis.
Meanwhile, Alexander's friends told police that he had been dating a "crazy" person who had slashed his tires and hacked his Facebook account, so...look at her.
A few weeks after finding a waterlogged digital camera in Alexander's washing machine, investigators recovered sexually explicit photos of the couple time-stamped from the afternoon of June 4 and a photo of Alexander in the shower at 5:29 p.m., possibly the last image of him alive. Then there was another photo, of him bleeding on the floor, Jodi's foot in the frame.
Arizona Department of Corrections
Police told Arias, road trip or not, she had time to drive to Arizona to commit the crime. "I know you know there's pictures, because I have them," Detective Esteban Flores told her in a taped interview as shown in the ID series. He showed her a photo. "That's you, all of you," he said. Leaning over the picture, hair falling in her face, Arias said, "That looks like me."
Flores placed her under arrest, sending the case hurtling into the national consciousness.
She then admitted she was there, telling police (and then several news programs) that she and Travis had just had sex when two intruders broke into the apartment, killed him and attacked her, but she managed to escape.
"It was the scariest experience of my life," she told 48 Hours. "It was just so unreal. It was like a move unfolding. Like a horrible movie."
But there were no signs of forced entry. Nothing had been stolen from the apartment, where Alexander lived with roommates.
In her next version of events, she claimed that she was taking his picture in the shower when she dropped his camera, making him angry. He threw her to the floor, she said, and then pulled her up to keep attacking her.
So she shot him, Arias admitted, but didn't remember stabbing him.
"I did not kill Travis," Arias told police in a videotaped interview played at trial. "I don't think I could stab him. I think I would have to shoot him until he was dead if that were my intentions. But I would have to wear gloves. "If I had it in me to kill him, the least I could have done was make it as humane as possible."
To the end she insisted the murder wasn't premeditated.
"No jury is going to convict me," she told Inside Edition in 2008. "Because I'm innocent and you can mark my words on that one—no jury will convict me."
Not that anyone waited for a trial, let alone a jury, to form their own opinions.
"The only person that actually got to meet Jodi was my grandmother," Travis' brother Steven Alexander told HLN in October 2012, the family convinced of Arias' involvement already. "Other than that he didn't really bring her around our family too much."
"I had that feeling right away that she had something to do with it," sister Tanisha Sorenson said, saying Travis had told their brother Gary that Jodi had slashed his tires twice. "I didn't think she actually did it, maybe, but she had something to do with it."
"That was the same consensus that everybody else came to, everybody else that heard about it," Steven added. "The first name that came out of their mouth was 'Jodi.'"
AP Photo/The Arizona Republic/David Wallace/Pool
The trial eventually got underway in January 2013 and was streamed live online, turning the major players in the case into actors in a macabre, all-too-real modern-day tragedy.
While family and friends painted Travis Alexander as a golden boy, Arias' defense team, headed up by L. Kirk Nurmi, set out to tell a very different story. Alexander was a sex and pornography addict, they claimed, who physically, verbally and emotionally abused Arias. Recordings and photographs would prove he wasn't an angel, but those who knew him objected vehemently to Arias' version of events. 
Daniel Freeman, a close friend of Alexander's who liked Arias when he met her, ended up testifying for the defense because he initially believed in her—but, as he later told Phoenix's ABC 15, he was repulsed by what they were saying about Alexander and was happy to defend him too.
"Whey started the questioning that's when I realized they were trying to paint Travis as the bad guy," Freeman said. "Sitting on the stand, I kind of smiled because I knew that wouldn't work. He was a good guy—there wasn't anything bad in anything I ever saw." And so he didn't mind helping the prosecution either. Seeing prosecutor Juan Martinez share a laugh with Detective Flores, he wasn't offended. Rather, he recalled, "what crossed my mind was he realized I was just telling the truth and that I wasn't for the defense, and that most of what I said he could actually use."
AP Photo/The Arizona Republic, Mark Henle, Pool
"To me," Freeman concluded, "I see someone who was a good man being dragged through the mud. We all have our weaknesses; we all have the things in our lives that we struggle with that are vices and it's not often that we have all our vices and dirty laundry dragged out for the whole world to see."
AP Photo/The Arizona Republic, Tom Tingle, Pool
As the trial got underway it became clear there were issues with the defense. Numri tried to step down as counsel multiple times, and Arias also tried to fire him, but the judge denied all of their requests.
Arias would also accuse Martinez of doing "some very shady things" in her case. "His accusation that I was seeking fame is absurd," she told Fox 10. "I remember a hearing we had in 2011 where he stood up before the court and said, 'I don't control the media, if it were up to me I'd be on TV every night.' So I think he's the one seeking fame, not me."
She said that, when the prosecution showed the nude and sexually suggestive photos of her in court, "I wanted to crawl under the table and just disappear." In retrospect, "I think if I had just been honest from the beginning I'd be in a different place."
When Arias was found guilty, the crowd outside the courthouse erupted in cheers.
There were, however, plenty more frustrations to come down the pipeline.
The first jury, the one that found her guilty, couldn't agree on sentencing, and it took a year and a half two get the sentencing retrial under way with an all new jury. The defense argued that Arias suffered from borderline personality disorder and suffering from PTSD because of her traumatic upbringing and then the abuse she suffered at Alexander's hands.
Martinez didn't dispute that Arias might have BPD, but he didn't think that should necessarily disqualify her from a death sentence.
"I don't want to have to see my brother's murderer any more," Travis' brother Steven said in a statement he read in court. "I don't want to hear his name dragged through the mud anymore. I've been hospitalized several times for ulcers and came very near to death. I've been on several different antidepressants. Unfortunately none of them really worked." He said that he and his wife, parents of a daughter, separated for two years because he had grown so distant.
Steven said that Travis had hoped to do a lot of good in his life, but "he will never get to do that because he was so brutally ripped from this world."
Travis' sister Samantha Alexander, a police officer, also spoke out, calling the photos she saw of her brother's dead body more gruesome than anything she'd seen in 11 years on the job.
Arias could be seen tearing up during the siblings' statements. 
When the default punishment—life in prison—was handed down, critics were relentless on social media in their disparagement of Martinez, Numri and the jury, all of whom they felt were complicit in denying Travis Alexander's family ultimate justice.
Sandra Arias, Jodi's mother, told reporters outside the courthouse that the situation was "very tough...You dream of your daughter becoming a mom, walking down that aisle as a bride, Jodi's never going to see that." Though her daughter never having her own family was "probably the hardest" part of Sandra to deal with, she expressed confidence that Jodi would be OK. 
"Jodi always lit up the room when she walked in, you know her smile was so bright," Sandra said. "Jodi always tried to help people less fortunate than her...She's going to continue to do that." Asked if she still felt her daughter had been a victim, she replied, "I do feel like she was a victim, definitely. I saw bruises on her neck, I saw bruises on her arms."
Arias was officially sentenced to life in prison with no possibility of parole in April 2015.
Despite her initial preference for the death penalty, Arias has kept busy behind bars, and her quest for a new trial continues. Her planned appeal has been delayed until at least this year due to copious errors in the trial transcripts that led to some of them being destroyed and redone, all of which wasn't completed until April 2017. 
In October, Arias sued Numri over his self-published book, Trapped With Ms. Arias, about his experience trying to defend his cagey client, alleging he was in violation of attorney-client privilege. The suit further alleged that Numri had obsessed over the more prurient details of the case and had made a sexual photo of Arias his screensaver on his office computer at one point. Numri agreed to be disbarred after Arias' legal camp filed a complaint with the state Bar Association.
"Standing up to the abuse Ms. Arias imparted upon me over the years was an important part of my personal transformation and I will continue to fight this battle with vigor as I defend against this lawsuit which is best viewed as a continuation of Ms. Arias' pattern of attacking men whom she feels have wronged her," Numri wrote in a statement to the Arizona Republic. "Of course, no one person has suffered at the hands of Ms. Arias [more] than Mr. Alexander and I look forward to clearing the air on all the derogatory assertions that Ms. Arias made about him as I defend against the outrageous claims made in this lawsuit."
She also filed suit against Martinez, alleging he had leaked details to a blogger he had been having a romantic relationship with. The prosecutor also wrote a book about the case that prompted ethical concerns from the Bar Association (the complaint was dismissed). In his book, Martinez alleged that the holdout juror had become smitten with Arias and couldn't vote for the death penalty.
AP Photo/Ross D. Franklin
Sandra Arias told Feminine Collective in an interview published last May that she had visited Jodi twice (in May 2016 it was reported that Arias had talked back to a corrections officer and temporarily lost her in-person visiting privileges) and her daughter was a "constantly cheerful" type who always seemed happy to see her family. Jodi was organizing a library for her prison unit and asking friends for book donations.
"I am a mom–just like any other mom," Sandra said. "I did the best job I could raising my children. My mother once told me that parenting ends at a certain age, and beyond that, children act of their own accord. I do not feel responsible for Jodi's actions, but that doesn't mean she does not have my complete love and support. Always, unconditionally, for the rest of her life."
There may be a chance that one of Sandra's dreams for her daughter could still come true.
While she isn't allowed contact visits in maximum security, she is allowed phone calls and Skype, and in 2016 Arias was reportedly planning on marrying one of her many admirers in what would ultimately have to be a jailhouse wedding.
"Of course she's thought of having a family and having kids," a friend of the most famous inmate at Arizona State Prison, Perryville, told In Touch at the time. "She's wanted them for a while."
The Arizona Department of Corrections doesn't allow conjugal visits, "so there's not the typical courtship that you're going to see in most dating relationships," the former director of communications for the DOC told ABC 15.