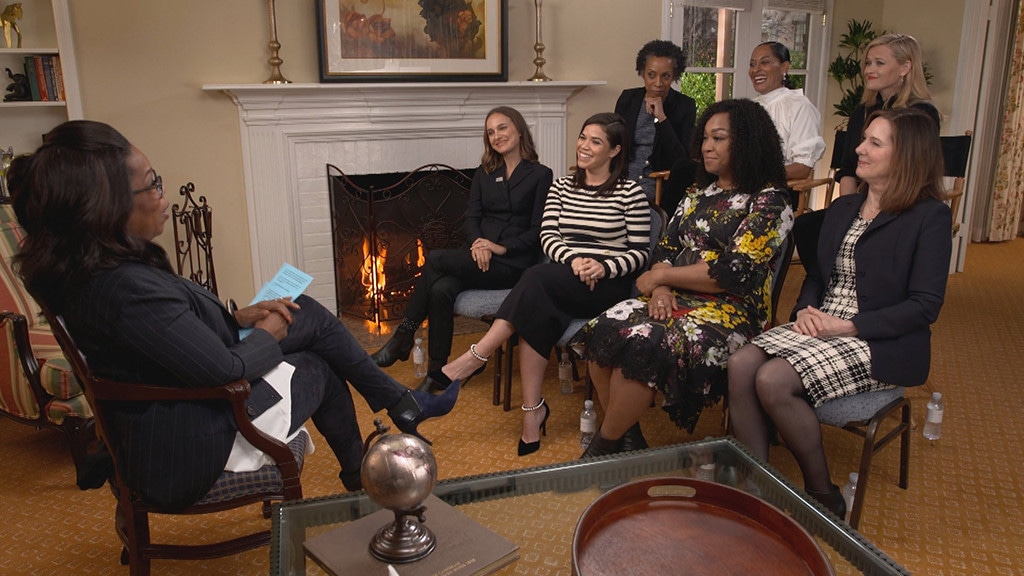 Oprah Winfrey sat down with a few of Hollywood's most powerful women—including Reese Witherspoon, Natalie Portman and Tracee Ellis Ross—to discuss the impact of Time's Up—a movement that promotes equality and safety in the workplace and fights against sexual harassment.
A sneak peek of the CBS Sunday Morning interview showed Witherspoon tearing up while discussing how speaking out leads to a greater sense of empowerment. Back in October, the Big Little Lies star said a director sexually assaulted her when she was 16.
While Witherspoon admitted she hasn't "gotten to that place" of feeling empowered yet, she often refers to the following quote by Elie Wiesel, "Neutrality helps the oppressor, never the victim. Silence encourages the tormentor, never the tormented."
"There's moments that you have to evaluate whether silence is going to be your only option," Witherspoon said during the interview. "And at certain times, that was our only option. But now is not that time."
Winfrey also questioned the panelists about how society can have a "mature, nuanced" conversation about how men and women should relate to one another.
"We're humans. We're all humans," Portman replied. "And I think it's treating people as fellow humans and—and it's not because you have a daughter that you respect a woman. It's not because you have a wife or a sister. It's because we're human beings, whether we're related to a man or not. We deserve the same respect."
America Ferrera, Shonda Rhimes, Lucasfilm president Kathleen Kennedy and attorney Nina Shaw also participated in the discussion. In addition to talking about their own experiences and the goals behind Time's Up, the women conveyed how it's a movement for everyone, not just those in Hollywood.
"You know, we have public voices. We have resources," Witherspoon said at one point. "But women who are workers in this country have nothing to gain in certain times by coming forward. But we, we want to help. Like it gives me strength to hopefully help other women."
Echoing her sentiment, Kennedy said, "We have to maintain the momentum of this conversation because they can't."
Word about Time's Up started spreading on New Year's Day after The New York Times published an open letter about the movement. The initiative also launched its Time's Up Legal Defense Fund—a tax-exempt charitable organization that helps people who've experienced sexual misconduct obtain legal representation. On Jan. 1, the fund had raised more than $13 million from more than 200 donors, including stars like Meryl Streep, Jennifer Aniston, Taylor Swift, Witherspoon and more. This figure has since risen to more than $16.5 million.
Many celebrities showed their support for Time's Up at the 2018 Golden Globes by wearing black or donning a Time's Up pin. Some celebrities walked the red carpet with activists to promote the movement and its message.
The interview airs Sunday, Jan. 14, at 9:00 a.m. EST on the CBS Television Network.