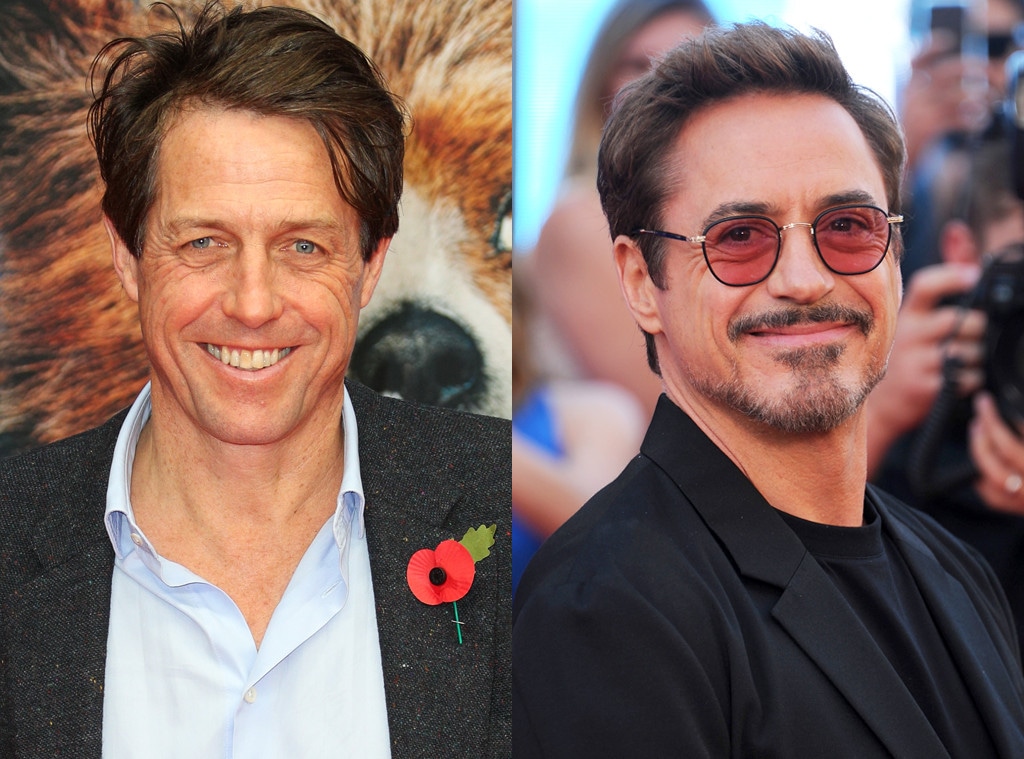 Getty Images
Celebrities don't always get along with their co-stars. But in a new interview with People, Hugh Grant said Robert Downey Jr. wanted to kill him. 
"[He] hated me," the Paddington 2 star told editor in chief Jess Cagle. "We did a thing called Restoration, and he took one look at me and wanted to kill me."
When asked why Downey showed signs of animosity, Grant replied, "I don't know. I was so hurt."
However, it looks like the Iron Man actor is ready to make amends.
"A lot has happened over two decades!," Downey tweeted on Thursday. "I respect how Mr. Grant has matured as an artist & voice against violations of privacy. Let's break bread together soon @HackedOffHugh! #burythehatchet2018."
Downey isn't the only co-star with whom Grant seemed to have a bit of beef. When asked about his co-star Drew Barrymore, Grant said she did "hate me a bit" and that it had been "fractionally tense" on the set of their film Music and Lyrics.
"I admired her," he said. "We were just very different human beings. She was very L.A. and I was a grumpy old Londoner."
Thankfully, Grant seems to have a better rapport with some of his other former co-stars. For instance, he described Emma Thompson as a "genius" and a "really good actress," joking that she's "not remotely sane." He also called his Four Weddings and a Funeral co-star Andie MacDowell a "Southern peach charmer" and his Nine Months co-star Robin Williams a "genius on another level" and "very kind."
As for Meryl Streep, whom he starred with in the 2017 film Florence Foster Jenkins, Grant said she is also a "genius" but struggles with her vision.
"She wears glasses all the time, but she refuses to wear contact lenses when she acts because she thinks that the camera can see them," he told People. "So, the result is, if we're doing a scene as close as you and I are now, to Meryl, I could have been Denzel Washington."
Actually Grant told E! News getting to play opposite Streep was one of the reasons he decided to do the film.
"Well, the legend of Meryl Streep is intimidating—I was freightened by that," he told Ryan Seacrest at the 2017 Golden Globes. "She's a lovely woman. You've met her. But it is quite freightening acting with her because she brings all of this talent. That's one thing, but also there's a really scary intensity. If it's a sad scene, Meryl's sad. If it's an angry scene, Meryl is really angry. It's hard to keep up."
He also weighed in on his relationship with his Bridget Jones co-star Renée Zellweger.
"Renee loves me, and I love Renee," he told People, adding that she's "very generous" and gives "enormous" gifts.
However, the actor might not be the best at staying in touch with his co-stars. During a 2016 episode of Watch What Happens Live, Grant failed to recognize Zellweger in a picture. He then said he hadn't kept in contact with a lot of his co-stars, joking "they all hate me, I think."
To learn more about Grant's complicated relationships with his former co-stars, check out People.