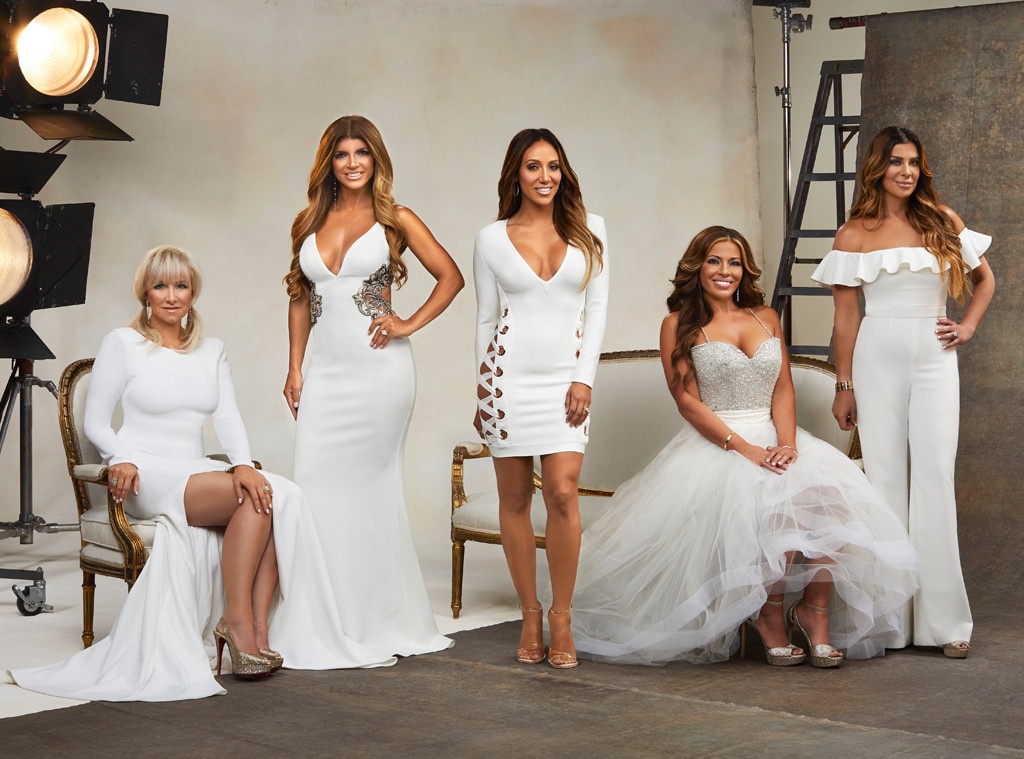 Bravo
The Real Housewives of New Jersey season eight reunion has a special guest, and we're not talking about Kim D. or Danielle Staub. The Real Housewives of New York City's Ramona Singer makes an appearance…via phone.
Ramona calls RHONJ star Melissa Gorga and Andy Cohen picks up during this reunion faux pas. "I put it on airplane mode!" Melissa says before handing her phone over.
"Ramona?" Andy says.
"Yes, who am I speaking with?" she asks.
"You're speaking with Andy Cohen," he says.
"Oh my god, Andy. Why are you answering the phone?" she wonders.
"Because we're in the middle of the f—king Jersey Housewives reunion," he says.
But the two-part reunion isn't all surprise phone calls. Andy takes Melissa, Danielle, Teresa Giudice, Siggy Flicker, Margaret Josephs and Dolores Catania on a walk down memory lane filled with fights over cakes, "Soggy Flicker," marriage rumors and name-calling.
"This is like a f—king circus," Melissa says.
Look for Siggy and Margaret to rehash their issues some more, Teresa to go toe-to-toe with Kim D., again, and Dolores and Danielle to also rehash their issues.
"We surprise the women and bring Kim D. out and they are none too happy to see her," Cohen told E! News at the Critics' Choice Awards. "And I will say, Teresa has changed so much since she went away, but I'm telling you, the old Teresa comes back at the reunion—I was happy to see her."
This will be Siggy's last reunion. The two-season Housewife announced she was done with the show after this year. She had already filmed the reunion when she announced her exit.
Watch the drama unfold in the trailer above. People first posted the trailer. The Real Housewives of New Jersey airs Wednesdays, 9 p.m. on Bravo.
(E! and Bravo are both part of the NBCUniversal family.)