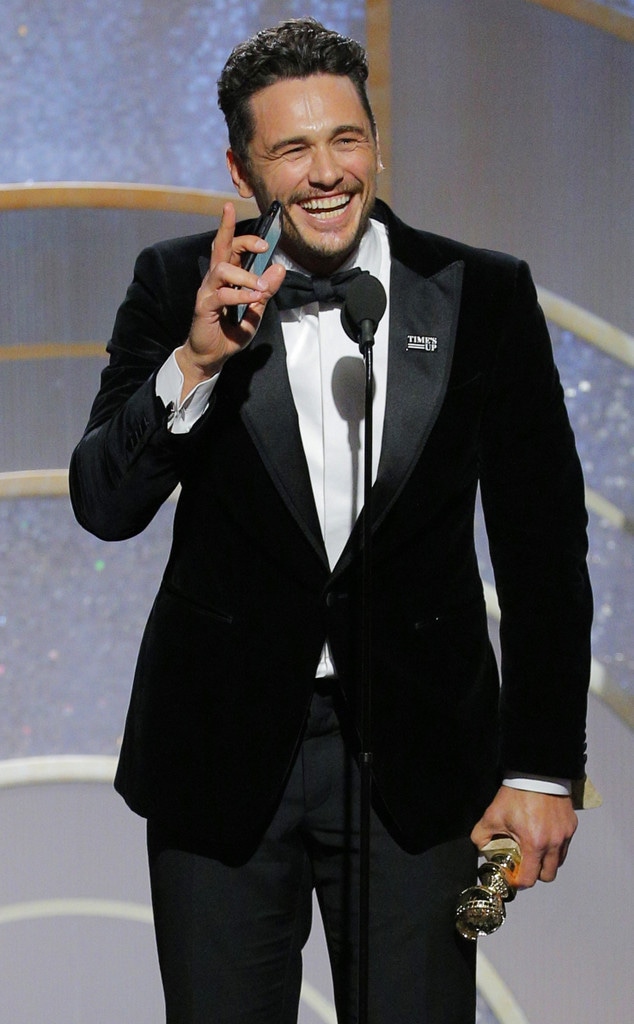 Paul Drinkwater/NBC
Just hours after five women have accused James Franco of sexual misconduct, the actor was a no-show during the 2018 Critics' Choice Awards ceremony to accept his award for Best Actor.
Instead, Vice Principals star Walton Goggins thanked the audience and said, "James couldn't be here so we accept this on his behalf."
The timing comes as the recent Golden Globe winner is in the midst of addressing allegations made against him.
During an interview with Seth Meyers on Late Night Wednesday night, he told the host:
"I was sent a couple of the tweets. So yeah, I did read them. I haven't responded," the Disaster Artist actor said. "The ones I read were not accurate, but one of the things that I've learned is that this is a conversation that obviously needs to be had. There are people, women and others, who have not been a part of this conversation. I truly believe, and why I was wearing the pin, is that they need to be a part of this conversation. I support them."
The late-night talk show host also referenced tweets from actress Ally Sheedy, who appeared four years ago in Franco's The Long Shrift, during his off-Broadway directorial debut.
After Franco won the Sunday night for his role as Tommy Wiseau, Sheedy wrote, "Please never ask me why I left the film/TV business."
Sheedy later deleted her tweets, without explanation, and Franco said he didn't understand her motives. "I had a great relationship with her.
She took the tweet down. I don't know. I really don't," he said, adding that he hadn't reached out to her. When Meyers asked if he was "curious" about Sheedy's tweets, Franco responded, "I don't know. It was so shocking. I don't know. I just...I guess I'm just letting it be."