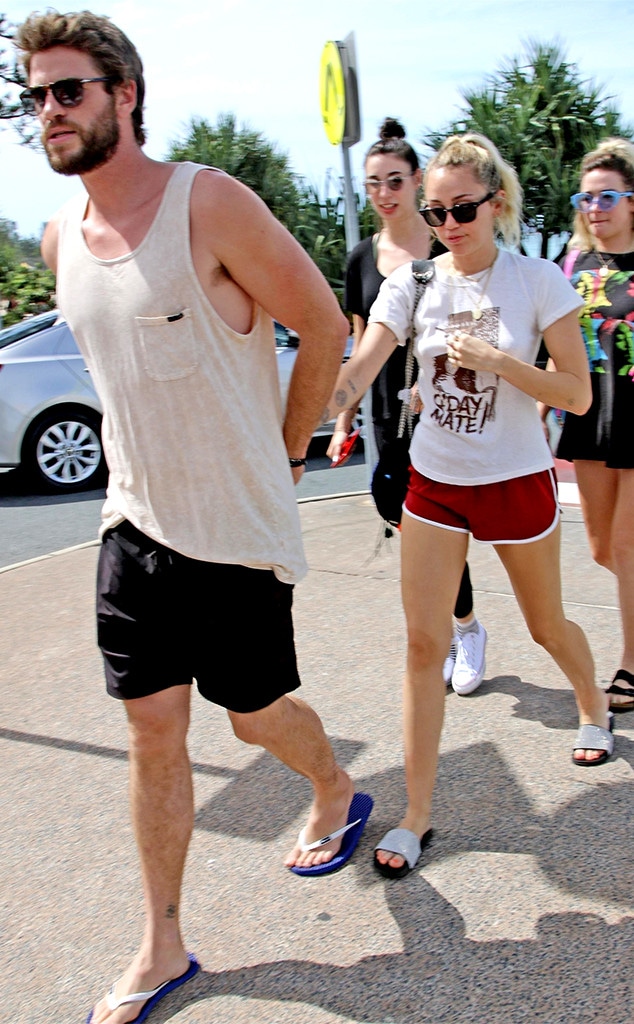 MTRX / BACKGRID
Miley Cyrus and Liam Hemsworth have been enjoying some time off together in Australia.
The 25-year-old "Malibu" singer has been spending time with her 27-year-old actor beau's family in recent weeks.
"Miley has spent the last two weeks in Australia enjoying the summer weather with the Hemsworth family," a source tells E! News. "They rang in the New Year at Chris Hemsworth's compound at a Burning Man themed party with Matt Damon and several friends. Everyone had elaborate costumes and went all out for it."
And it sounds like Miley gets along very well with Liam's family. "Miley has a lot of fun with the Hemsworths and fits in very well," the insider shares. "The whole trip has been a very laid back beach vacation with lots of lunches and dinners out and just bumming around town. Miley really loves her time in Australia and it feels like a second home to her. She blends in with the locals and the casual beach vibe. It's similar to her life with Liam in Malibu that she cherishes so much."
Miley and the Hemworths have developed a close bond over the course of her relationship with Liam. The singer has also become close with Chris' wife, Elsa Pataky.
"The Hemsworth family has completely embraced Miley and she is very much one of them," the source tells us. "She is close with Liam's mom and dad. They all went out to eat several times in Byron Bay and Miley and Liam's mom always hold hands and kiss goodbye. She also went on a girls shopping trip with Elsa at Spell and The Gypsy Collective. They love hanging out together and have gotten close. Miley loves Chris and Elsa's kids and is very good with them. She loves spending time with them."
Photographers spotted the couple out and about in Australia this week, spending time with friends ahead of Liam's 28th birthday on Jan. 13.
"On Thursday, Miley and Liam had lunch with Katy Weaver and Jesse Light at Rich Shores at Burleigh Beach Tower," the insider shares. "Liam was holding Miley's hand and leading her around to get in and out of the restaurant. Miley and Liam were seated on the same side of the table and had a casual lunch at the best table overlooking the water. They were watching the surfers and enjoying the day. After lunch they went to the Burleigh Beach Tower to relax. It's been a great trip for Miley. She is right at home and loving life in Australia."