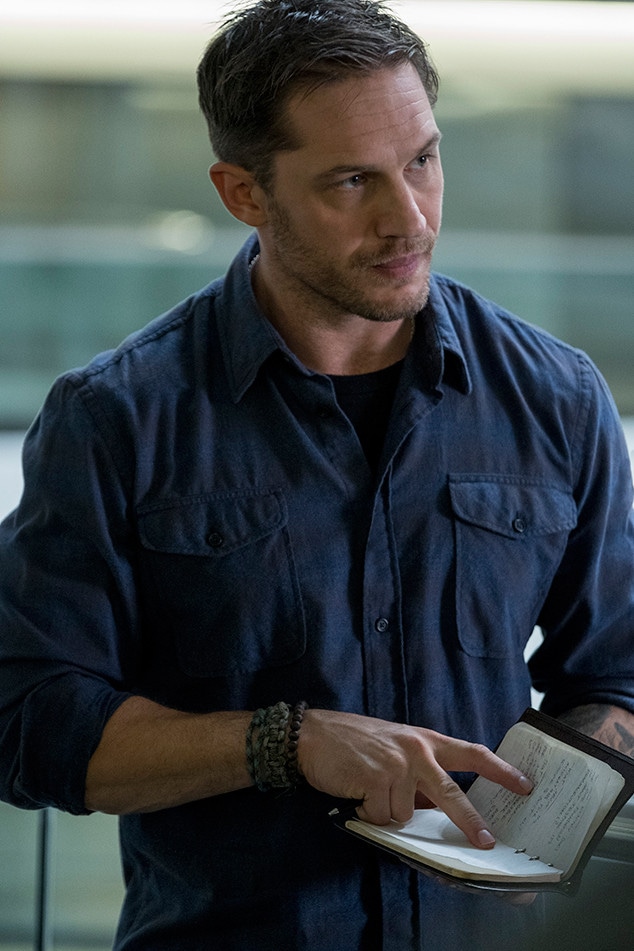 Frank Masi/Columbia Pictures
Feast your eyes on Tom Hardy as Eddie Brock in Venom.
Fans who attended Brazil Comic-Con in São Paulo Thursday were given the first look at the actor in character as the Marvel supervillain. Director Ruben Fleischer appeared via satellite from the "San Francisco" set in Atlanta, where he shared few details about the upcoming Columbia Pictures movie. "Up until this point, we've had a closed set—no visitors, no press," he teased. "Nobody's been here. So, you guys are the first people in the world to visit our stages."
"We want to be as true as possible to the comics with our film, but our story is primarily based on The Lethal Protector and the Planet of the Symbiote books," Fleischer told fans. As they screamed with excitement, he said, "I can promise you badass action, Venom's dark humor and I can also promise you an absolutely stunning performance by Tom Hardy. This is Venom's movie; we never know where he's going to show up. We're creating the next link in the chain."
As he was speaking, Hardy popped into the frame to say hello and promote the film. "Wow, that is a lot of people! Wow! Hey, I'm sorry I can't be there with you. We were going to surprise you by flying in," he told fans. "We were going to take a flight; it's like nine and half hours overnight, and then we were going to jump back and go back to set, but the snow kept us on the ground. So, I'm really sorry that we can't be there with you now. But wow, we wanted to come to São Paulo. We wanted to come to Brazil. I've never been. I'm a huge fan. I give you my word of honor that I'm going to do anything I can to deliver the best Venom that I possibly can muster, because I know how important he is to you, and I know how important he is to the Marvel universe, and I know how important this is for all of us here. That's what we're doing."
Venom, also starring Michelle Williams as Ann Weying, is slated for an Oct. 5 release.