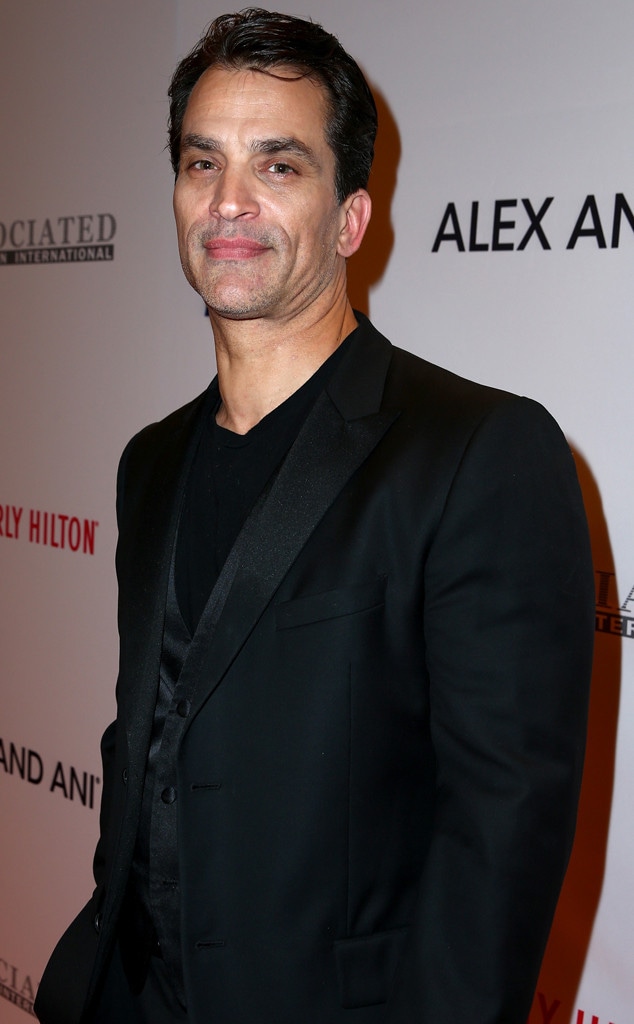 Rich Fury/Getty Images
Johnathon Schaech is sharing allegations against Italian director Franco Zeffirelli.
In an essay published on People, 48-year-old Schaech writes that the director, 94, harassed and sexually abused him during production of the '90s film Sparrow, claims that Zeffirelli's son Pippo denied to the publication, calling the allegations "not credible."
Schaech was cast in the movie in 1992 and won the role after attending an open call and making it thought a number of auditions. After being cast in the role, the actor writes in the essay that he was flown to England to "work on the English dialect at the Royal Academy of Dramatic Arts." During that time, Schaech alleges, "Franco would fly in and out to see what the progress was — and almost immediately he began trying to seduce me with words."
AGF s.r.l./REX/Shutterstock
Schaech continued, "I could tell he wanted something from me beyond just being his leading man."
The actor was 22 at the time and he writes that during the production of the movie, "Almost every day, Franco would say, 'I need to be with you.' We filmed all over Italy and at one point we were at a château, and he would come to my door, knock on my door late at night. But I kept it locked."
Schaech also alleges that during the day, the director "would say things like 'I'm coming up to see you tonight' and I would say, 'I'm not OK with that Franco, it's not OK.' He didn't listen."
During the filming of the movie, Schaech alleges that Zeffirelli was "verbally abusive" and writes "It got to the point where he made me feel like I couldn't act, I couldn't do anything right, I couldn't speak right, I couldn't move right — everything I did was wrong."
Schaech says that one night while at a hotel and his co-star wasn't present, Zeffirelli allegedly told Schaech he was coming to his room. "This time he had managed to get a key. I was in bed sleeping and he let himself into the bedroom and he got beside my bed and was over the top of me on the side of the bed as I awoke," Schaech writes. "There was a moment where I was telling him 'No' and he told me, 'We have to.'"
The actor went on to write, "He molested me in my bed. He put his hands in places that I couldn't even imagine and he did things that I am not proud of. But it's not my fault. His pants never came off but I can [still] see him fumbling with his belt. He attempted to give me oral sex. I just remember being like, 'God, please no. I'm OK, I'm OK.' I did nothing. I just lay there in bed. It felt like 4 hours but it was probably like 30 seconds."
In response to Schaech's allegations, Zeffirelli's son Pippo told People in a statement, "It is alleged that 25 years ago an actor, who was then in his early twenties, was the victim of alleged verbal abuse and alleged attempted sexual abuse by my father during the filming of The Sparrow in Sicily, Italy. [He] would have been 70 at the time. It is also alleged that my father drank alcohol and may have been drunk on set. Mr. Zeffirelli and all our family were living in a villa, whilst actors, production and staff were staying in a hotel in Catania; all these allegations are not credible. At the time Johnathon suffered from a throat type of obstruction which made his speaking difficult. Directors have different styles and some time they could be much more demanding on inexperienced actors. My father is in poor health and not able to understand this attack and to respond to the allegations made by Jonathan Schaech. This would be an attack to a great director, an artist and to a man at the end of his life that he is not able, nor he will be in the future able to respond. This will be an incredible damage to his image and reputation on the basis of allegations which are not credible and cannot be proved."