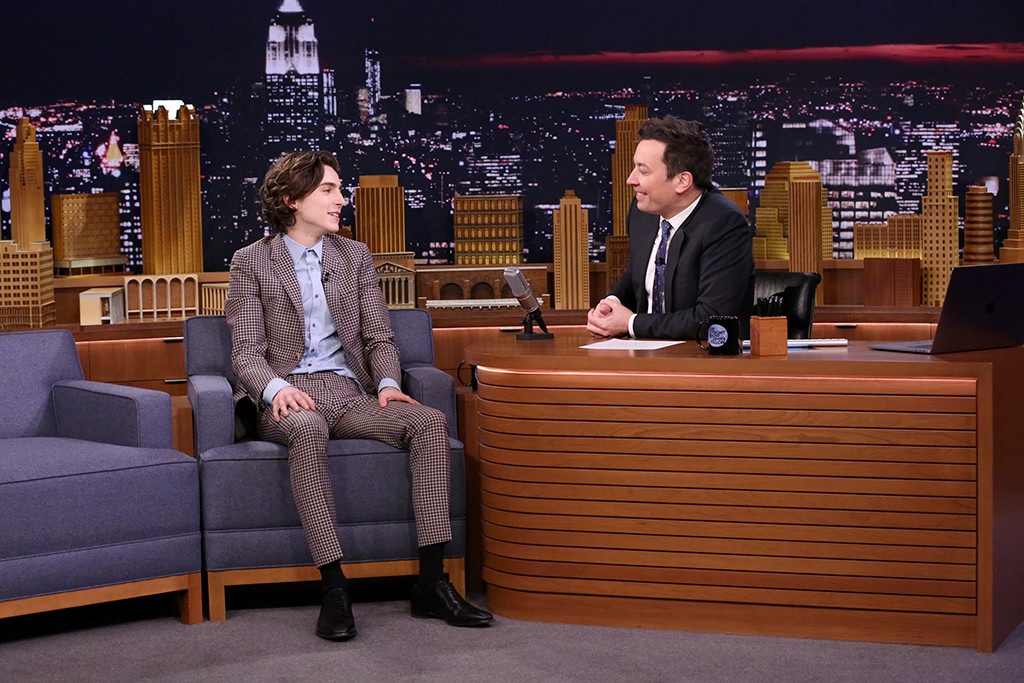 Andrew Lipovsky/NBC
Newcomer Timothée Chalamet loves the glitz and glam of Hollywood.
The Golden Globe-nominated star of Call Me by Your Name appeared on NBC's The Tonight Show Wednesday, where he told Jimmy Fallon he still gets nervous meeting other celebrities. "I couldn't look you in the face last time. The first late-night I ever did was here, and I was staring at my feet the entire time. It's so surreal to come out here," the 22-year-old actor admitted. "It's like having a normal conversation—except there's a hundred people right here watching!"
"Millions of people, actually," Fallon corrected him. "But it's no big deal."
Chalamet, who co-stars in Greta Gerwig's Lady Bird and recently wrapped a Woody Allen film with Selena Gomez, said it's "so weird" to see his Hollywood heroes in real life at award shows.
"I look out in the room and it's all actors and directors I've admired for a long time, and then sometimes my mouth is moving, like, 'Oh...They're listening to me right now. This is totally surreal. This is so strange,'" he said. Chalamet took his sister to the 2018 Golden Globes, and he had a "great time" introducing her to his new world. "We got to talk to Angelina Jolie and talk to Jennifer Aniston right after. I was like, 'Oh my, God! Which side are we on?' Look, man—I'm not [normally] hobnobbing with famous people. It's like, 'What the f--k is going on right now?'"
"I'm loving it! Like, I'm loving it!" the actor added. "I feel like I'm living a form of the dream."
Armie Hammer, who plays Chalamet's love interest in Call Me by Your Name, has become like a "brother" to the young actor. "We had the National Board of Review Awards last night. He's in bed with his wife, I'm in his hotel room, and I don't know what gave me free license to be like, 'Ah! I'm going to get in there with you guys!'" Chalamet said. "Those guys are like family now."
(E! and NBC are both members of the NBCUniversal family.)