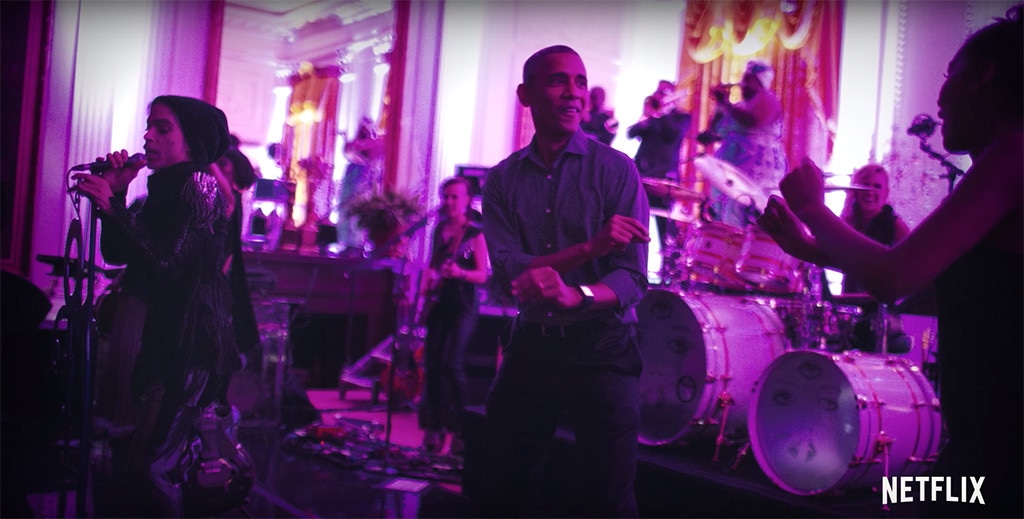 Netflix / Worldwide Pants
Former President Barack Obama revealed he showcased his "dad moves" while joining his teenage daughter Sasha Obama onstage as Prince performed.
The Democratic U.S. leader made his comments in an interview with David Letterman, set to air as part of his upcoming Netflix series My Next Guest Needs No Introduction with David Letterman, and shared a purple-hued photo of him dancing onstage near the iconic "Purple Rain" singer and musician, who died in 2016 at age 57.
"This was probably three or four months before he died and Prince asked Sasha to come up and dance—and she's an excellent dancer," the former president said, as seen in a preview video released on Wednesday. "Then Sasha pulls me up, which surprises me because she always mocks my dancing but I have dad moves. And I think the key is what we call, 'Staying in the pocket.' You gotta stay in the pocket because, I think everybody here knows dads who get out of the pocket, and they're trying stuff that they can't really pull off and they start doing like, karate kicks and all kinds of stuff."
The former president is a longtime fan of Prince. In 2015, while in town for a concert, the iconic pop and rocker star performed a private show in the East Room of the White House for Obama, his family, and about 500 friends and supporters, including Ciara and Russell Wilson, musicians Jon Bon Jovi and James Taylor, director Ava DuVernay, actress Connie Britton, comedian Dave Chappelle and Rev. Al Sharpton, according to Rolling Stone.
Letterman's series marks the longtime talk show host's first TV project since leaving Late Night in 2015. The former president's episode marks his first talk show appearance since leaving office in January 2017. Last month, BBC Radio 4's Today show released an interview guest editor Prince Harry carried out with Obama.
My Next Guest Needs No Introduction with David Letterman will debut on Netflix on Friday. January 12.