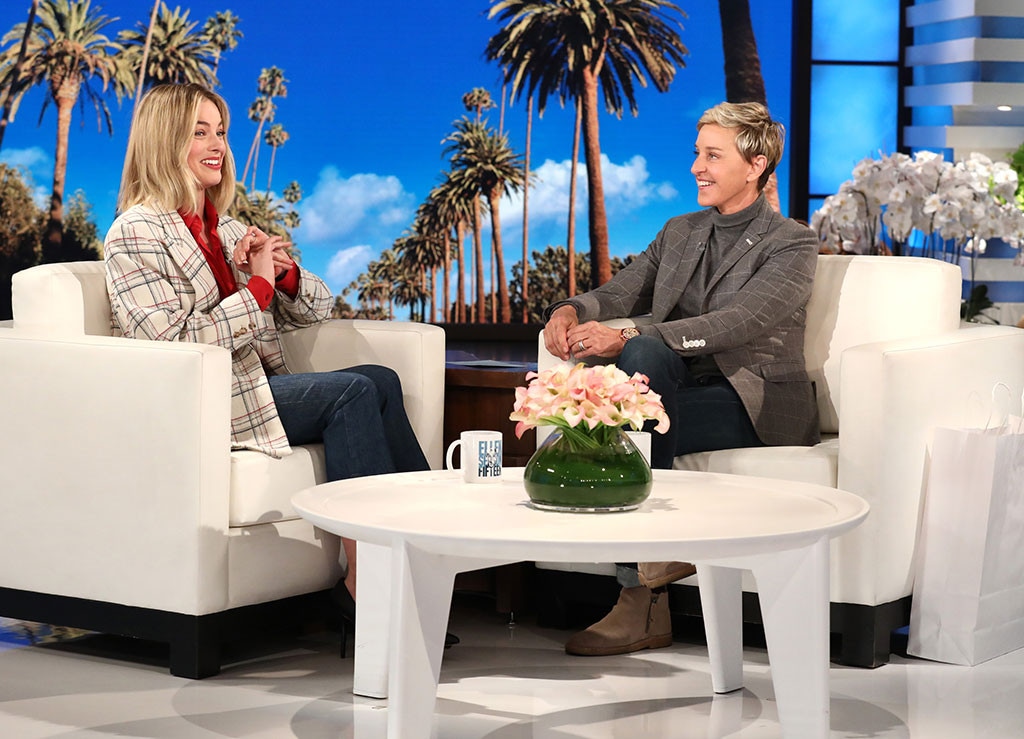 Michael Rozman/Warner Bros.
"Tell people how we know each other."
it sounds like a simple request from Ellen DeGeneres, but we hardly expected Margot Robbie's wacky answer. During an appearance on the comedian's daytime talk show Wednesday, the I, Tonya star recalled precisely how the two women were first introduced. "I'm scared because my husband's going to kill me for telling this story, but it's my favorite story ever and it's the story of how Ellen and I met," she told the audience. 
The tale begins in Tahiti, where Robbie and her husband Tom Ackerley were honeymooning. After staying a few days in a shack on an island, the two moved on to a luxury hotel. Upon arrival, it was raining so they decided to head to the gym to find an activity. Before working up a sweat, Ackerley put on a pair of really short shorts. "I was like, 'Babe, you cannot wear those shorts...I can see everything."
He was like, 'Oh c'mon. Who are we going to run into?'" Little did he know...
Upon arrival, the newlyweds immediately spotted DeGeneres and her wife Portia de Rossi. "It's not even the best bit," Robbie teased. The starstruck pair introduced themselves, but quickly learned there was another star to meet. 
"Standing next to them is former President Barack Obama," Robbie recalled. The story only gets better as Margot's beau attempted to do a stretching class without showing too much. At one point, he grabbed a towel and put it on his crotch. 
"Ellen looks over and goes, 'Boy, those were the wrong shorts to wear today,'" Robbie acted out. 
That wouldn't be the last time DeGeneres saw those shorts as they accidentally popped up in her laundry service two days later. 
Fortunately for Tom, the host gave his wife two pairs to lined shorts to bring home. 
To see the two reenact the moment, check out the hilarious clip above!