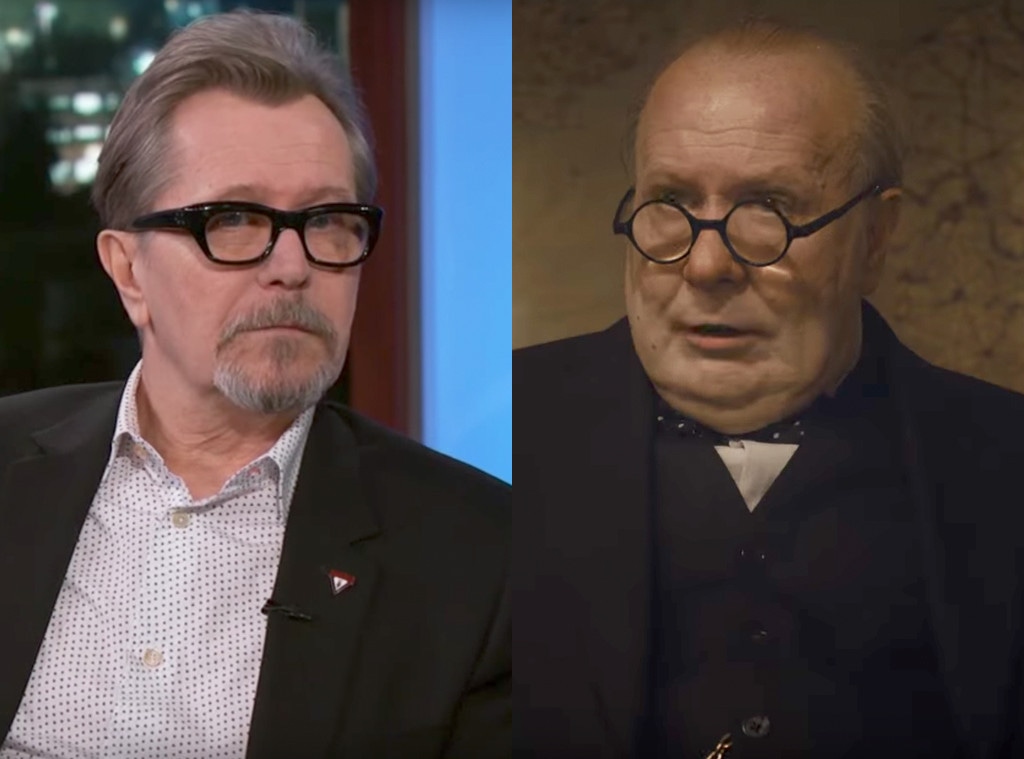 Moviestore/Shutterstock; Getty Images
Well, that's one way to pop the question.
During Wednesday's episode of Jimmy Kimmel Live!, Gary Oldman revealed he proposed to his wife Gisele Schmidt while he was dressed as Winston Churchill. The 59-year-old actor played the former prime minister in the film The Darkest Hour.
"There was a break in the filming, and we had talked about it and I just felt the urge," the actor told Jimmy Kimmel. "We were down in the war rooms, and I took her into the back room. And as Winston Churchill, I said 'Will you marry me?'"
After Schmidt accepted the proposal, Oldman was called back on set—cutting the romantic moment short. 
"So you did not get the chance to consummate at Winston Churchill?" the host teased. Oldman suddenly became tongue-tied.
"It's funny you should say that," the actor said, "because my wife has often said she went to bed with Winston Churchill but woke up with Gary Oldman."
Oldman then complimented his wife and called her a "trooper" for supporting him while he researched the role.
Watch the video below to hear him tell the story.
Neilson Barnard/NBCUniversal/NBCU Photo Bank via Getty Images
To resemble the famous military leader, Oldman went through three hours and 15 minutes of makeup every day. However, it looks like he truly captured the character. Oldman recently won a Golden Globe for Best Actor in a Motion Picture in the Drama category.
The actor and his wife are still newlyweds. According to the Associate Press (via People), the couple tied the knot in August.
Jimmy Kimmel Live! airs weeknights at 11:35 a.m. EST on ABC.