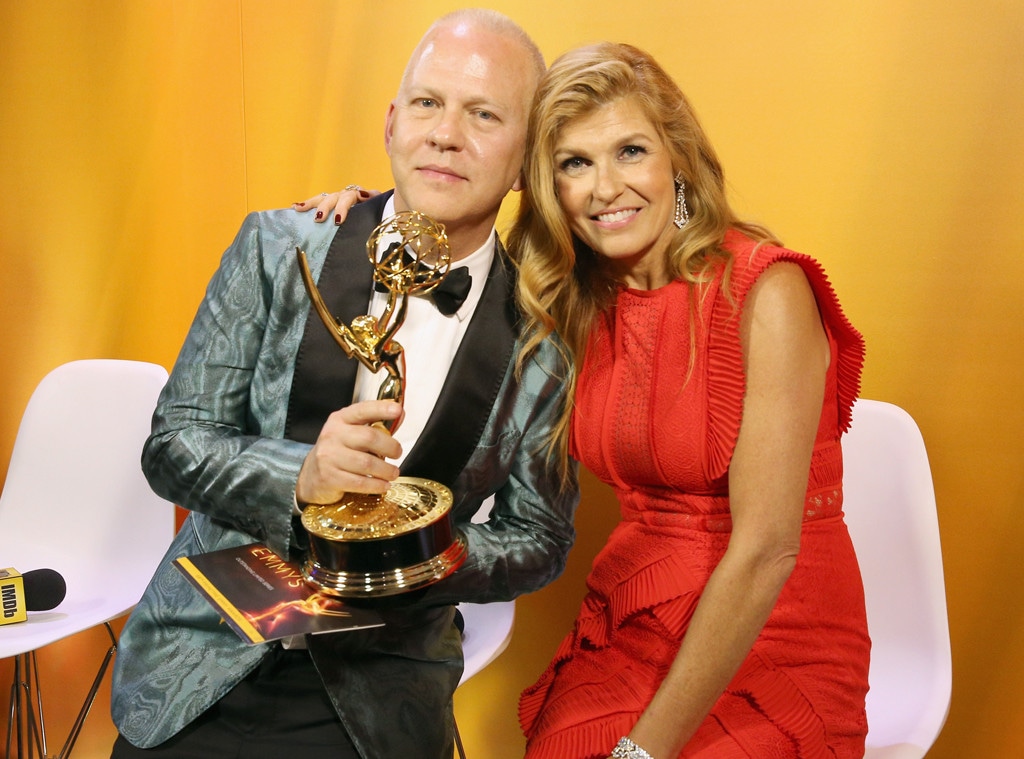 Rachel Murray/Getty Images
Don't know how your day is going, but Connie Britton and Ryan Murphy are having a pretty great one and we just had to let you in on the feeling.
Not only did their new Fox drama 9-1-1 win the night in adults 18-49 with its Jan. 3 debut, it has surpassed the 10.5 million multi-platform viewer mark. Translation: That's big.
"Actually, I just got off the phone with Connie," Murphy tells E! News, "and we were having a moment. A teary-eyed moment. Because Connie and I have done three things together [American Horrror Story season one, OJ and 9-1-1] and all three of them have been successful. So A) That's rare. And B) We were talking about how exciting that is, particularly with a show like this, and how you have to just stick with the people you love."
Murphy also wasn't prepared for the onslaught of actors now asking to appear on the show. "Last night I went to the [American Crime Story] Versace premiere and 9-1-1 was all anybody wants to talk with me about! Everyone wants to be a part of some bizarre call."
And that means that pretty soon, we might start hearing about guest stars coming from the Ryan Murphy universe, like maybe even Lea Michele, who just became available (The Mayor was cancelled) and was at the premiere last night. "I would love to do that!" Murphy says. "I think doing all-star cameos in a provocative case that has a beginning, middle and end would be very cool. I love that about this show, that people can watch each episode and get a satisfying ending."
The next episode, airing Wednesday on FOX, will showcase even more of what is at the heart of 9-1-1: High stakes action (someone falls out of a roller coaster—not a good day) mixed with serialized relationships. (Peter Krause and Angela Bassett also star, and Bassett is a producing partner on the show.)
 "I wanted to do a show that was a look at people who put their lives on the line," Murphy explains. "and most of the time our cases have happy endings. Not all of the time, but I liked that. After the darkness of Versace and OJ an American Horror Story: Cult, I wanted to do something a little more upbeat and happy. Something with hope."
Certainly what a lot of people need these days, and we are loving the show so far, but our one beef with 9-1-1 is that it has given Connie Britton—who plays a 9-1-1 call dispatcher—a reason to de-glam her hair, and everyone know that Connie Britton's Hair is worshipped more than some thousands-year-old deities.
But there is hope.
"Connie and I are both very aware of the nation's bizarre obsession with her hair," Murphy says with a laugh. "What is this about?! But in the Valentine's Day episode, Connie goes on a really hot date with a younger man and there's a definite moment for Connie Britton's hair in that episode. So people will be overjoyed, I'm sure. We're aware that we can't just have it pulled back in a ponytail all the time because we know what people want! She might even ditch the blue polo."
Chills.
The first episode of 9-1-1 is available now on Hulu, and episode two airs Wednesday, Jan. 10 at 9 p.m. on Fox.