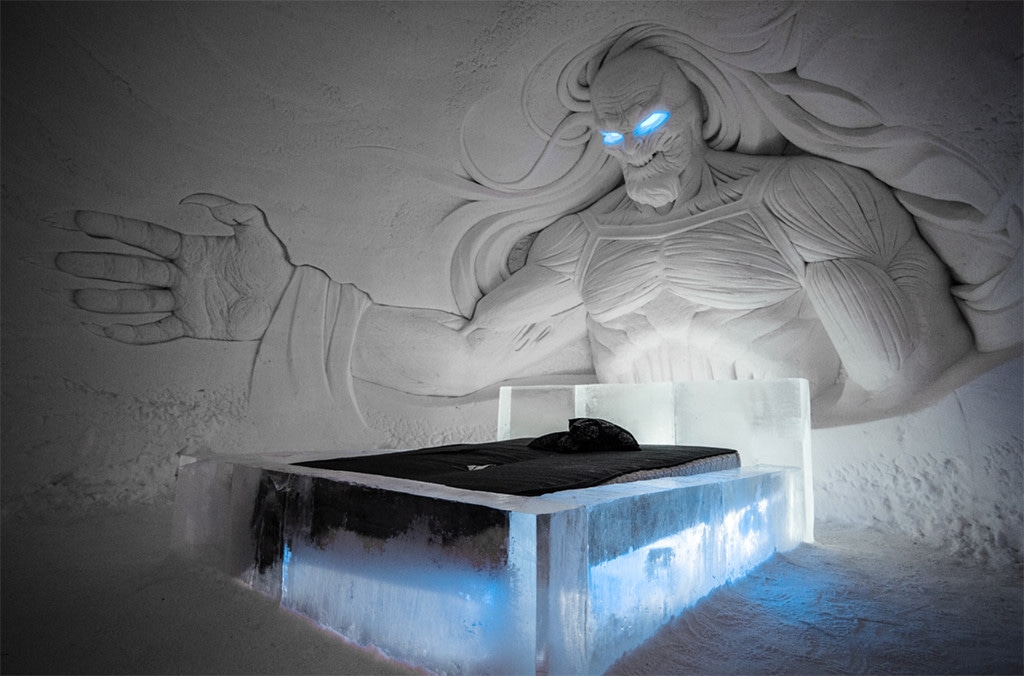 Lapland Hotels
Game of Thrones fans might not be able to visit the Seven Kingdoms of Westeros, but now they can visit the next best thing. HBO Nordic has partnered with Lapland Hotels to create a Game of Thrones-themed hotel—and it's all made of snow and ice. 
Appropriately named the SnowVillage, the hotel is located in Finland and consists of approximately 30 snow-built rooms. As the pictures show, guests can sleep on a bed completely made of ice. Although, they may want to sleep with one eye open—a White Walker may tower overhead.
There are several references to the show throughout the hotel. Guests can sit in a life-sized iron throne with swords, visit the Braavos Hall of Faces and gaze at a map of Winterfell. They may even come across an icy dragon that would get Daenerys Targaryen's approval.
If guests need to warm up with some food, they can visit the hotel's Ice Restaurant. There, they can sit at a long, ice table fit for Jon Snow. After dinner, they can enjoy a cocktail at the Ice Bar.
There's even an Ice Chapel for couples wishing to say "I do." Hopefully, the celebrations won't end like the Red Wedding.
This is the 17th time a themed SnowVillage has been built. According to Lapland Hotel's website, construction for the village begins once the temperature drops to about 10 degrees below zero (around late October or early November).
The Game of Thrones-themed rooms were designed by sculptors from Russia, Poland, Latvia and Ukraine. The hotel's website claims around 20 million kilos (about 4.4 million pounds) of snow and 350,000 kilos (nearly 772,000 pounds) of ice were used to construct the 20,000 square meter village.
Interested in booking a room? Reservations can be made until April 8. Two people can stay in the Snow Suite for 352 € (approximately $420 per night), or they can stay in a standard room for 264,00 € (approximately $315 per night). The suite holds up to five people. Each room comes with high-quality sleeping bags to keep guests warm. Still, you may want to pack some extra layers. The rooms stay at a temperature of around -2 and -5 degrees Celcius (about 28 to 23 degrees Fahrenheit).
Check out all of the hotel pics below!