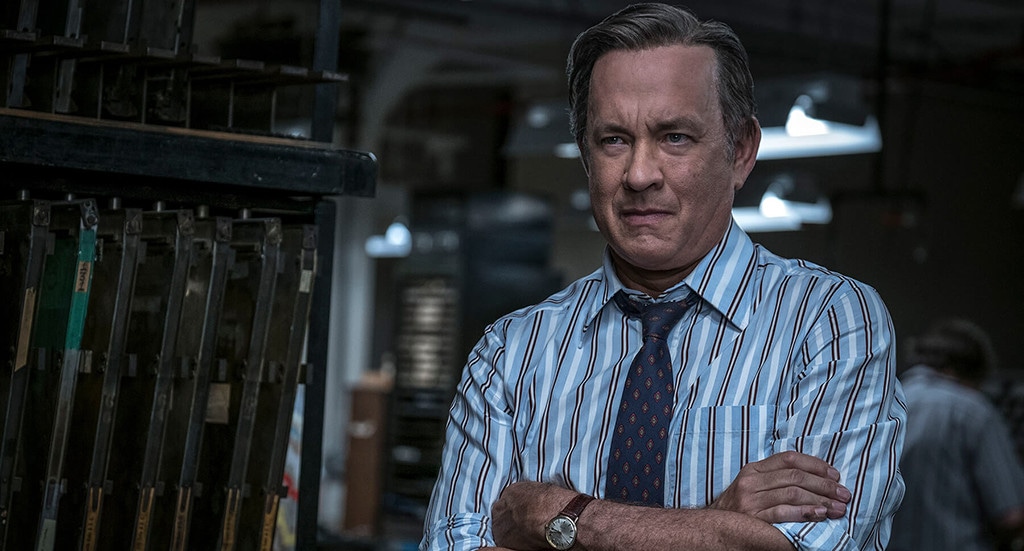 Niko Tavernise - © 2017 TWENTIETH CENTURY FOX FILM CORPORATION AND STORYTELLER DISTRIBUTION CO. LLC. ALL RIGHTS RESERVED.
When Natalie Dormer and Letitia Wright announced the nominees for the 2018 BAFTA Film Awards in London Tuesday, there were more than a few surprises. Guillermo del Toro's The Shape of Water received 12 nominations, followed by Darkest Hour and Three Billboards Outside Ebbing, Missouri with nine each. But the annual award show—regarded as the U.K.'s equivalent to the U.S.' Academy Awards—completely shut out some seemingly obvious choices.
Chief among them: The Post. Steven Spielberg's period drama, starring Tom Hanks and Meryl Streep, earned six Golden Globe nominations and is a likely candidate for the 2018 Oscars. The BAFTA Awards seemed to follow the 2018 SAG Awards' lead, as it also completely snubbed the popular film, which follows The Washington Post's fight to publish the Pentagon Papers in 1971. (The film, which opened nationwide last month, is up for eight Critics' Choice Awards Thursday.)
Dee Rees' Netflix drama Mudbound was ignored in every category, as was Patty Jenkins' Wonder Woman. Greta Gerwig's Lady Bird earned three nominations, but she was excluded from the Best Director category—meaning it's once again a completely male-dominated field.
Joe Wright's Darkest Hour got a Best Film nomination, but he didn't get one for Best Director. Denis Villeneuve did get a Best Director nomination for Blade Runner 2049—a rare feat for a genre title and a sequel. In total, Harrison Ford and Ryan Gosling's flick got eight nominations.
Paul McGuigan's Film Stars Don't Die in Liverpool picked up three nominations, with Jamie Bell and Annette Bening nabbing Best Actor and Best Actress nominations for their roles. The U.K. film premiered in the U.S. last month, though it's failed to generate much award buzz stateside.
In a surprise few saw coming, Paddington 2 received two nominations: Best Supporting Actor (Hugh Grant) and Best Adapted Screenplay (Simon Farnaby and Paul King). Grant received positive reviews for his role in the family flick, but his inclusion in a category that features dramatic, career-defining turns from Woody Harrelson (Three Billboards Outside Ebbing, Missouri), Willem Dafoe (The Florida Project), Christopher Plummer (All the Money in the World) and Sam Rockwell (Three Billboards Outside Ebbing, Missouri) feels a bit out of place.
Winners will be announced Feb. 18, when Joanna Lumley hosts the show at Royal Albert Hall. "It's a really broad mix of established and emerging talent," BAFTA president Amanda Berry told The Hollywood Reporter after the nominations were announced in London Tuesday. "And [there are] eight British nominees in the performance categories, which is absolutely fantastic."
Watch Daily Pop weekdays at 12:30 p.m., only on E!