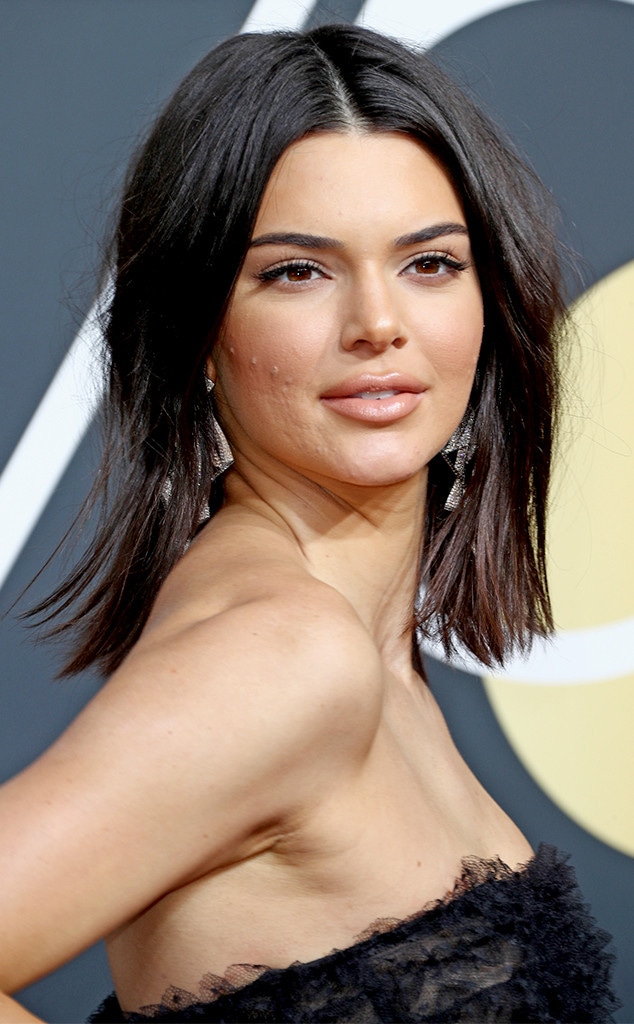 Frederick M. Brown/Getty Images
Having acne is likely every celeb's worst red carpet nightmare, but supermodel Kendall Jenner took it in stride when she strutted her stuff at the 2018 Golden Globes on Sunday night.
Unfortunately, almost as soon as she hit the carpet at the glittering award show, trolls hopped online to point out that the brunette beauty complexion was less than flawless. It's possible that the looky-loos she's a human being and despite being a supermodel everyone has a bad skin day.
 But instead of letting her acne keep her from attending the show or the trolls get her down, the 22-year-old made sure to inspire others who don't always have perfect skin days.
On Monday, Kenny retweeted a supportive fan @yellowcustards, who wrote, "Ok but @KendallJenner showing up and strutting her acne while looking like a gorgeous star is what every girl needs to understand."
Along with the retweet, the Victoria's Secret model wrote, "never let that sh-t stop you!"
Kendall, who was attending the event on behalf of Vogue, was there to support the Time's Up Initiative, which has been called a celebration of "sisterhood" in the wake of the explosion of reports of rampant sexual assault, abuse and harassment in Hollywood.
Her makeup for the event was done by her go-to makeup gal, makeup artist to the stars Mary Phillips, who chronicled yesterday's all-hands-on-deck beauty prep on her Instagram earlier today.
Despite all the hubbub made over the reality star's skin, Kendall made sure to post about what mattered on Sunday night—being in solidarity over an important cause.
On Monday morning, the celeb wrote, "honored and humbled to be able to attend the Golden Globes with @voguemagazine. my eyes were opened and my heart is full seeing all of the men and women who were a part of this vital change! i too stand with all women #TimesUp."
Have skin issues is nothing new for the Keeping Up With the Kardashians star. According to InStyle, Kendall she wrote a blog post in 2016 about how she's dealt with having acne and how it impacted her life in negative way: "Where it really impacted me was how self-conscious I became about it."
Looks like she's learned to go with the flow and show up for life even when she's not blemish free...
Time's up for expecting women to be perfect all day every day!