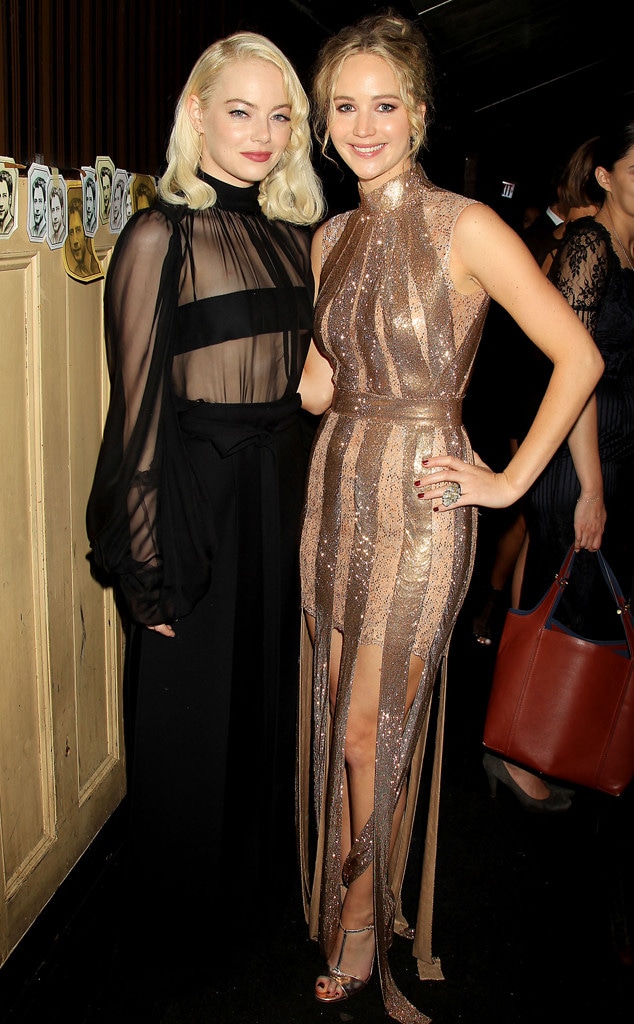 Dave Allocca/StarPix/REX/Shutterstock
Jennifer Lawrence had every intention of hitting up the 2018 Golden Globes after-parties, that is until Emma Stone called. 
The actress explained her last-minute absence in a Facebook video taken by Emma, who attended last night's ceremony as a nominee in the Best Actress in a Motion Picture, Musical or Comedy category. Turns out J. Law was so close to heading out the door, that half of her makeup was already done and a car was on its way. 
"Hi, what happened tonight?" Emma asks Jennifer, who responds, "Well, you had told me that you wanted me to be your date to the after-parties so I, you know, got us some tickets to some after-parties. I booked a car and I was halfway through glam when you told me that you didn't want to go."
Lawrence then turns to the camera, a single smokey eye and contour still in tact and says, "You just wanted to come over to my house so I sent my hair and makeup team home and now this is what I look like."
Jennifer and Emma recently revealed that we have "John the Orchestra Guy" to thank for their best friendship a "stalker" the Battle of the Sexes star told W magazine was the reason they bonded.
"Jen and I texted for a year before we actually met," Stone explained. "As she was driving to my house, she thought, 'Oh, my God, what if it's John the Orchestra Guy?' And I thought, 'Oh, my God, what if it's John the Orchestra Guy?' So Jen calls me and says, 'I just want to make sure you're not John the Orchestra Guy.' I wasn't. And we met. It's our adorable love story."
The besties didn't disclose what their own post-Golden Globes shindig actually entailed, but we'd like to imagine they swapped stories over a large pepperoni pizza and pint of mint chocolate chip. After all, who hasn't cancelled plans to avoid going out?