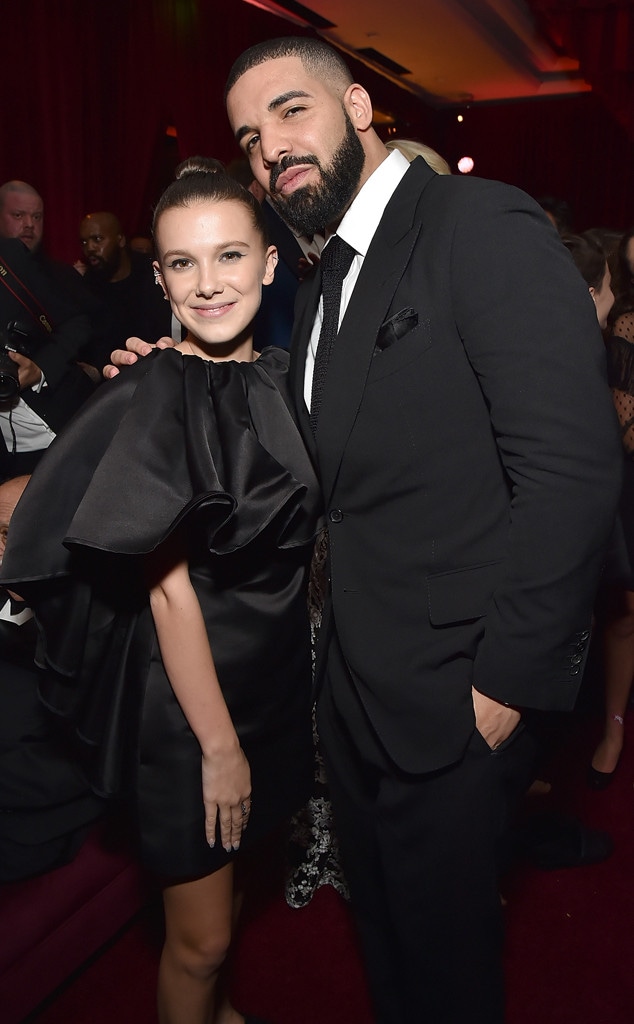 Kevin Mazur/Getty Images for Netflix
Everybody in Hollywood (and pretty much the Netflix-watching world) wants to be besties "It" girl Millie Bobby Brown, but it looks like the highly coveted role of MBB's new BFF has been snapped up by an unlikely contender: the one, the only...Drake.
It appears that in a strange (pun intended) turn of events, Drizzy, who is the executive producer of the Netflix series Top Boy, spent the entire Netflix Golden Globes After-Party on Sunday night, hanging out with 13-year-old Hollywood newcomer and her band of monster-slaying buddies at the bash, which was held at the Waldorf Astoria Beverly Hills, E! News can report.
An eyewitness spotted the Canadian rapper and the British actress hanging out and said the duo was "inseparable" all night and that they were "clearly buddies."
Despite the odd pairing, the insider told E! News that the two had a lengthy in-depth conversation by themselves and many times throughout the night it was just the two of them talking in the corner.
The source added that at one point during the swanky soiree, Millie brought the "Hotline Bling" singer over to meet the rest of the Stranger Things cast and he then continued to hang out with the young stars, except when he was in the DJ booth spinning or later on when he spent some time with Pharrell by the dance floor.
After the A-list meeting, Caleb McLaughlin, who plays Lucas Sinclair on the sci-fi series, hopped on Instagram to share a photo with the music man.
The excited actor wrote, "OK SO THIS HAPPENED pt 2  @champagnepapi."