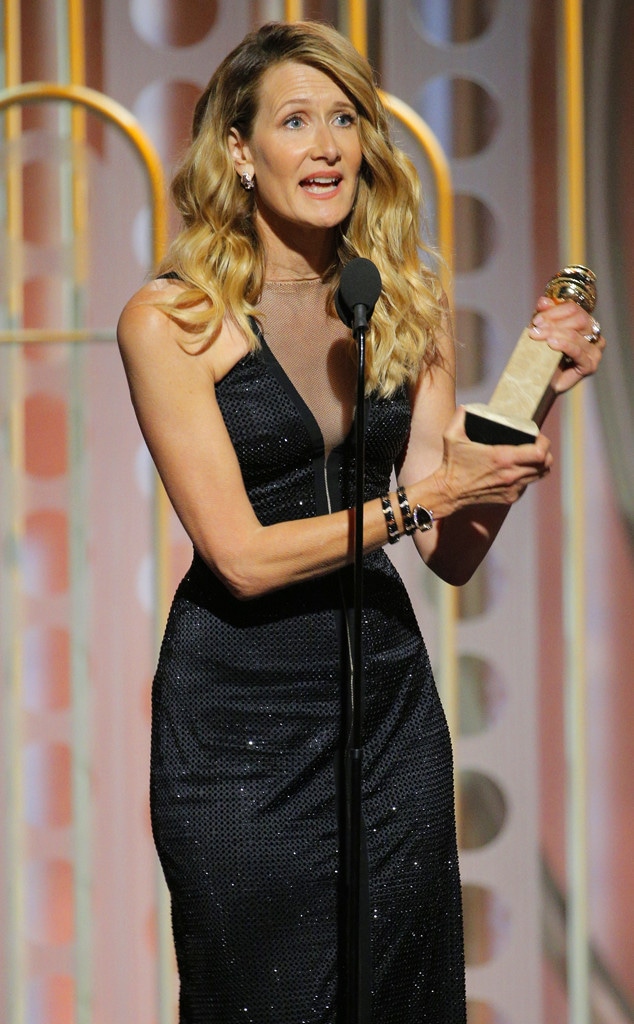 Paul Drinkwater/NBC
Laura Dern was one of last night's big Golden Globes winners, taking home the gold statue for her role in Big Little Lies. She dominated the award show—alongside her sisters dressed in black, of course—whether it was speaking boldly about her date for the evening (activist Monica Ramirez), posing with her BLL castmates or dancing the night away at the after parties. 
But the evening was just the icing on the cake of a completely fabulous year for Dern—a year that deserves to be celebrated just like her acting chops. 
It all started with her role as the simultaneously icy and vulnerable Renata Klein, of course. Dern took on perhaps the trickiest character of the Monterey crew: Renata could easily veer into extremely unlikable territory, what with her brash personality, distaste for protagonist Madeline, occasional overreaction to situations (that eye patch!) and the fact that she named her daughter "Amabella" without any irony at all. 
But instead of falling prey to the overused tropes of workaholic women, Dern played her Renata with a sense of humanity and hilarity. She made her chic and enviably successful. When she delivered cutting lines like "You're dead in this town" we the audience whooped and hollered. And, perhaps most virtuously of all, she singlehandedly brought back high-waisted flare jeans. (Seriously, let's take a moment for all those "Renata's outfit in Big Little Lies" Google searches). 
As the HBO show built momentum, so did Dern's notoriety. She'd always been successful—from her early role in Jurassic Park to her starring role in the HBO show Enlightened to playing Reese Witherspoon's mom in Wild—but Big Little Lies reminded audiences of just how awesome she is. 
She started covering magazines, like Elle's 2017 Women in Hollywood issue, and her insanely enviable house was given the Architectural Digest treatment, serving both to make us extremely envious of her taste and also impressed at her collection of film memorabilia, like a T-rex figurine from the set of Jurassic Park, a dress Lucille Ball once wore on I Love Lucy and vintage TV show lunch boxes. 
She also nabbed other major roles, including that of FBI employee Diane Evans in the Twin Peaks revival (a gig that allowed her to wear pretty much the most badass bleached-blonde bob in the history of bobs) and Vice Admiral Holdo in Star Wars: The Last Jedi (a gig that allowed her to wear the most badass purple bob in the history of purple bobs). Next up will (hopefully) be a reprise of Renata in the next season of BLL. 
And her year included more than just praise from the audience: She took home the Emmy award in September. That win came with an acceptance speech just as fantastic and powerful as last night's. 
"I've been acting since I was 11 years old and I think I've worked with maybe 12 women," she began. "So I just want to thank the Television Academy for honoring our show and working with this incredible tribe of fierce women. Thanks to Liane Moriarty for writing these vulnerable flowers like Renata...and thank you to Nicole and Reese's moms for not only giving us extraordinary women but really well-read women because that's how I'm getting parts." 
She went on to honor her Big Little Lies costars further, saying "I share this with my tribe of four ladies: I feel very proud to be part of reflecting fierce women and mothers finding their voice."
It seems like there isn't much that could cap off a year so fabulous, so enriching, so full of wimsy and good hair. And yet, Laura Dern may have found it: She is rumored to be conducting a truly fantastic love affair with NBA star Baron Davis. The two were caught getting cozy (technically speaking they were necking) by paparazzi shortly before Christmas, while they were walking through a Los Angeles and Davis was...wait for it...holding her purse. 
That's right, ladies and gentleman, Laura Dern got herself a hunky (and younger!) boyfriend who will carry her purse while they make out. No woman needs a man, perhaps no woman more so than Dern, but this new couple is truly the icing on an already very delicious cake.