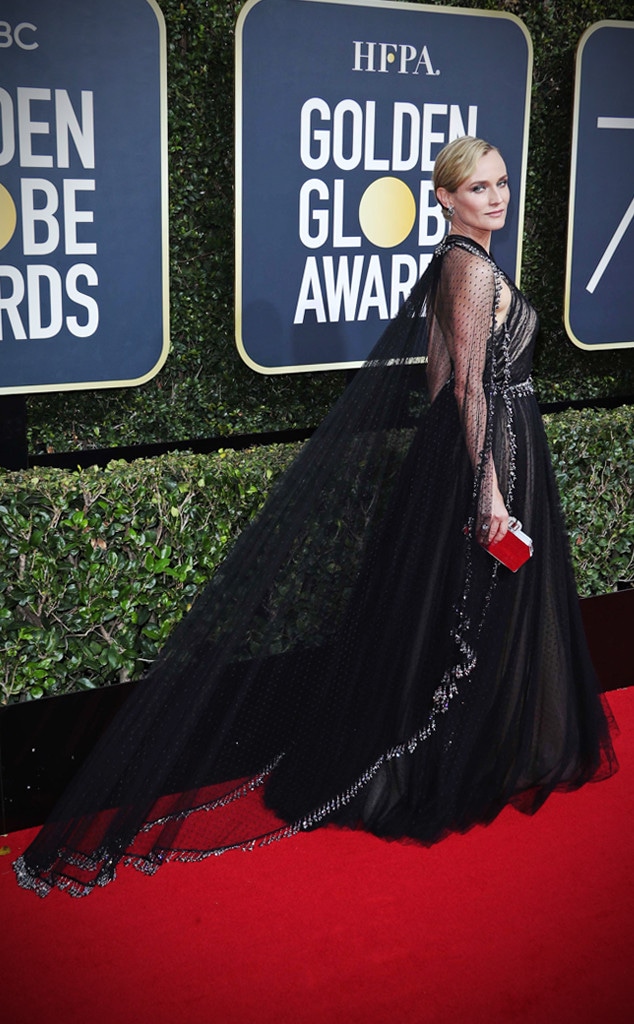 REX/Shutterstock
If it takes a village, Diane Kruger's 2018 Golden Globes look was seemingly created in a magical metropolis.
Many celebs can thank their teams for any red carpet praise: There's oftentimes a facialist, groomer, manicurist, hairstylist, makeup artist, manager, handler…the list goes on. The result of this collaboration is found in near-perfect red carpet photos, in which almost every angle is accounted for.
You'll even find a stylist or an assistant in said photos, trailing behind his or her client, adjusting a jacket or fixing a train. Such was not the case with Diane's beaded Prada gown (or at least, we didn't catch it happening), which adds to the power of one of the most standout looks of the night.
Whether it was through divine assistance or probably just amazing fabrication and design, the matching sheer cape perfectly graced both the fashion plate's shoulders and red carpet…and press room floor…and even the stairs leading to the restroom at a constant 45-degree angle. Was the cape weighted at the ends? Was there an assistant hiding in nearby trees or under the table, ready to coif the fabric back to life when nobody was watching? Trains and long dresses are notoriously difficult to walk in and require assistance with every photo opp, but this almighty cape was consistent without ever losing an ounce of beauty...or volume.
Props to Prada for creating such an intricate, delicate and tailored piece, and much credit to Diane's team, specifically stylist Micaela Erlanger, for maintaining that quality throughout the night...even if she or her team had to hide behind the bar to keep the magic alive.