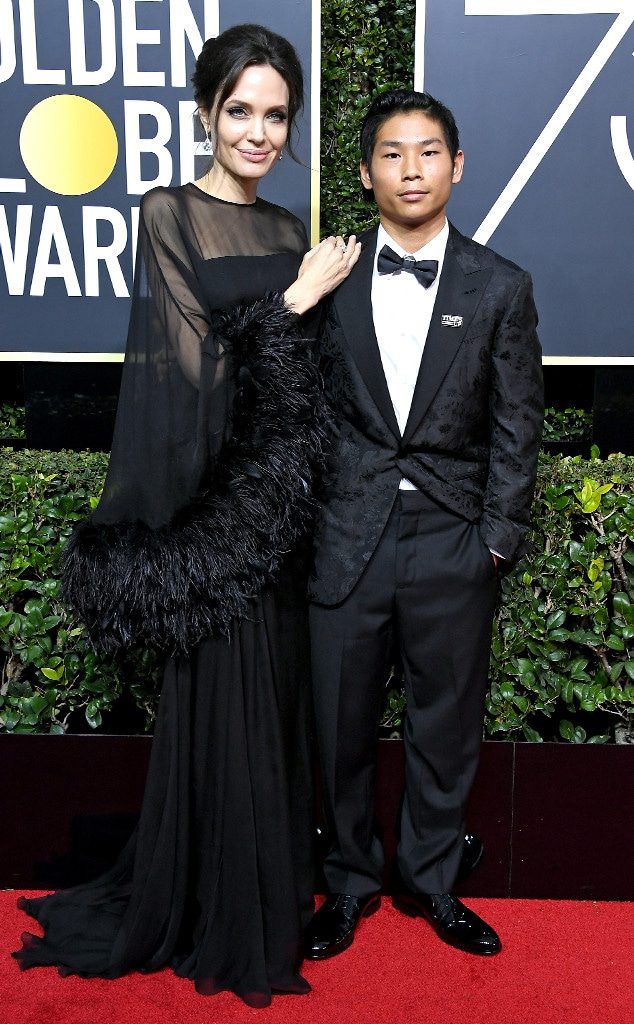 Steve Granitz/WireImage
When it comes to being a star's kid, getting a ticket to the 2018 Golden Globes is one of the more notable perks.
Such was the case for lucky 14-year-old Pax Jolie-Pitt who attended the 2018 ceremony Sunday night with his famous mama, Angelina Jolie. The three-time winner racked up another nomination this year for her acclaimed historical thriller, First They Killed My Father, which was among the Best Foreign Language Film contenders. She also served as a presenter this year alongside Isabelle Huppert for the Best Actress in a Drama category. 
Meanwhile, for young Pax, it was a personal first as he had never attended the annual show before. So, how did his milestone night go? To start, the teen arrived sporting a black tuxedo and Time's Up pin in solidarity with the movement. Beside his beloved mom, the two posed for photos along the iconic red carpet outside of the Beverly Hilton Hotel. 
Once in the dining room, the two took their seats at a table packed with some serious A-listers, including fellow nominees Armie Hammer and Timothée Chalamet as well as Thor himself, Chris Hemsworth, who was seated right next to the actress.  
Stefanie Keenan/Getty Images for FIJI Water
Rob Latour/Variety/REX/Shutterstock
According to an insider, Angelina, Pax and Chris chatted throughout the night. However, the crowd of stars didn't keep the teen's attention every minute of the evening—he was spotted texting on his phone at one point. Nevertheless, he got to spend some pretty memorable quality time with his famous mom. He also got to honor a film the family collaborated on. While older brother Maddox Jolie-Pitt served as an executive producer and Angelina as director, co-writer and producer, Pax worked as a still photographer on set. 
Once the ceremony wrapped, the mother-son duo got into the celebratory spirit and headed out to an after-party. They made their way to Netflix's bash, where we're told they briefly chatted with Golden Globe winner Ewan McGregor and posed for a few photos before heading out. 
Needless to say, Pax had quite a story to share with the class about this weekend.