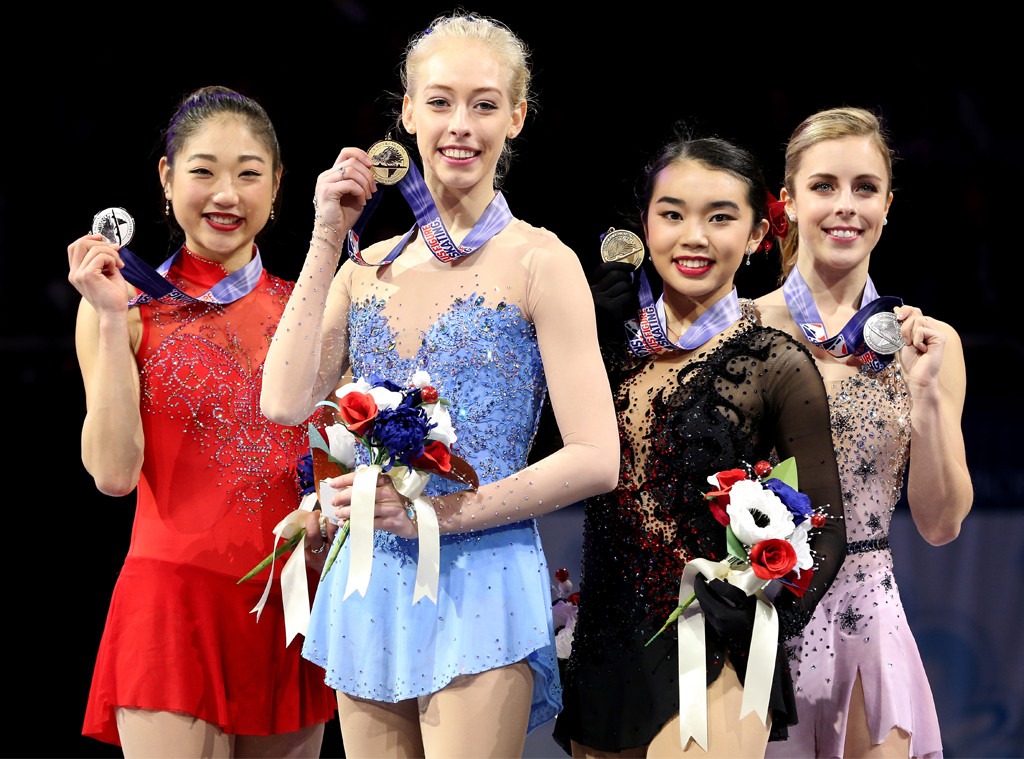 Matthew Stockman/Getty Images
Team USA has chosen its female figure skating team, and these three ladies are ready to represent the red, white and blue at the 2018 Winter Olympics. 
After a whirlwind U.S. Figure Skating Championships, where seasoned veteran Ashley Wagner failed to make the podium and will instead travel to PyeongChang as an alternate, Bradie Tennell, Mirai Nagasu and Karen Chen are now fine-tuning their technical skills and artistry before the Games officially begin in just a few short weeks. 
But this ultra-talented trio is so much more than the sparkly costumes they wear and double salchows they land. We've rounded up 15 little-known facts about Bradie, Mirai and Karen's lives both on and off the ice. 
Matthew Stockman/Getty Images
Bradie Tennell: 
1. The 19-year-old athlete hails from Carpentersville, Ill. and by sports standards, is a rookie to the elite figure skating world. Tennell only began competing internationally at the senior level last year, making her first place finish at the U.S. Championships quite a surprise to loyal followers of the sport. 
2. Bradie attends a local community college, recently telling IFS Magazine, "I am undecided about what I want to major in, but I know that it is going to be something in the health or medical science field. I really just want to help people and help improve their quality of life."
3. Her career was stalled by multiple back injuries in 2015 and 2016, which forced her to take some time off from skating. Bradie's since made a full recovery thanks to Pilates and physical therapy. Phew! 
4. Bradie can tell the future? Well, not quite, but skating to music from Cinderella was certainly inspired by her childhood dream of becoming a princess. "It's something that I've always identified with, and with all the struggles I've had in the past I felt like this season was a good time to skate to this music," she shared. A real life Cinderella story!
5. The athlete's figure skating story began at age 2-and-a-half, but she admitted in an interview the actual details are a bit hazy. "We are actually not sure how I even figured out that ice skating existed," Bradie told IFS. "We were in between houses at the time and I just kept begging my mom to take me skating. So she just took me to the closest rink to skate and I just never stopped."
Koki Nagahama/Getty Images
Mirai Nagasu: 
1. This 24-year-old Montebello, Calif. native has history on her side. At only 14, Mirai became the second-youngest skater to win the U.S. Senior Ladies title, trailing Tara Lipiniski. She's also only the second American woman to land a triple axel in international competition, a jump first completed by Tonya Harding in 1991. 
2. Nagasu and the Pasadena Figure Skating Club have asked her supporters to help finance travel costs for her family (who also own a sushi restaurant called Kiyosuzu) and boyfriend to attend the Winter Olympics in South Korea. A fundraiser was launched to offset the estimated $11,000 it costs for one person to travel to the Games, and almost $4,000 has been raised thus far. 
3. If it weren't for the rain, Mirai's Olympic aspirations might have never been realized. An avid golfer, her website states that bad weather prevented her from hitting the course one day and Nagasu's parents took her to a skating rink instead. The rest, as they say, is history! 
4. "Must love dogs" is the ice queen's daily mantra, we're guessing. Mirai's Instagram page is filled with adorable snapshots of her three pooches, which makes sense why she told Deadspin, "I tell my boyfriend that...we should get a ranch so we can just adopt all the dogs that need homes and they can just run around all day."
5. Her good luck charm is RuPaul's Drag Race. At a press conference following her silver medal finish at the U.S. Championships, Nagasu told reporters she caught up on season 5 ahead of stepping out to help "channel my inner queen." You go girl! 
Karen Chen: 
1. Chen is a published author! Released late last year, Finding the Edge: My Life on the Ice is the 18-year-old's retelling of her impressive career.
2. And speaking of the athlete's debut book, Kristi Yamaguchi wrote the foreword! The Olympic champion is Karen's mentor, and the pair's friendship blossomed when the gold medal hopeful asked Yamaguchi to sign her boot the first time they met. She told Mercury News that Kristi has signed every pair of new skates since for good luck. 
3. Karen is pretty superstitious, so expect her to be wearing a jade rabbit necklace in PyeongChang that NBC News reports was given to her by her mom after she suffered a foot injury during childhood.
4. For the Chen family, figure skating is a way of life. No, she's not related to fellow 2018 Olympian and male figure skater Nathan Chen, but Karen does have a little brother who's well on his way to the Olympics. 15-year-old Jeffrey Chen earned the silver medal in the novice free dance at the U.S. Championships, making him a prime candidate for 2022 Beijing. 
5. Karen, who trains in Riverside, Calif., nicknamed herself the "quiet assassin." As she explained to NBC News, "For me, when I said 'quiet assassin,' that just meant, yeah, sure, I'm quiet. But when I'm out there on the ice by myself, I'm fearless, and I'm not scared to attack whatever I'm going to do."
The Winter Olympics begin February 8th on NBC.