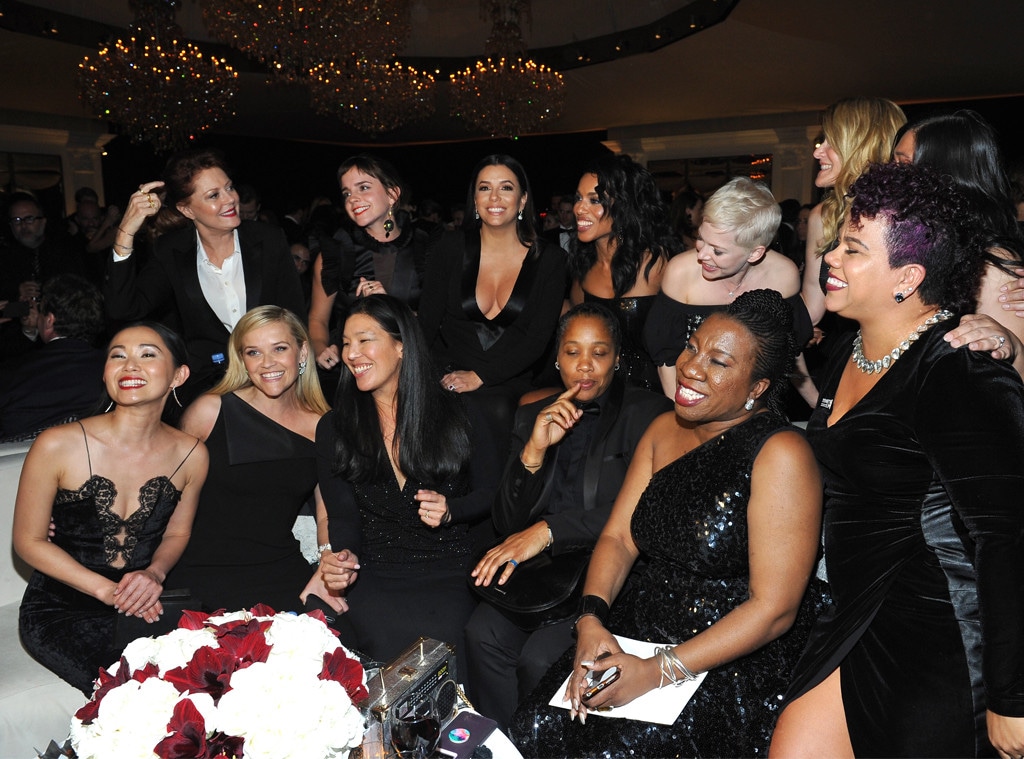 Donato Sardella/Getty Images for InStyle
Never has a sea of black dresses been so celebratory. And never have the less well-known faces on a red carpet been so deserving of all the attention.
To further emphasize the importance of the Time's Up movement that will hopefully still be sweeping Hollywood long after the credits roll after the Oscars this year, eight actresses attended the 2018 Golden Globes last night with activists who've been devoting their time and energy to women's causes for years.
"It is really exciting that four months ago we could've never imagined that this could happen today, and so fast," Salma Hayek, standing with Ashley Judd, both instrumental voices in setting this sea change in motion, told E!'s Ryan Seacrest on the red carpet. "Of course Time's Up, it should've happened a long time ago, but the velocity in which so many people are embracing the change, it's really exciting and it gives me hope for other departments. Not only other industries in terms of equality and respect for women, but also in other parts—like I hope the country gets together and better—and we can, you know, it gives you hope for change! I think we were in a time where, not only America but the world was kind of losing hope...and here we are today in this historical moment. I'm so proud that it's our industry that's making this huge statement."
The parade of powerful, inspiring women at the Globes last night, women who've dedicated their lives to lifting each other up, certainly punctuated that sentiment.
A joint statement put out by seven of the organizations the activists are affiliated with said of their attendance: "As longtime organizers, activists and advocates for racial and gender justice, it gives us enormous pride to stand with the members of the TIMES UP campaign who have stood up and spoken out in this groundbreaking historical moment. Each of us has dedicated our lives to doing work that supports the least visible, most vulnerable women in the nation. We do this work as participants in movements that seek to affirm the dignity and humanity of every person."
And as it turns out, just like with most movements, the idea started with one person and then turned into a group effort.
Watch:
Michelle Williams Talks "#MeToo" at 2018 Golden Globes
Michelle Williams, nominated for best supporting actress in a film for All the Money in the World, invited Tarana Burke, who as founder of the nonprofit Just Be Inc., which aids victims of sexual assault and harassment, launched the Me Too movement over a decade ago. Alyssa Milano became the de facto celebrity spokeswoman for Me Too when she helped revive the hashtag in October in response to the dozens of stomach-churning allegations against Harvey Weinstein, and millions of people joined the conversation.
"Initially I panicked," Burke, who's based in Philadelphia by way of New York, told the New York Times in October when #MeToo went viral. "I felt a sense of dread, because something that was part of my life's work was going to be co-opted and taken from me and used for a purpose that I hadn't originally intended." But Milano, she said, had been "very grateful and gracious" about giving credit where it was due.
Christopher Polk/NBC/NBCU Photo Bank via Getty Images
"We're here because Tarana started a movement and she planted a seed years ago and it's grown and caught fire. She started the 'Me Too' movement," Williams told E! News on Sunday. As the mother of a daughter whom she has to prepare for this oft-dangerous world we live in, Williams added, "I am moved beyond measure to be standing next to this woman, I have tears in my eyes and a smile on my face."
Burke was inspired to take action in the 1990s after having a conversation with a 13-year-old girl who had been sexually abused, after which she felt helpless because she was at a loss as to how to help. She called it "deeply humbling" to be at the Globes and receiving this national recognition. She told E!, "This is something I started out of necessity, and something that I thought my community needed and it's grown over the years, but I never could've envisioned it growing like this," she said. "But this moment is so powerful because we're seeing…collaboration between these two worlds that people don't usually put together and would most likely have us pitted against each other. It's really powerful to be on a red carpet tonight and for people like Michelle to be selfless enough to give their time so we can talk about our causes."
Before the show, Burke admitted she had some reservations when Williams first called, as she didn't want to be part of an activist-of-the-moment sort of gimmick. Rather, she stressed, she works with a fabulous team in order to effect real change.
"I said to Michelle, 'I know so many amazing women,'" Burke told Elle.com. "She had said she wanted to give me space to talk about my work and use the red carpet to amplify what I do, and I thought, 'Well, what if we had more than just me. What if we gave other amazing women the chance to be there?'"
Frazer Harrison/Getty Images
Williams subsequently set about to get other actresses on board.
Emma Watson already had a close relationship with Billie Jean King, having played the iconic athlete in Battle of the Sexes, which earned her a Globe nomination for best actress in a musical or comedy—so that pairing was a natural choice.
During her playing career, King won 39 Grand Slam titles in singles, doubles and mixed doubles—and, of course, she defeated Bobby Riggs in the nation-engrossing "Battle of the Sexes" in 1973. She shared Sports Illustrated's Sportsman of the Year honor with legendary college basketball coach John Wooden in 1972, was Time's Person of the Year in 1975 and received the Presidential Medal of Freedom in 2009 for her achievements in sports and her commitment to women's causes, including the equal treatment of women in sports, and LGBT rights. Her efforts helped plant the seed for the eventual, hard-fought equal paychecks that women now get at the four major tournaments. The U.S. Open was the first to pay men and women the same, in 1973, and Wimbledon was last, in 2007.
"We have a chance to continue to lead," King told the New York Times last year. "To have equal prize money in the majors sends a message. It's not about the money, it's about the message.
The fight for gender equality—in sports and just about everywhere else—is far from over, but King is optimistic.
"I think it's one step at a time," she told People last night at the Globes. "Every generation has to fight for equality and its now Emma's turn with her generation. And it's great to be here tonight wearing black. We really have to—it's gotta stop, it's gotta stop now. And we have to help each other and it's everybody, all genders together."
Watch:
Laura Dern Fights for Women's Rights at 2018 Globes
Mónica Ramírez, deputy director of the Labor Council for Latin American Advancement, co-founder of the National Farmworkers Women's Alliance, founder of the Immigrant Women's Legal Initiative at the Southern Poverty Law Center and founder of initiatives such as The Bandana Project—to name a few of her achievements—is dedicated to raising awareness and ending the wage and sexual exploitation of women farmworkers. She attended the Globes with Laura Dern, a winner last night for supporting actress in a TV series or movie for Big Little Lies. During her speech, Dern emphasized the importance of creating a safe environment in which women can feel comfortable and supported when speaking up about sexual violence and harassment.
"Farmworker women pick, pack and plant the food that we eat and have a long history of combating workplace sexual violence," Ramírez told E! on the red carpet. "When we learned about what was happening in Hollywood our members felt very strongly that they wanted to send a message to the women in this industry and all women who are experiencing sexual violence in the workplace that they are not alone. We stand with them, and we lend them our power and our strength as they move through this difficult time."
Christopher Polk/NBC/NBCU Photo Bank via Getty Image
As the daughter and granddaughter of Mexican immigrants, Ramírez—who majored in communications at Loyola University of Chicago before getting her law degree from Ohio State and a master's in public administration at Harvard—knew early on that she wanted to focus her legal career on helping those without a voice. 
"I consider myself both a humanist and feminist—my career is my life mission," she told The Dartmouth in 2011.
Ramírez is also the author of the open letter published by Time last year on behalf of 700,000 female agricultural workers who said they stood in solidarity with victims of sexual harassment in Hollywood.
"Even though we work in very different environments, we share a common experience of being preyed upon by individuals who have the power to hire, fire, blacklist and otherwise threaten our economic, physical and emotional security," she wrote, ultimately concluding, "In these moments of despair, and as you cope with scrutiny and criticism because you have bravely chosen to speak out against the harrowing acts that were committed against you, please know that you're not alone. We believe and stand with you."
Emma Watson knew Marai Larasi, chair of the End Violence Against Women Coalition and executive director of Britain's Imkaan network, and was excited to invite her to the Globes.
Watch:
Emma Watson Attends Golden Globes With Imkaan Activist
"There's something about women in Hollywood speaking out," Larasi, who's been honored with an MBE for her work, told E! News last night. "There is a wall of silence around violence against women and girls, and every time somebody speaks out, it just creates a bit of a crack in that wall. So we don't want to create hierarchies where we say women of Hollywood are more important than other women, but we're saying women in Hollywood have an opportunity to amplify the issues and to shine a light on things...That's incredibly important, and so it's a special moment in time. It's not the beginning of a struggle or end of a struggle, but it's a critical moment in time. So this is a fantastic platform and we're trying to use it in the best way that we possibly can."
Imkaan comprises a national network of organizations in the U.K. dedicated to ending violence against BME (black and minority ethnic) women and women refugees.
"We strongly believe that a different world is possible," Larasi said in a 2012 interview. "...We want this work in schools, we want this work in health institutions, we want community mobilization—we want everybody engaged with this work. We don't just want campaigns that run for brief periods of time."
Trae Patton/NBC/NBCU Photo Bank via Getty Images)
Shailene Woodley, a nominee last night for Big Little Lies and an avid environmentalist who was arrested last year for trespassing while protesting the Dakota Access Pipeline with the "Water Is Life" movement, naturally invited someone who stands in solidarity with that cause.
In fact, she met Calina Lawrence, a member of the Suquamish Tribe and advocate for the rights of indigenous women, at one of those protests.
"It's an honor to stand as a representative for missing and murdered indigenous women in solidarity with the women who are empowering the #TimesUp movement and beyond," Lawrence said on the red carpet last night, per Hello Giggles.
On her website, Lawrence, who's also a singer, calls herself an "art-ivist" who's hoping to help raise awareness of social injustices and inspire change through her music in addition to more traditional channels.
Frazer Harrison/Getty Images
Meryl Streep, who used the Globes last year as a platform for speaking out against bullying and discrimination, as well as to tout the importance of the arts in making sure necessary stories get told, proudly shared her evening this year with Ai-jen Poo, the director of the National Domestic Workers Alliance and co-director of the Caring Across Generations Campaign.
"I hope people see the momentum and the energy and the fact that we're uniting across all industries and all communities standing together saying we all deserve work places where we're safe and our work is valued and we can live and work with dignity," Poo told E! News about her thoughts on the potential impact of the Time's Up movement, which is seeking to improve women's working conditions in every industry, but especially the ones that don't usually get much attention. "That's the future, and we have momentum, and we want to say to everyone that they should join us. This is a movement where there's space for everyone and there's a role for everyone."
Poo, a 2014 MacArthur Fellow and one of Time's 100 Most Influential People in 2010, was volunteering in shelters for victims of domestic violence while she was a student at Columbia University, helping battered women get their lives back together after escaping abusive situations. She started organizing domestic workers to fight for better, more equal treatment in 1998.
"Sometimes when we look at our society we can tell the most about where we're heading and the most about which strategies will work to shape the future by looking at the parts of society that are least visible and least recognized," Poo told NBC News' "In Plain Sight" in 2014. "What we find in these parts of society is that they are often ahead of their time."
After she was awarded the MacArthur Genius Grant, which comes with a $625,000 prize, she planned to simply expand her work in hopes of reaching more women. She told the Washington Post in 2014, "I hope to use this grant not only to continue the work on behalf of domestic workers, but also to create a broad-based coalition and build a more caring community than we have now."
George Pimentel/WireImage
Amy Poehler, meanwhile, reached out to Saru Jayaraman, president of Restaurant Opportunities Centers United and director of the Food Labor Research Center at UC Berkeley, to be her date. The Yale Law School graduate authored the 2013 book Behind the Kitchen Door, about the oft-deplorable wages and conditions for restaurant workers, especially immigrants and people of color, who toil, pretty much anonymously, for some of the nation's biggest chains.
"Restaurant workers are black, white, immigrants, and not just immigrants from Latin America but all over the world," Jayaraman told KCET in 2013. "So there's both racial injustice and an immigration issue happening in the industry...In fact, we did a study where we sent out 200 pairs of white and people of color into fine dining restaurants as applicants, the person of color having the better resume, and found that there was twice the chance of the white worker getting one of those jobs. And that was entirely due to race. Even when the person of color didn't have an accent, or any question of immigration status, they still had half the chance of a white worker. So, the primary issue is race, and race across the board. The color of skin has a huge impact on people's wages and their ability to move up."
"Not a lot of people go to the Golden Globes, but everyone has either worked in or eaten in a restaurant, and she's working specifically on legislation to help reduce the amount of harassment," Poehler told Elle.com last night.
"It's a majority female workforce having to live on customer tips to feed their families," Jayaraman said. "You can get rid of that by providing these workers with an actual wage." About the potential boost her cause could receive from Time's Up, she added, "We've been working on these issues for two decades and with Hollywood lifting them up, we're actually seeing momentum for change."
Frazer Harrison/Getty Images
Susan Sarandon hit the carpet with Rosa Clemente, a former vice-presidential candidate for the Green Party in 2008 and community organizer who put herself on the activist map in 2001 with a Village Voice article calling out Russell Simmons for appropriating hip-hop and helping to create a toxic culture for women in the industry. (Simmons recently stepped down from his businesses after being accused of sexual assault, one of the dozens of powerful men caught up in the wave of women speaking out over the last few months. Simmons has denied all accusations of assault.)
"The images many music industry people promote allow for the sexual exploitation of our women, the murder of our young men at the hands of police, and ultimately the images you and your peers promote are why our youth are filling up prisons in record numbers," Clemente wrote in 2001, the issues she's citing being as timely today as 17 years ago.
Most recently Clemente has been focused on the plight of Puerto Ricans in the wake of Hurricane Maria with her initiative PR on the Map. "I'm very happy and excited to be able to have her educate us as to what's going on there," Sarandon told Access Hollywood at the Globes. Tarana Burke, a longtime friend of Clemente's, helped facilitate the invite, and Clemente said she knew Sarandon from their Green Party involvement.
Jayaraman and Clemente appeared on Democracy Now! this morning to discuss their experience at the Globes.
"It was incredible, it was electric," Jayaraman said enthusiastically. "And it was especially moving to me to be with Amy Poehler because she actually worked in the restaurant industry, which I organize, for many years. She experienced a lot of the things that the women in our industry experience, and was able to really let the media know that there are very clear policy solutions to getting rid of harassment in our industry...Our industry actually really impacts even the women in Hollywood, because one in two Americans, like Amy and many celebrities, worked in our industry in their youth."
About the reaction to Me Too and the weeks-old Time's Up movement making their presence known at the Globes, Jayaraman said, "I saw so many people moved...I can't tell you the number of people, in Hollywood and outside of Hollywood, who said that this was the most important moment of their careers. So many people in Hollywood told me that the Golden Globes never meant as much—or anything at all—until last night. And I think for women outside of Hollywood...last night was also incredible because it was women standing together across so many different sectors and places and situations to say 'enough is enough,' and our power is collective and we're going to as Oprah said, see another horizon."