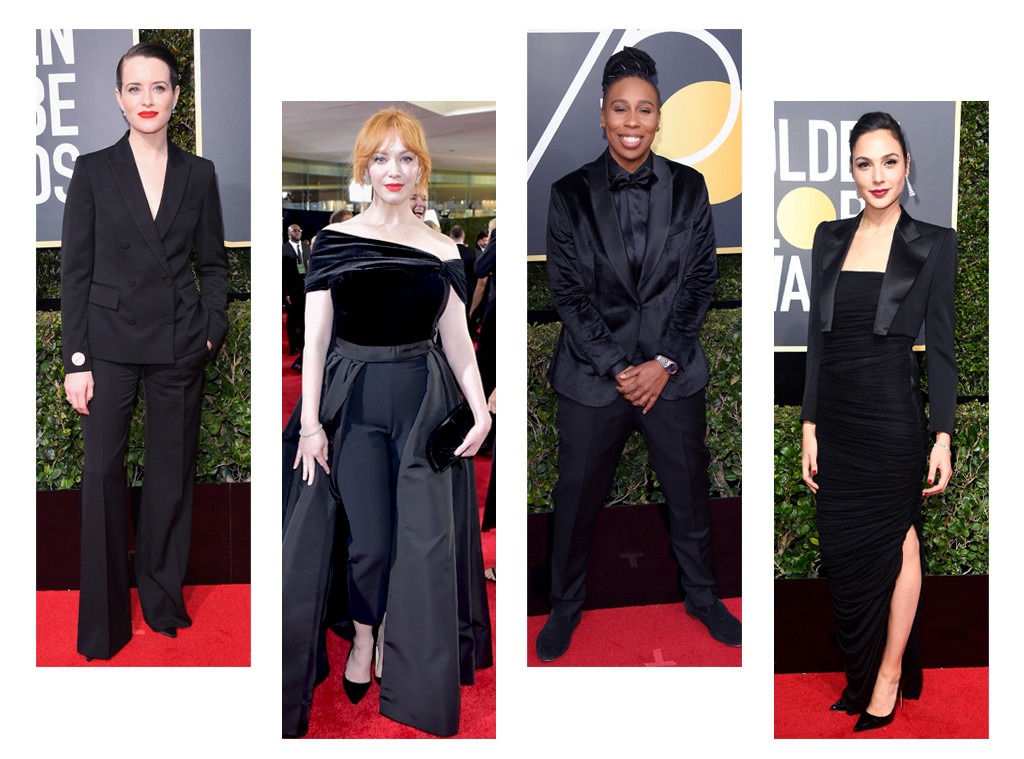 Getty Images
The first red carpet event of the award season usually hints at the fashion trends of the year.
The 2018 Golden Globes didn't disappoint. With stars standing in support of the #MeToo movement, the color black took over the red carpet, pushing tailoring, accessories and beauty to the forefront. With the right additions, Hollywood A-listers were able to stand out among the peers and set trends along the way.
As we watched the star-studded red carpet, we couldn't help but notice that while celebs offered their unique interpretation, there was repeats of the same look. From dress silhouettes to jewelry, the desire to be different ultimately led to ultra-cool trends that we're excited to adapt for our 2018 wardrobe.
Trend #1: New Suiting
Tailors were the MVPs on the Golden Globes red carpet. Since black was the color of choice on the red carpet, many women opted for suits...or let's say their interpretation of a traditional suit. Gal Gadot wore a cropped suit jacket over her classic black gown. Claire Foy wore a tailored suit without a shirt under the jacket (a trend that gaining momentum). Lena Waithe opted for satin fabric for a luxurious iteration. And, Christina Hendricks added tailored pants under her gown.
Trend #2: Back V-Cuts
While plunging necklines usually refer to the front of the dress, we were mesmerized by the back of this evening's gowns. In contract to backless cuts, these numbers featured a deep V-cut, a new flattering iteration. For example, Giuliana Rancic's straps met a point at her mid-back. Alicia Vikander's high-neck dress featured a large keyhole that also met at a point. And, the back of Nicole Kidman and Millie Bobbi Brown's gowns revealed a V-cut with added fabric that almost resembled wings.
Trend #3: Emerald Jewelry
Tonight's event gave us major Wizard of Oz Emerald City vibes with celebs pairing their black ensembles with sparkling green-toned gems. Catherine Zeta-Jones, Zoë Kravitz and Halle Berry went with jaw-dropping statement earrings, while Issa Rae opted for a long necklace to pair with her V-neck dress. While emerald jewelry is a Hollywood classic, we were pleasantly surprised by the number of stars that chose the emerald tone. 
Watch:
75 Golden Globes Looks Through the Years