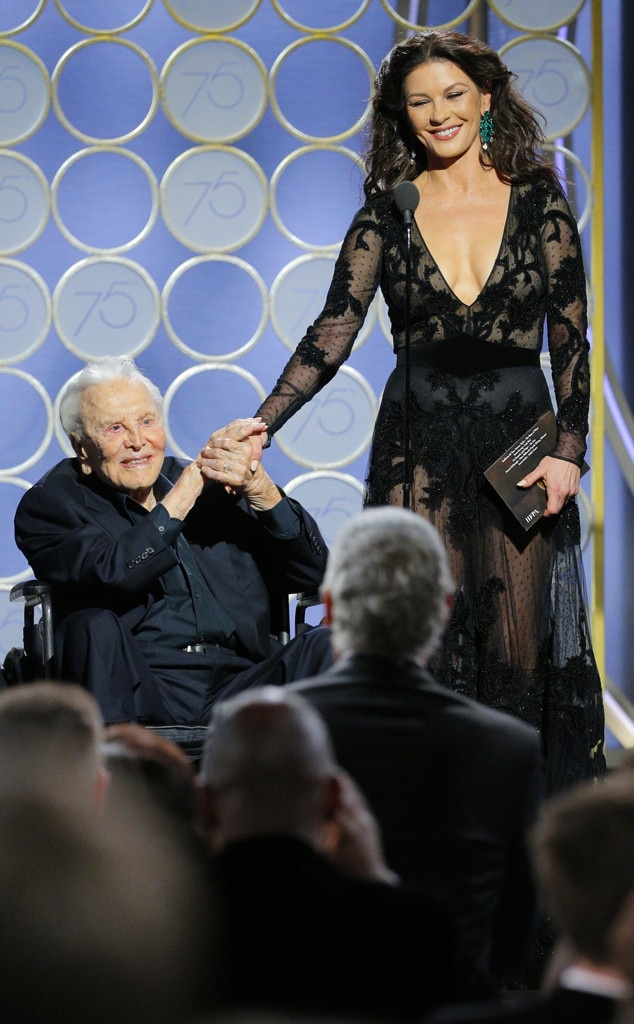 Paul Drinkwater/NBC
He is Spartacus! 
Normally standing ovations are reserved for the night's winners, but at the 2018 Golden Globe Awards the A-list audience honored 101-year-old screen great Kirk Douglas when he came on stage to present the award for Best Motion Picture Screenplay with his daughter-in-law Catherine Zeta-Jones.
Before he came on a stage in his wheelchair, a brief montage of Douglas' career played for the crowd showing scenes Spartacus, Lust for Life, Detective Story and more.
Daniel Day-Lewis, Gal Gadot, Gary Oldman, Steven Spielberg, William H. Macy and many more rose to their feet to applaud the aging actor and his illustrious career. 
Zeta Jones briefly introduced the esteemed star, who suffered a debilitating stroke in 1996. 
"In 1991, my father-in-law, this living Hollywood legend Kirk, was recognized buy the Writer's Guild of America for his role in ending the Hollywood black list," she said.
"He not only hired the black-listed screenwriter Dalton Trumbo to write the epic Spartacus, but he also made sure he was given his proper screen credit for his work."
Douglas, who is the father of Michael Douglas, responded, "Catherine, you said it all." He added, "I can never follow you." 
Watch:
Catherine Zeta-Jones Reminisces on "Chicago"
While Douglas' star power may have stolen the spotlight, the award for Best Screenplay Motion Picture actually went to Martin McDonagh for Three Billboards Outside Ebbing, Missouri
McDonagh has previously written In Bruges and Seven Psychopaths.