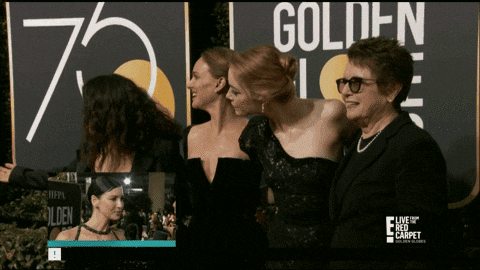 Giphy
As they like to say on the red carpet, the more the merrier!
If you were watching Live From the Red Carpet Sunday night before the 2018 Golden Globes kicked off, you may have caught a star-studded moment in the background.
While Giuliana Rancic was interviewing Outlander's Caitriona Balfe, viewers witnessed America Ferrera, Natalie Portman, Emma Stone and Billie Jean King posing together for a group of photographers.
But as cameras rolled, the group couldn't help but get a little star struck when Mariah Carey appeared next to them and posed for a few solo shots.
Without any hesitation, America and her famous friends asked the "Obsessed" singer to join in on their photo shoot.
And yes, Mariah was totally happy to join in on the fun for a memorable photo.
Earlier in the night, the legendary singer stopped by Live From the Red Carpet. While she may be serving as a presenter this evening, Mariah was more than happy to share the show she loves watching at home.
"I love The Crown!" she told Ryan Seacrest. Who knew?!