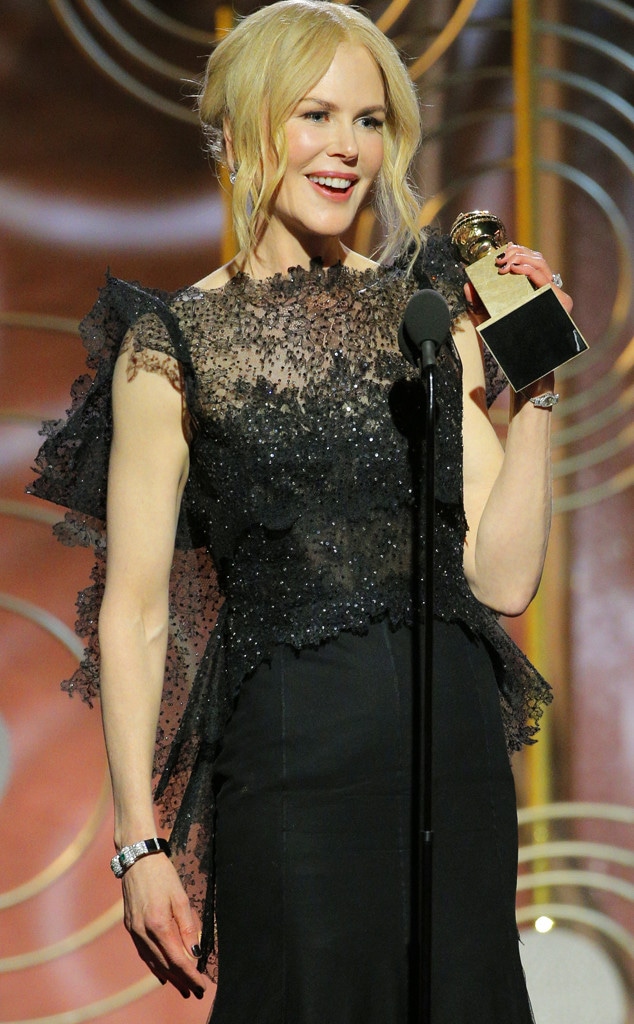 Paul Drinkwater/NBCUniversal via Getty Images
The love for Nicole Kidman's outstanding work in Big Little Lies keeps coming!
The actress was just named the Best Actress in a Limited Series or TV Movie at the 2018 Golden Globes and, on a night when the entire industry is showing solidarity with the Time's Up movement, she used her acceptance speech to not only thank the usual suspects, but celebrate the power of women overall.
Turning to her co-star and producing partner Reese Witherspoon, Nicole began. "We did this because of our friendship, our creative union and our support of each other. And I love you," she said as her co-star watched, beaming. "Also, I want to say, Laura Dern, Shailene Woodley and Zoe Kravitz, we sat at a table, pledged allegiance to each other and commitment to each other and this is ours to share. Wow. The power of women."
She then got a bit more personal, turning her attention to her mother. "And my mama. My mama was an advocate for the women's movement when I was growing up. And because of her, I'm standing here. My achievements are her achievements. Antonia Kidman, my sister, and I say thank you Janelle Kidman, for what you fought for so hard. This character that I played represents something that is the center of our conversation right now, abuse. I do believe, and I hope we can elicit change through the stories we tell and the way we tell them. let's keep the conversation alive. let's do it."
And of course, she couldn't wrap things up without an adorable message for her musician husband. "And Keith Urban, when my cheek is against yours, everything melts away," she said. "And that is love." Aww!
Kidman beat out a stacked category that included her co-star Witherspoon, as well as Feud stars Susan Sarandon and Jessica Lange, along with The Sinner's Jessica Biel.