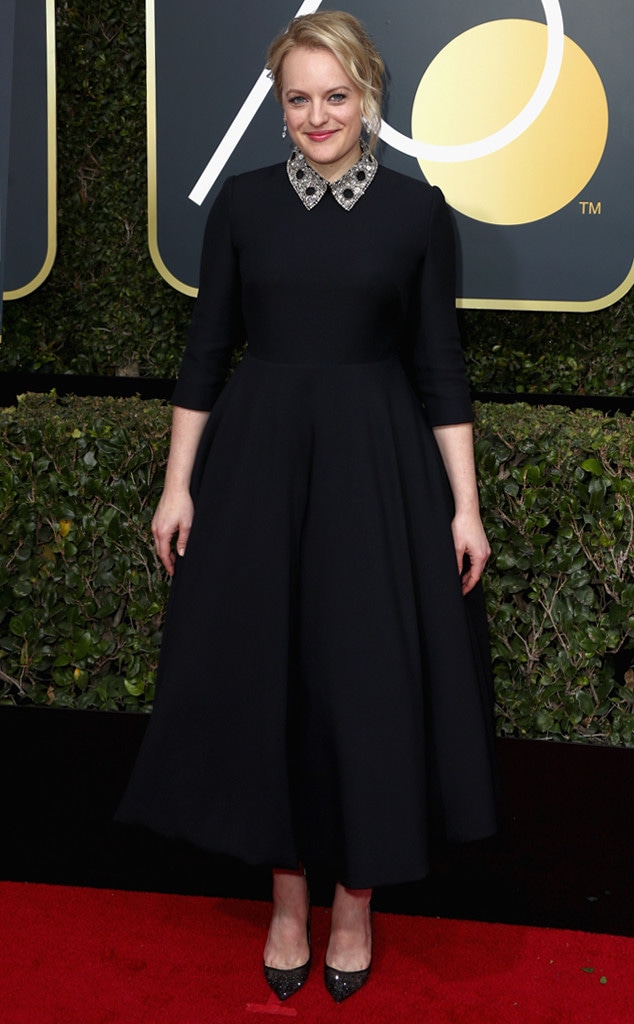 Frazer Harrison/Getty Images
Elisabeth Moss's winning streak continued at the 2018 Golden Globes where The Handmaid's Tale star picked up the award for Best Actress in a Drama Series. Moss was nominated with last year's winner, The Crown's Claire Foy, as well as Outlander's Caitriona Balfe, Maggie Gyllenhaal of The Deuce and 13 Reasons Why breakout Katherine Langford.
Moss also won her first Emmy for her work as Offred, a Handmaid tasked with having children for the wealthy men of Gilead, in Hulu's dystopian drama. She previously won a Golden Globe for her work in Top of the Lake in 2014 and was previously nominated in 2011 for Mad Men.
Carol Burnett and Jennifer Aniston presented Moss with the award. "Carol Burnett," she said in disbelief. "OK, I have to go fast."
Moss thanked Hulu and the producers of The Handmaid's Tale and gave a special shout out to her family.
"My mom and my brother, you are the hero and heroine of my life," she said.
Moss then read an excerpt from Margaret Atwood's novel, The Handmaid's Tale. "'We were the people who were not in the papers. We lived in the blank white spaces at the edges of print. It gave us more freedom. We lived in the gaps between the stories,'" she said, dedicating the award to the author and other trailblazing women.
"We are the story in print and we're writing the story ourselves," Moss said. "Thank you."
The Handmaid's Tale will return for season two on Hulu in April.