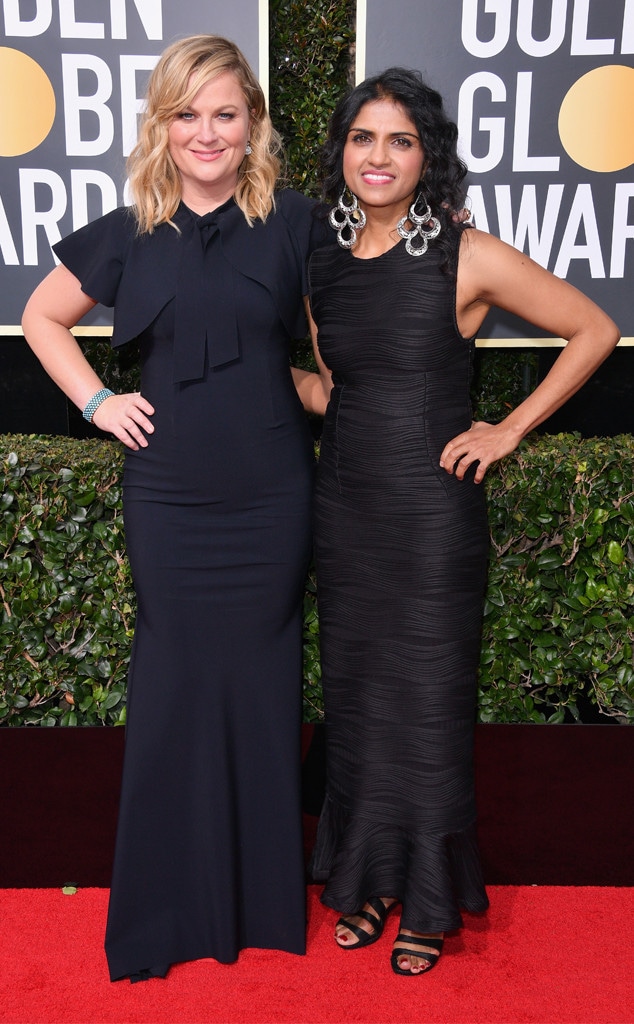 George Pimentel/WireImage
Seth Meyers, you can hold the punch line...Amy Poehler's got this!
During his opening monologue at the 2018 Golden Globes, Meyers creatively included some of the issues attached to gender inequality in Hollywood. To do so, he sarcastically attempted to set Poehler up ahead of her punch line. However, the comedienne proved no woman needs a man to lay one up for her in 2018.
"I do the setup, you do the punch line," Meyers argued, jokingly. 
"Oh, is that how it works? You're explaining something I already know. Is this the mansplaining part of the evening?" Poehler fought back. 
"I just don't think it will work without a setup to your punch line," Meyers said.
"First of all, thank you for telling me what you think," Poehler snapped back. "Secondly, I'm a woman in Hollywood, Seth. We've all been through a lot. I don't need a setup to make a punch line work. OK? You're sadly mistaken."
Even after Meyers apologized, Poehler wasn't having it.
"Oh, another apology," she said, referring to the many apologies that have been released over the last few months. "How wonderful. All right...I'm reclaiming my wine." LOL!
Meanwhile, Poehler attended the show alongside women's rights activist Saru Jayaraman as a part of the Time's Up movement.
Meyers introduced her before explaining, "It's great that this movement understands what tarnished our world this year tarnishes so many others and is reaching out to help them, too. I know if you're watching at home, and you see everyone in their tuxedos and gowns, this looks like a room of privileged Hollywood elite. That's fair."
However, he argued, "Everyone in this room knows that Hollywood is so much more than that. When you're on a film set you meet hairdressers and camera people and script supervisors. Most of the jobs on film sets are jobs for people who work long, hard hours. They are American dream jobs....People in this room worked really hard to get here, but it's clearer—now than ever before—that the women had to work even harder. So thank you for all the amazing work that you've all done and continue to do. I look forward to you leading us into whatever comes next."