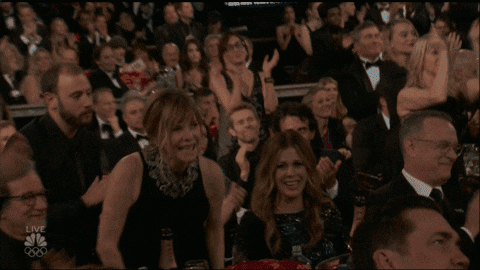 NBC
The 2018 Golden Globes turned out to be about what we expected, yet was still not quite like anything we'd ever seen before on a major awards show.
This year, Hollywood's biggest party turned into a radiant platform for the women in attendance to send the message loud and clear that the old way of doing things isn't going to cut it any more, that—as Oprah Winfrey declared tonight—"a new day is on the horizon!"
That was a heck of a speech, Winfrey accepting the Cecil B. DeMille Award last night, but no one could've been under the impression beforehand that the star for whom the word "multi-hyphenate" was made would not provide for one of the most rousing moments of the evening.
We knew that was coming. Here are the things that served to surprise, and sometimes even astonish, a bit more:
Trae Patton/NBC/NBCU Photo Bank via Getty Images
1. They Came, They Saw, They Made Everyone Else See: Never has putting on a black dress been less of a simple gesture. We knew Time's Up and the wave of female empowerment sweeping Hollywood not a moment too soon was going to be the talk of the evening—but there really was a stunning show of solidarity on the red carpet and during the show tonight. This year no one shied away from the tough subjects—and in fact it was often the celebrities steering the conversation in a meaningful direction. 
Who wore what may not have gone by the wayside forever, but it certainly wasn't missed while the stars said their piece.
2. Marvelous, Mrs. Maisel!: The Hollywood Foreign Press Association reliably loves to honor either the newest shows or the shows everyone has heard are great but maybe haven't quite gotten around to watching yet. And so they've bestowed the Globe for Best Series, Musical or Comedy, for the third year in a row to an Amazon show, The Marvelous Mrs. Maisel following in the footsteps of Transparent and Mozart in the Jungle.
The 1950s-set comedy about a housewife who finds out she has a future in stand-up comedy after her husband leaves her beat out fellow freshman series SMILF, as well as Black-ish, Master of None and nostalgic favorite Will & Grace, which is back in action on NBC 11 years after it signed off and has never won one of the 29 Globes it's been nominated for.
Rachel Brosnahan, whom you previously knew best as the ill-fated Rachel on House of Cards, won Best Actress in a Musical or Comedy Series for Marvelous—deservedly so, but any win among the actresses in the category would have been exciting because any one—Pamela Adlon, Issa Rae, Frankie Shaw or Alison Brie—would've been a first-time winner.
3. Will of the People: A fair amount of prognosticators were predicting a Best Actor in a TV Series, Musical or Comedy, win for Eric McCormack—a six-time nominee for Will & Grace. But the HFPA went with Master of None's writer-creator-director-producer-star quintuple threat Aziz Ansari (a master of a lot, as it turns out), who became the first South Asian male to win in the category—and was also the first to be nominated in the category.
"I genuinely didn't think I would win because all the websites said I was going to lose," Ansari said in his speech. "The only reason my acting is good in that show is because everyone else holds me up the whole time." 
Last September, Master of None writer and co-star Lena Waithe became the first black woman to win an Emmy for best writing in a comedy series.
4. Another Sterling Moment: No complaints here that Sterling K. Brown followed his Emmy win for playing perfect human Randall on This Is Us. But similar to the aforementioned firsts, we were a little gobsmacked to find out he is the first black actor to win the Globe for Best Actor in a Drama Series.
It's 2018. Just seems as though that should've happened already...
5. TV Star Switcheroo: It seemed as though this would be Lady Bird mom Laurie Metcalf's year to add a film Golden Globe and then an Oscar to her trove of three Emmys. She still has a shot at Oscar and seemed like a shoo-in, but it just so happens that this year the supporting actress category is also occupied by the indomitable Allison Janney, who won the Globe for her role as Tonya Harding's abusive, abrasive and destructively devoted mom in I, Tonya.
So it was Janney who added to her seven Emmys on her first foray into the film categories, and it feels like a short skate to Oscar. Reminiscent of how Sarah Paulson paid tribute to the real-life, woefully misunderstood Marcia Clark at the 2016 Emmys after playing her in The People v. O.J. Simpson, so did Janney make sure that Tonya Harding, sitting in the audience last night, got her proper due.
But regardless of how the rest of awards season pans out, we'll look forward to Metcalf being in the running for a fourth Emmy once Roseanne returns.
6. Natalie Portman, On the Stage, With the Slam: Is there a special Emmy that Portman can win this fall for best improvised barb on a live broadcast?
The two-time Golden Globe winner, along with Ron Howard, had the strange task of having to take the stage just seconds after Oprah Winfrey had finished speaking, once the last standing ovation had died down, to present Best Director.
Howard gamely resigned himself to the unfortunate timing, but when it shifted over to Portman, she ensured the audience snapped back to the still-pressing issues at hand by offering, "And here are the all-male nominees." Judging by Howard's face, that wasn't on the teleprompter.
7. Big Big Finish: Big Little Lies echoed its success at the Emmys, winning Best Limited Series or TV Movie, while Nicole Kidman, Laura Dern and Alexander Skarsgård all repeated as winners in their respective categories to make the HBO drama the most-honored TV show of the night. (Three Billboards Outside Ebbing, Missouri was the big winner on the film side with four.)
This won't be the last time we see the cast all together this year—season two won't be finished for a good long while but Kidman, Dern, Skarsgård and Reese Witherspoon are all nominated for SAG Awards in two weeks—but the BLL reunion still felt most fitting for what turned out to be the theme of, not just tonight, but the last year in Hollywood: more women at the forefront of their own stories is not only always a good idea, it's also more necessary than ever.