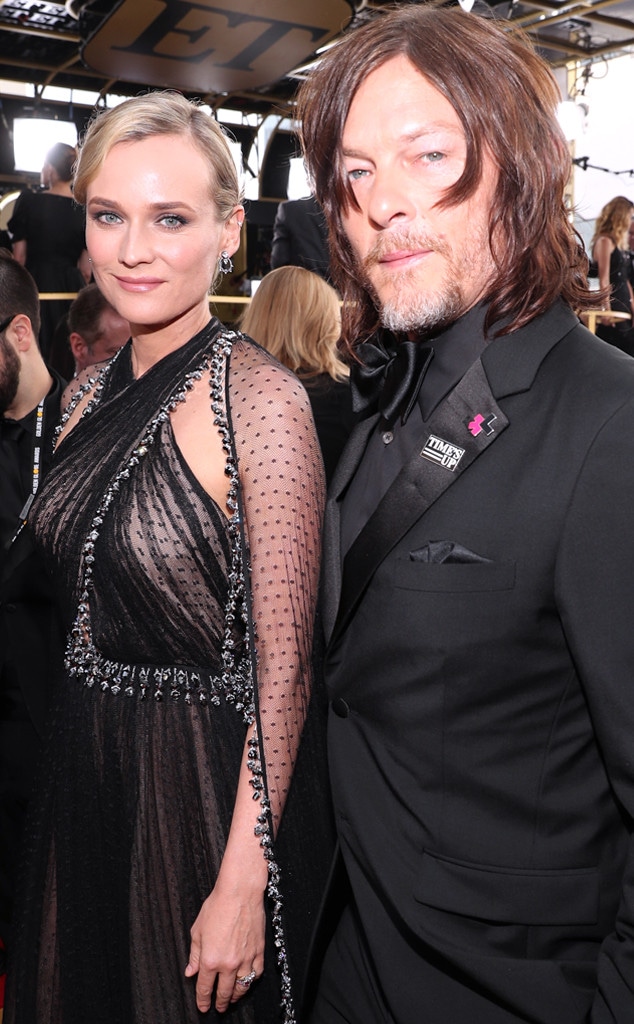 Christopher Polk/NBC/NBCU Photo Bank via Getty Images
They're red carpet official!
After months of being spotted together and packing on the PDA, Diane Kruger and her main man Norman Reedus have finally made their red carpet debut at tonight's 2018 Golden Globe Awards.
Opting for a black dress, the German actress joined other stars who donned black in solidarity of the Time's Up Initiative. Similarly, Reedus opted for an all-black suit and wore a Time's Up pin.
Reedus and Kruger were among many celebs, including Jude Law, Nicole Kidman, Eva Longoria, and many more who turned out on the red carpet in a powerful act of solidarity, which has been called a celebration of "sisterhood" in the wake of the explosion of reports of rampant sexual assault, abuse and harassment in Hollywood.
Earlier this week, the couple was photographed during a romantic vacation in Costa Rica.
The pair met when they co-starred in the 2015 movie Sky. The actors were first spotted getting close in NYC back in February 2017.
But back in 2015, the pair sparked romance rumors when The New York Daily News reported that the two made out in a bar in the city while the actress' then-boyfriend and fellow Sky co-star Joshua Jackson was on a trip overseas. At the time, a rep for Reedus denied to the newspaper that Reedus and Kruger had made out. A source close to Kruger then told The Daily Mail the story was "completely fabricated and untrue."
Kruger and Jackson split up in July 2016. They had been together for 10 years.
Reedus has a son Mingus with his ex, supermodel Helena Christensen.