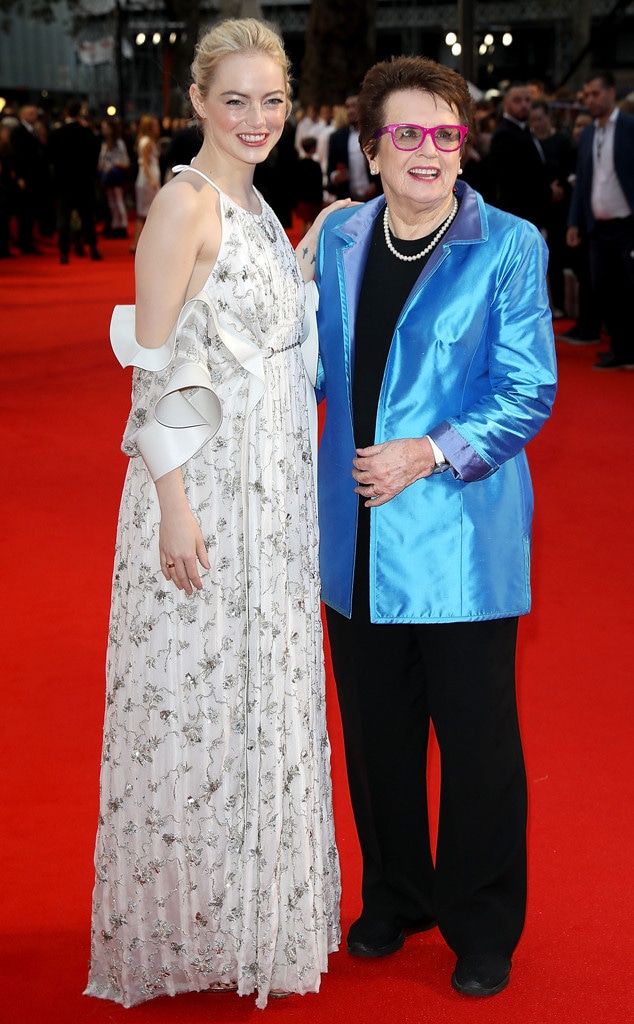 Tim P. Whitby/Getty Images for BFI
With mere hours before the stars set foot on the 2018 Golden Globes red carpet, some of their very special plus ones have been revealed. 
Eight actresses will be accompanied by activists for this year's ceremony. In an official statement issued on Sunday,  gender and racial justice advocates including Tarana Burke, Marai Larasi, Rosa Clemente, Ai-jen Poo, Mónica Ramírez, Calina Lawrence, Billie Jean King and Saru Jayaraman will join actresses Michelle Williams, Emma Watson, Susan Sarandon, Meryl Streep, Laura Dern, Shailene Woodley, Amy Poehler and Emma Stone in solidarity with each other and in support of victims of sexual harassment and assault.
"As longtime organizers, activists and advocates for racial and gender justice, it gives us enormous pride to stand with the members of the Time's Up campaign who have stood up and spoken out in this groundbreaking historical moment," the statement read. "We have each dedicated our lives to doing work that supports the least visible, most marginalized women in our diverse contexts. We do this work as participants in movements that seek to affirm the dignity and humanity of every person."
As the statement continued, "Too much of the recent press attention has been focused on perpetrators and does not adequately address the systematic nature of violence including the importance of race, ethnicity and economic status in sexual violence and other forms of violence against women. Our goal in attending the Golden Globes is to shift the focus back to survivors and on systemic, lasting solutions. Each of us will be highlighting legislative, community-level and interpersonal solutions that contribute to ending violence against women in all our communities. It is our hope that in doing so, we will also help to broaden conversations about the connection to power, privilege and other systemic inequalities."
While addressing the past year's significant moments, among them the Women's March and the reemergence of the #MeToo hashtag, the activists acknowledged "there is still much work to do, and many hands required to do it."
"We want to encourage all women- from those who live in the shadows to those who live in the spotlight, from all walks of life, and across generations- to continue to step forward and know that they will be supported when they do," they collectively said. "The #TIMESUP initiative joins an ever-growing collective of organizations, movements, and leaders working to end gender-based violence. We look forward to partnering with them and others to organize, support all survivors, and find solutions that ensure a future where all women and all people can live and work with dignity."
The Beauty and the Beast star tweeted, "Excited to be at the Golden Globes with you tonight Marai!" Marai Larasi is the Executive Director of Imkaan, U.K.-based women's organization aimed at responding to and preventing violence against marginalized women and girls.
Meanwhile, Woodley, a Best Supporting Actress nominee this year, tweeted, "SO HONORED AND MOVED AND GRATEFUL to be walking this life hand in hand with my dear sister @Calina_Lawrence." Lawrence is a member of the Suquamish Tribe, musician and advocate against a variety of issues, including racial injustice, police brutality, misrepresentation of Native Americans in education and media, climate injustice and violence against women.
"Today, we will walk the red carpet at the #goldenglobes together to hold the space for both solidarity and accountability on the imbalance of power between women and men."