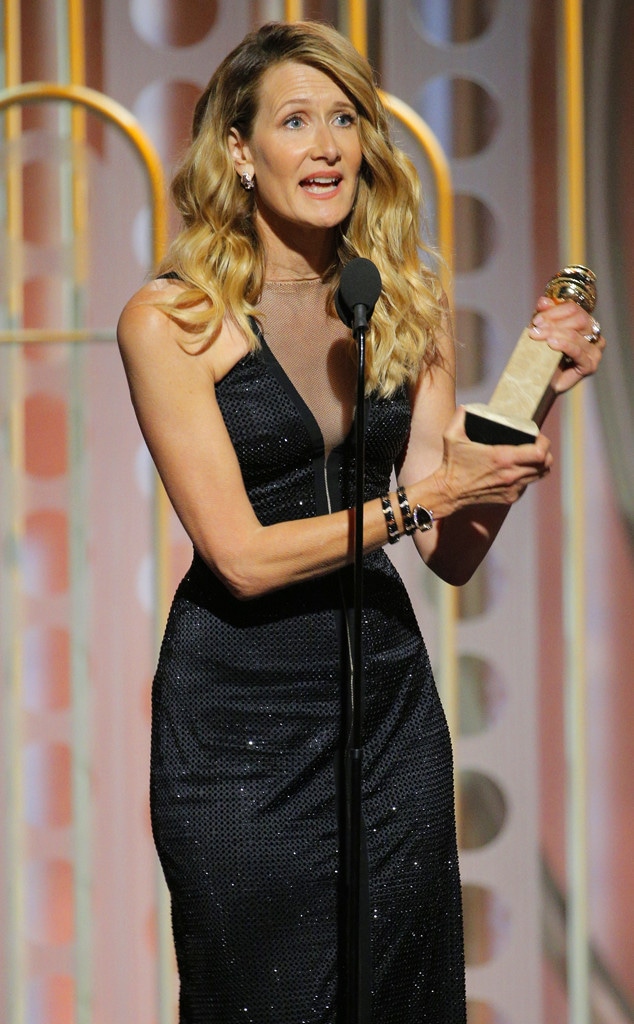 Paul Drinkwater/NBC
The Best Supporting Actress in a Series, Limited-Series, or TV Movie award belongs to Laura Dern!
The actress took home the honor at Sunday evening's 2018 Golden Globes for her performance in Big Little Lies. It marked her fourth Golden Globe win. Fellow nominees included Ann Dowd (The Handmaid's Tale), Chrissy Metz (This Is Us), Michelle Pfeiffer (The Wizard of Lies) and Shailene Woodley (Big Little Lies). 
Dern offered a passionate acceptance speech, touching upon the importance of supporting survivors of violence and her character's relationship to the issue.
She shared onstage, "To [producer] David E. Kelley: Our superhero who took Leon's words and gave me particularly the most outrageous, complicated woman and a terrified mother, terrified because her little girl was being abused an bullied and she was too afraid to speak up."
Watch:
Laura Dern Fights for Women's Rights at 2018 Globes
She continued, "Many of us were taught not to tattle. It was a culture of silencing that was normalized. I urge all of us to not only support survivors and bystanders who are brave enough to tell their truth, but promote restorative justice. May we also please protect and employ them. May we teach our children that speaking out without the feat of retribution is our culture's new North Star." 
Dern concluded her impactful Golden Globes moment with the following message of gratitude to her co-stars, colleagues and loved ones: "Bless you. Bless everyone who worked on this. All the people who support me and my beautiful children. Thank you for all your work and love." 
Ahead of the evening, Laura was joined by Mónica Ramírez, the head of the National Farmworkers Women's Alliance and the woman behind the beautiful Letter of Solidarity in Time magazine, on the red carpet.