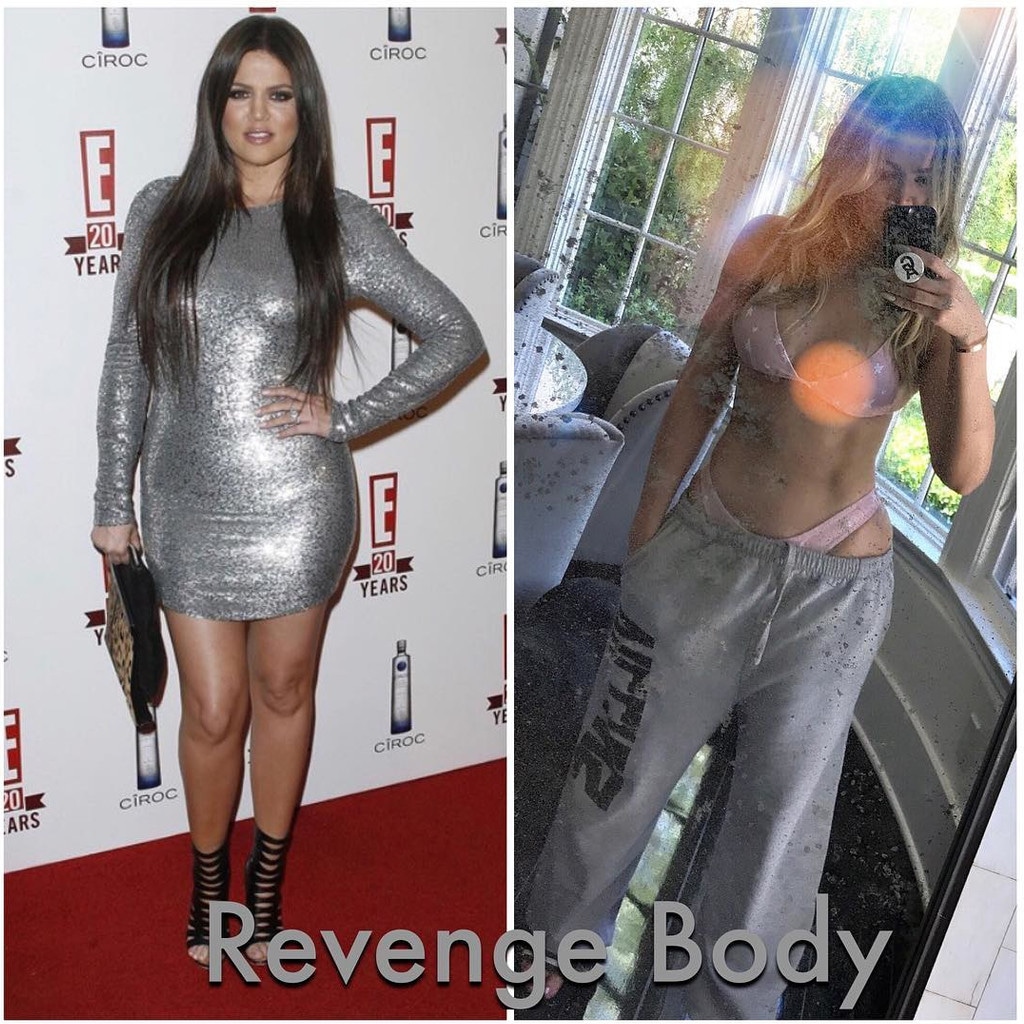 khloekardashian / Instagram
It's been a long road, but Khloe Kardashian is walking strong and proud. 
The expectant reality star was hit with a wave of nostalgia on Sunday as she reflected on her personal journey and resulting transformation. Along with a side by side comparison of herself from around 2010 and another more recent shot, Kardashian waxed poetic as she acknowledged the results of her inner and outer efforts. 
"Sometimes it's hard for me to post these transformation posts only because I can't imagine my life being this unhealthy again. Never would I ever consider myself fat, But I would consider myself unhealthy mentally/physically and not knowing my true value. Mind, body and soul. For me, my transformation journey started from within. I needed to heal myself from the inside out. Once I started putting myself first, everything started falling into place," she penned. 
"My life transformed a few years ago when I made the decision to stop existing and start living. I decided when I was ready regardless of what anybody else was saying about me. Regardless of the pressures. I had to do this on my terms or I knew it wouldn't last." 
The Revenge Body host then turned her remarks toward her followers with words of wisdom for anyone who can relate to Kardashian's journey. 
"It's ok to take the control back. Choose your life. Don't let anybody else decide for you! We are no victims to life but we can become victims and prisoners to the people that we choose to surround ourselves with if we allow them to break us and consume us. Never be afraid to put yourself first! Never choose comfort over your own well-being! Never forget that fate loves the fearless! Today's wisdom was yesterday's pain. Tomorrow's happiness is today's bravery!"
As she concluded, the mom-to-be gave herself a virtual pat on the back for preserving her progress. "She I am so proud of myself for being stronger than I've ever been-mind body and soul. I am even prouder of myself that I've been able to maintain a healthy lifestyle for so many years," she noted. "I broke that cycle and I'm happier than I have ever been! You can do this!! Start from within and nothing can stop you. Elevate yourself- mind body and soul."
It's certainly no secret that star is "happier than ever." With her first baby on the way and a romance with basketball pro Tristan Thompson going strong, the Kardashian sister's personal life seems to be better than ever. 
Meanwhile, her commitment to fitness remains unwavering. After shedding roughly 30 pounds in recent years, the Good American founder continually hits the gym, even into the last months of her pregnancy. 
As she told E!'s Sibley Scoles last year, "This is a way of life, I'm gonna work out at least three days a week for the rest of my life."