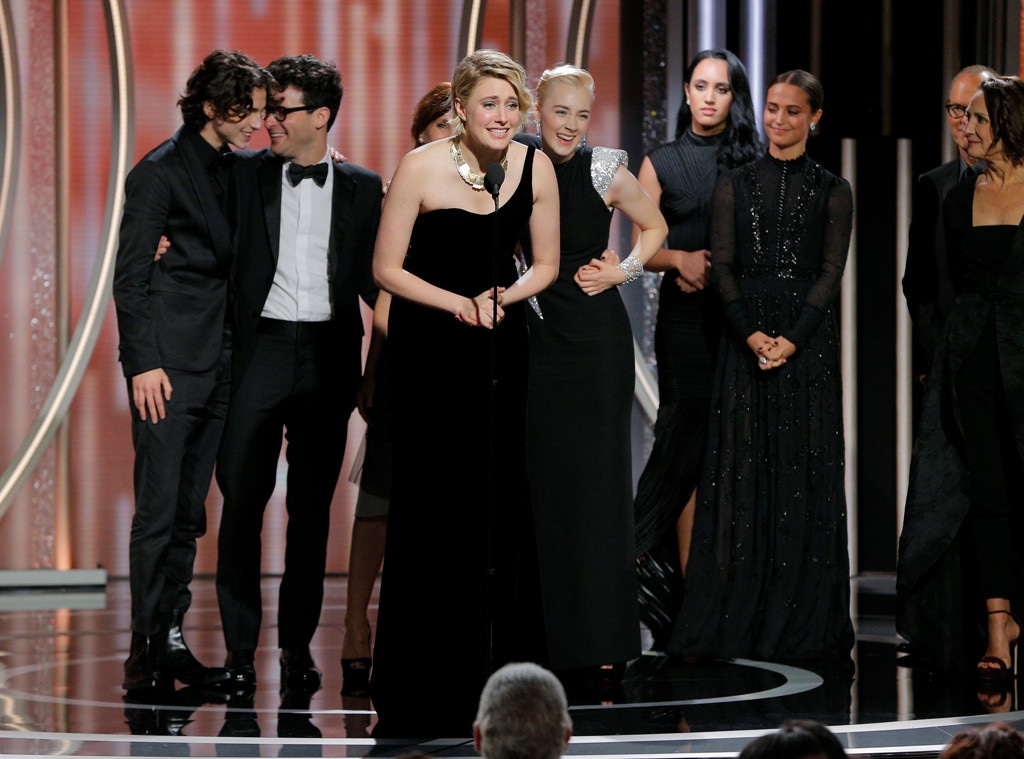 Paul Drinkwater/NBC
Tonight is Lady Bird's night to shine!
As presenters Michael Keaton and Alicia Vikander announced the winner for Best Motion Picture: Musical or Comedy Sunday night at the 2018 Golden Globes, the crowd erupted in applause when Lady Bird won big.
While producer Eli Bush received the mic first when accepting the award, he quickly gave the stage to director and writer Greta Gerwig.
"Thank you so much. Thank you so much. Thank you to the HFPA," she shared with the audience. "Thank you to my producers, Eli Bush, Evelyn O'Neill, and Scott Rudin."
Greta continued, "Thank you to my beautiful cast. The goddesses, Saoirse Ronan and Laurie Metcalf are incredible. And Timothee and Lucas and Beanie and Odeya and I have eight seconds left."
Lady Bird tells the story of an artistically-inclined 17-year-old who comes of age in Sacramento, California. The film beat out I, Tonya, The Greatest Showman, Get Out and The Disaster Artist for the top prize.
"I want to say thank you to my mom and dad and the people of Sacramento who gave me roots and wings and helped me to get where I am today," Greta concluded. "And just thank you, thank you, thank you."
Congratulations!