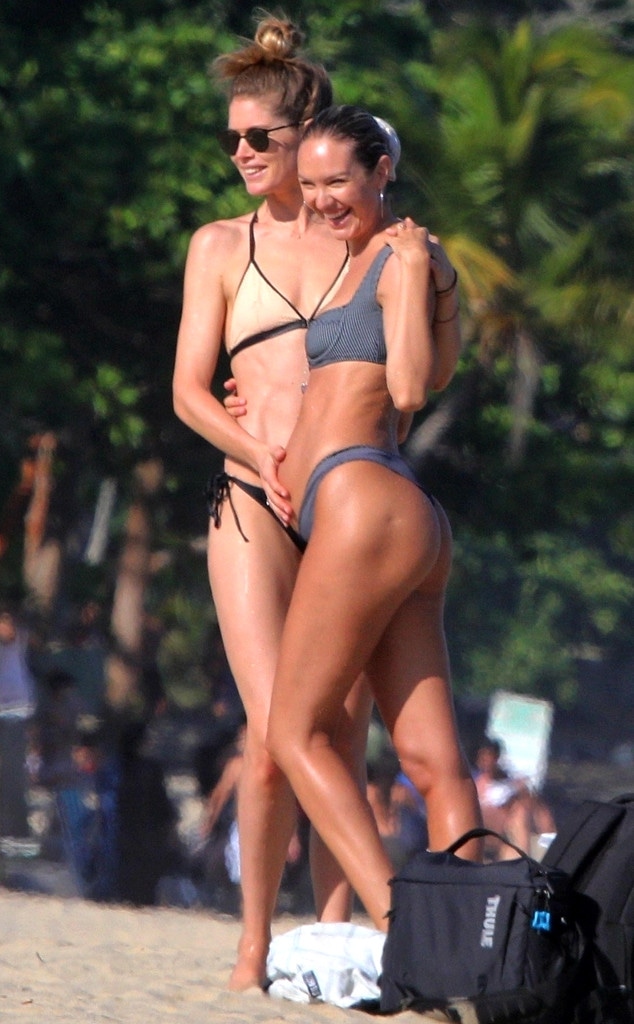 GADE / BACKGRID
She's baby bumpin' in a bikini!
Weeks after Victoria's Secret Angel Candice Swanepoel revealed via a baby bump pic on Instagram that she's pregnant with her second child, the supermodel hit the beach in Brazil with her supermodel pal Doetzen Kroes on Thursday.
The two supermodels had all eyes on them when they spent some time on the sand at Espelho Beach during their New Year's holiday. Amazingly enough, Swanepoel gave birth to her and fiancé Hermann Nicoli's first child, son Anacã, just 14 months ago.
Doutzen, who has two children herself, was all about cradling her pregnant friend's growing bump. The models were joined by Doutzen's husband Sunnery James. Earlier in the day, the families when to lunch together. 
Last month, the 29-year-old was photographed showcasing her small baby bump in a string leopard-print bikini while out on the beach on the Fernando de Noronha archipelago off the coast of Brazil.
Check out Candice and other pregnant stars in bikinis...
Watch Daily Pop weekdays at 12:30 p.m., only on E!