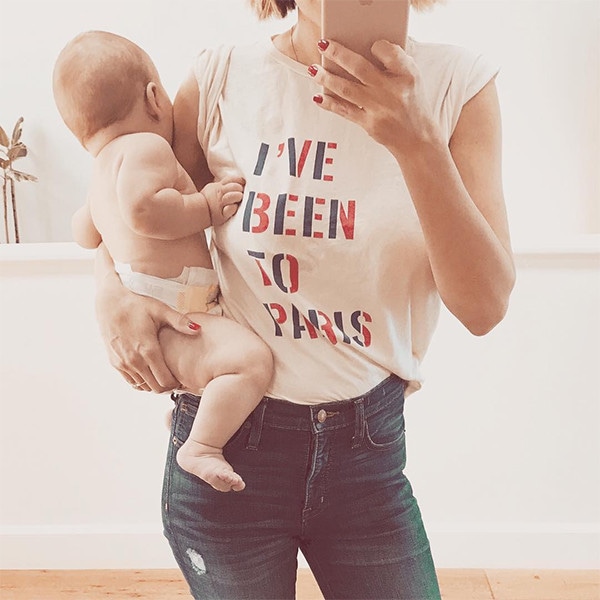 Instagram
C'est la vie: It all comes full circle for new mama Lauren Conrad.
The 31-year-old former star of The Hills and fashion designer posted on her Instagram page on Friday a photo of her holding her first child, son Liam, writing, "6 months ago this little peanut arrived and made me a Mama. I haven't slept much since then, but I feel so lucky to call this sweet little boy mine. Happy half Birthday Liam."
But most of the attention is directed at her T-shirt, a common commercial design that reads, "I've been to Paris." The slogan is a callback to The Hills: In season one, which aired in 2006, Conrad and co-star Whitney Port both interned for Teen Vogue in Los Angeles. At the end of the season, Conrad made the shocking decision to turn down a summer internship with the magazine in Paris and remain in L.A. with then-boyfriend Jason Wahler. Port accepted the overseas opportunity in her place.
When both women returned to their intern jobs at Teen Vogue in L.A. at the end of the summer, editor Lisa Love said, "Lauren didn't go to Paris. She's going to always be known as the girl who didn't go to Paris." Her words mark one of the most quoted lines from the cult reality show.
Watch:
Lauren Conrad Admits to Not Taking a "Good Maternity Leave"
Conrad told Teen Vogue in 2016 that people still come up to her and talk to her about her decision.
"Nowadays, I think the only thing that people say is they just want to talk to me about Paris," she said. "They just want to tell me that they didn't go to Paris, or they did go to Paris. That's really the only thing I get at signings."