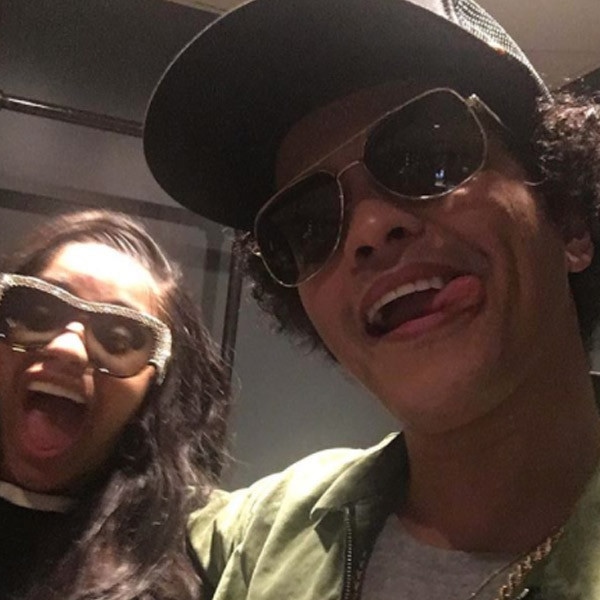 Instagram
Bruno Mars is a big fan of Cardi B!
The singer took to Instagram to praise the "Bodak Yellow" songstress, "I met cardi B at 3 am after my show in LA backstage where we recorded her verse for Finesse. She walked in the room and she was everything I'd hope she'd be. Never change cardi! Don't let this crazy music business change who you are. 
"You possess something that can't be taught. You're a true star. Thank you for putting your energy and love all over this record and video. I hope you feel better soon because we got some celebrating to do. Everyone show ya love for the one and only CARDI B!"
On Wednesday evening just before midnight EST, Bruno Mars released a new song, a remix of his 2016 song "Finesse," featuring none other than Cardi B.
He had teased the track on Instagram hours earlier with a photo of the single's artwork, which shows the two dressed in '90s-style outfits: She is wearing a yellow printed crop top and high-waist cutoff denim shorts, paired with a cropped colorful bomber jacket, paired with large hoop earrings and a baseball cap worn backwards. He sports a green, yellow, black and white vertical striped T-shirt over a white printed sweatshirt and a couple of gold chains as well as a cross necklace.
In addition, fans were treated to a brand-new music video directed by Mars himself. "This video is dedicated to one my favorite T.V shows of all time," he shared on Twitter. "Shout out to the people over at Fox Studios and a very special thank you to @keeneniwayans." 
Meanwhile, Cardi B may have also collaborated with Jennifer Lopez and DJ Khaled on another track.
In late December, J.Lo's boyfriend Alex Rodriguez shared an Instagram Live video that showed the two music artists talking about their upcoming untitled single, during which Lopez says, "Cardi's just on that one part, do you think we should do some ad-libs with her?"