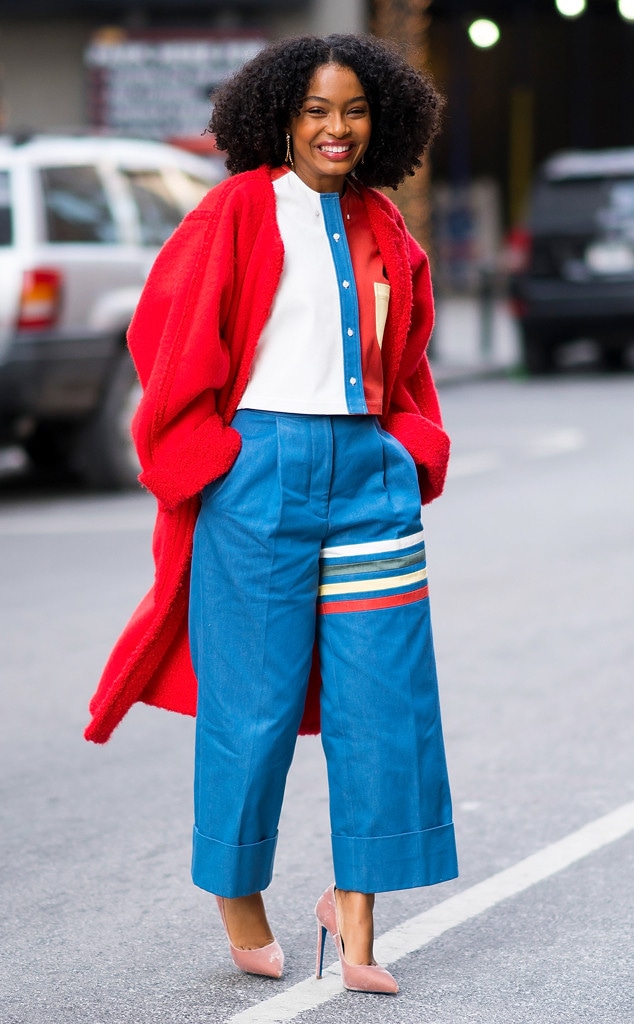 TheStewartofNY/Getty Images
Even in 2018, the nostalgia trend is still going strong.
Mom jeans, crop tops and all your other favorite '90s styles are here to stay, but if you aren't from that decade, can you still pull off the look? Yara Shahidi says yes. The gen-Z star has been killing it on the promo circuit for her spin-off show, Grown-ish. Between turns in a Claudia Li jumpsuit and 3.1 Phillip Lim flouncy dress over a white button-down, the 17-year-old star stopped by The View in comfy ensemble that would make Lisa Turtle and Kelly Kapowski proud. 
Yara offset a muted white, red and blue, vertically striped top with high-waist, cropped trousers in the same color palette. An oversize Opening Ceremony reversible coat brought everything together for a college-ready vibe. 
Tracee Ellis Ross also joined her fictional daughter in throwback dressing this week, opting for a disco-inspired jumpsuit that surely turned heads. While Tracee and Yara chose to look to the past for their outfit inspirations, other stars kept things relatively modern and cold-weather friendly. 
For more best dressed stars of the week, keep scrolling.